Leah Carter Smith, M.D.: TAFP Dallas Chapter Outstanding Graduate Award
When her dad suffered a stroke, Dr. Leah Carter Smith witnessed the compassionate care he received in the ICU. That experience convinced Dr. Smith to pursue medicine and become an advocate for patients and families through all stages of their lives as a family medicine physician.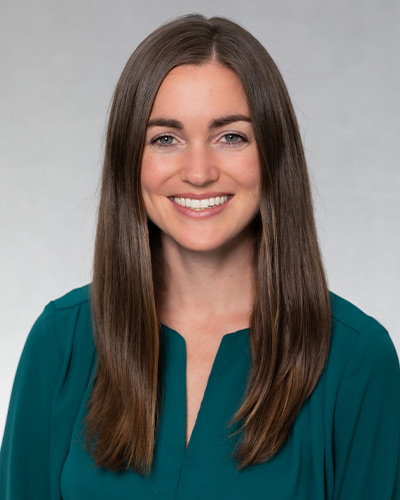 What this award means: Starting the student-run clinic at Brother Bill's Helping Hand was a huge effort that required the help of passionate students, dedicated faculty, and the clinic staff. I am so proud of the clinic and honored to have the opportunity to expand the already extensive footprint of Brother Bill's and UTSW in serving the community. This award reminds me of the work we have done and how much potential there is for future students to continue our initiatives.
Mentor comment: Leah was my mentee during her Schweitzer Fellowship, implementing a project at Brother Bill's Helping Hand clinic. Since then, we have worked together on many community-based projects. Leah loves people! She is very mature and a compassionate learner. Her positive attitude is contagious, and her commitment and professionalism are outstanding. – Nora Gimpel, M.D., Professor of Family and Community Medicine, Distinguished Teaching Professor, and holder of the Dr. John L. and Louise Roan Professorship in Family Medicine
Background and family: Growing up in Fort Worth, Texas, I loved being outside, riding bikes with my sisters, playing sports, and visiting my family in Tennessee. I met my husband in college, and we have been together for eight years.
What led to your career path: I never considered becoming a doctor until I sat in the ICU with my dad after he suffered a stroke. His doctors, nurses, and therapist were brilliant and compassionate, and I saw how their decisions to go above and beyond each day directly affected my family. In medical school, I was drawn to opportunities to get involved in the community and found support from the Department of Family and Community Medicine. I chose a career in family medicine because it allows me to build lasting relationships and advocate for my patients and their families.
College: I graduated from UT Austin summa cum laude with a degree in biomedical engineering and worked as a researcher in two different labs. I served as a volunteer tutor for the Texas School for the Blind and Visually Impaired and was a member of the Biomedical Engineering Honor Society.
UTSW activities: Besides serving as co-founder of the Brother Bill's student-run free clinic, I founded a girls' leadership program through a Schweitzer Fellowship and completed a research project on contraceptive access. I also was women's health director for a Health Literacy Group and served as a coach and facilitator two summers at a sports camp.
Surprising fact: My life dream would be to play Olympic doubles sand volleyball with my younger sister.
Ultimate career goal: My ultimate goal is to grow every day to become a more compassionate and knowledgeable physician. I want to keep my patients at the center of my work and treat them like members of my own family.
Future plans: I have the awesome opportunity to return to my hometown and train at John Peter Smith Hospital! I hope to one day teach medical students and residents and influence future generations to love family medicine as much as I do.
About the award: The TAFP (Texas Academy of Family Physicians) Outstanding Graduate Award is given by the Dallas Chapter to one student annually.