Isabel Wees, M.D.: Dr. Richard Mays Smith Award
During medical school, Dr. Isabel Wees took on very complex cases, such as a cirrhotic patient with cholangiocarcinoma and multiorgan failure. Dr. Wees played a key role in helping this patient and their family navigate difficult end-of-life decisions and now aspires to assist others as an internal medicine physician.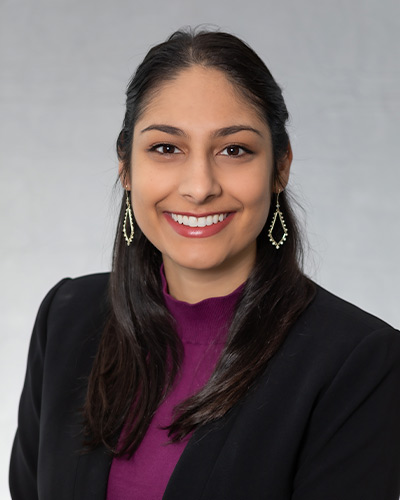 What this award means: I am humbled to receive this honor and feel privileged to have worked alongside such distinguished Internal Medicine faculty and residents. They taught me how to be the best physician I could be.
Mentor comment: Isabel received the highest praises for her ability to connect with patients, function well in a team environment, and synthesize medical information. She brings a sophisticated wisdom, immense talent, and unique skillset to our profession. – Reeni Abraham, M.D., Associate Professor of Internal Medicine
Background and family: I was born and raised in Fort Worth, Texas. In making frequent trips to Trinidad and Tobago, the birthplace of my father, I was exposed to a different way of life and approach to health care. The struggles with the health care system experienced by many of my relatives and their neighbors inspired me to become an internal medicine physician to address health care disparities.
What led to your career path: In high school, I volunteered at a food pantry and wrote a bilingual newsletter to provide basic nutrition information for the food pantry recipients. This led to my becoming a registered dietitian. However, as an internal medicine physician, I felt I could utilize my skillset to treat the whole patient rather than just a single aspect of their care.
College: I graduated from UT Austin in 2018 with an honors nutrition degree. I volunteered at food pantries and assisted with nutrition education at elementary schools and senior centers during my college years. I also volunteered at Dell Children's for a multidisciplinary healthy living program for overweight children.
UTSW activities: My first year at UTSW, I was introduced to quality improvement research and completed the Distinction in Quality Improvement and Patient Safety program through a research project at the Parkland Diabetes Clinic. As part of the United to Serve Carnaval de Salud Science Zone committee, I loved sharing my passion for science and medicine with children. I also helped create a COVID-19 telemedicine elective that students could take to provide telehealth care to recently diagnosed patients.
Surprising fact: During my middle and high school years, I spent most weekends at my grandparents' ranch where we raised chickens and cattle and tended a large garden and orchard.
Ultimate career goal: My goal is to help patients facing unclear or complicated conditions through compassionate care and education.
Future plans: I will complete an internal medicine residency at UT Southwestern and then pursue a gastroenterology fellowship with a focus on hepatology. I would like to stay in academic medicine, working with underserved populations as well as continue my work in quality improvement research.
About the award: The award is given annually to one or more graduating medical students who excel academically during clinical rotations and exhibit an interest in and compassion for patients.