Nicholas Campalans, M.D.: Dr. Richard Mays Smith Award
During his medical school training, Dr. Nicholas "Nico" Campalans spent hours at the bedside of one patient who insisted on leaving the hospital against medical advice. Only after talking with Dr. Campalans did the person agree to stay, demonstrating the new doctor's patient-centered care approach.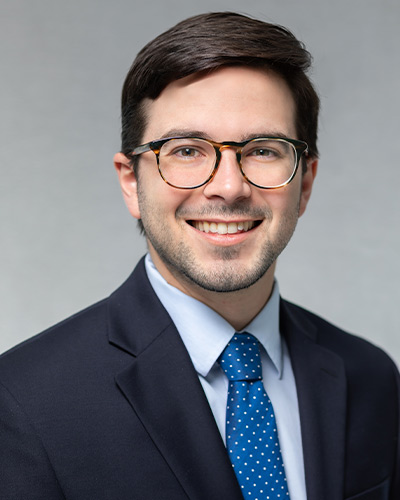 What this award means: I am so deeply humbled and grateful to have been chosen for this award. I am thankful for the support of my incredible mentors and peers at UTSW who have role modeled wonderful patient advocacy and care.
Mentor comment: Nico has been involved in many initiatives: a student-led patient navigator program, which he created; a Community Health Research Fellowship, in which he worked with current or formerly incarcerated people with mental health needs; and the Texas Medical Association Medical Student Section, serving as Director of Policy. Overall, Nico's leadership capabilities, humanistic approach to medicine, and exemplary clinical competency make him a well-rounded physician. – Reeni Abraham, M.D., Associate Professor of Internal Medicine
Background and family: My family and I are from Caracas, Venezuela, and we arrived in the U.S. when I was 5 years old. I am so grateful for their support throughout my journey in medicine, and I am excited to pass it forward to my sister, who is completing her M.P.H./P.A. degree at George Washington University, Washington, D.C.
What led to your career path: My exploration of medicine grew out of an interest in neuroscience. In college, this quickly became informed by my experience working with incarcerated students through the Cornell Prison Education Program. I developed a desire to explore the intersection between criminal justice and health and subsequently served as a care coordinator for justice-involved clients through AmeriCorps at a medical case management agency.
College: I graduated from Cornell University with a Bachelor of Science in biological sciences with a Distinction in Research. I also served as a teaching assistant and developed a biology curriculum with the Cornell Prison Education Program.
UTSW activities: I served with the student chapters of the Texas and American Medical Associations. I was involved in research through the Community Health Fellowship Program overseen by the Department of Family and Community Medicine. I also helped create a student-led patient navigator program and led ethics discussions through the Gold Humanism Honor Society.
Surprising fact: I recorded a cover of "Golden Hour" by Kacey Musgraves that was played at my friend's wedding.
Ultimate career goal: My ultimate goal as a new physician is to never stop learning from my patients, students, and peers!
Future plans: I am excited to begin my internal medicine residency at the University of California, San Francisco. I have a growing interest in addiction medicine and infectious diseases, and I hope to develop interventions that improve the capacity of our health care system to meet the needs of vulnerable patient populations.
About the award: The award is given annually to one or more graduating medical students who excel academically during clinical rotations and exhibit an interest in and compassion for patients.