Merin John, M.D.: Minnie Lancaster, M.D., Scholarship Award in Family Medicine
As the first female physician in her family, Dr. Merin John wants to fulfill what she considers a divine calling to help others. She aspires to practice in an urban, underserved community, providing primary care and emphasizing preventive health strategies.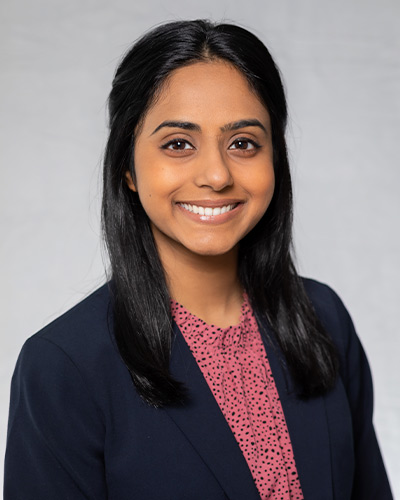 What this award means: It is an absolute honor to be chosen for this award, as it recognizes how integral community service is in the field of medicine. I'm especially glad because this award is in memory of an incredible physician, Dr. Minnie Lancaster, who deeply valued family and community and was a true role model for women in medicine. What I admire the most about her legacy is her drive to fulfill the calling and purpose that God had placed on her life. I hope to use medicine as a resource to serve my community as well as she did.
Mentor comment: Merin is one of the best students I have worked with so far. She is a great student, easy to work with, attentive, and takes initiative. She has a bright future ahead of her and would be an asset to any residency program. – Tamara McGregor, M.D., Associate Professor of Family and Community Medicine and Internal Medicine, who holds the Ozora F. Young, M.D. Professorship in Family Medicine
Background and family: I'm a first-generation immigrant. My parents moved from Delhi, India, when I was 13 years old, and we've lived in a small town near Galveston ever since.
What led to your career path: I was inspired to pursue a career in health care, following in the footsteps of many women in my family who were nurses, pharmacists, and so on. However, becoming the first female physician in my family was truly a divine calling that I only came to realize during my final year of college. It was only then that I found medicine to be a meaningful way for me to accomplish my true passion, which is to spread the love of Jesus by serving those most in need.
College: I'm a proud Longhorn (Hook 'em Horns!) from UT Austin. I completed my bachelor's degree in public health, which taught me to view patients within the context of the communities they live in and better understand their barriers to care.
UTSW activities: As a medical student at UTSW, I've been involved in Family Medicine and Preventive Lifestyle Medicine interest groups. I've also enjoyed serving as a free clinic manager, smoking cessation clinic officer, and led the Women's Health Enrichment elective.
Surprising fact: I am fluent in three languages (English, Hindi, and Malayalam) and love watching NFL highlights or sports documentaries during my free time.
Ultimate career goal: To receive the best, full-spectrum family medicine training and become an excellent physician who provides whole-person care, including physical, emotional, and spiritual healing.
Future plans: I hope to live in an urban, underserved community where I can provide primary care and emphasize prevention by focusing on health education, nutrition, and other barriers to care.
About the award: The award honors Dr. Lancaster and her husband, Dr. Edgar Lancaster, who in 1953 opened the Grapevine Clinic and Hospital, the first clinic in Grapevine and the forerunner of Baylor Scott & White Medical Center at Grapevine.