Ashley Phillips, M.D.: Hemphill-Gojer Award in Internal Medicine
When Dr. Ashley Phillips began medical school, she envisioned becoming an Ob/Gyn until her very last rotation – internal medicine. Within days she felt excitement, camaraderie, connection, and joy unlike any she had experienced in other clinical settings. She upended her career plans and two months before residency applications were due, decided to become an internist.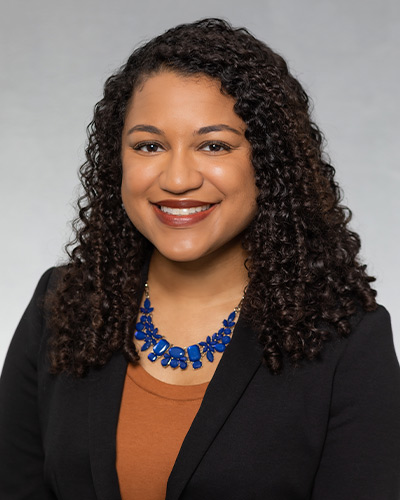 What this award means: This award is validation that I have truly found my home in internal medicine. I have a deep passion for the field and the richness of care I can provide to patients as an internist.
Mentor comment: Ashley is a rising star and will have an incredible career in internal medicine. She has dedicated herself to understanding principles of public health and health disparities and is committed to health care for the underserved and ensuring that care delivery is optimized. – Rachel Bonnema, M.D., Associate Professor of Internal Medicine
Background and family: I was born in Irving, Texas, but my family is from the Caribbean. I have not traveled to the Caribbean nearly as often as I would like, but my parents and extended family have embedded West Indian culture into our family events and everyday life.
What led to your career path: My interest in becoming a physician stems from my mother's experience living with heart failure and, on Jan. 22, as a heart transplant recipient. Through my mother, I learned about the complexity of living with chronic disease and decided to pursue a career that allowed me to care and advocate for individuals like her. After college, I earned my master's in public health, learning to improve health care for patients at the community level before attending medical school to learn how to care for them at the individual level.
College: At Rice University, I was a dual major in policy studies and anthropology, with a self-directed focus on the intersection of culture and medicine. It was my own way of incorporating public health into my undergraduate education. As a graduate student in public health at Emory University, my area of focus was behavioral sciences and health education.
UTSW activities: At UTSW, I had the privilege of helping start and serve as co-President of the Preventive and Lifestyle Medicine Student Interest Group, educating students on nutrition and motivational interviewing and organizing student volunteer events at food pantries in the Dallas community.
Surprising fact: I did not become a dog owner until 2020! As a dog lover and part-time dog sitter, most people assume I either grew up with dogs or had my own pup at home. March 2020 is when I finally gave in and foster failed my little buddy, Jack Jack.
Ultimate career goal: My primary, everyday goal as a doctor is to make my patients feel heard and to make complex medical challenges feel manageable. My ultimate goals are to work with other health care professionals to ensure that high-quality care is accessible to all patients in our community and eliminate health disparities based on race and ethnicity.
Future plans: I will be completing my internal medicine residency at Johns Hopkins Hospital through their Urban Health Primary Care Track. I intend to become a primary care provider for underserved patients and to continue conducting public health research to improve health care systems in my community.
About the award: The award, presented to one or more top medical students in internal medicine, was established by Ross H. and Anne Seymour Hemphill in honor of their son and daughter-in-law, Dr. and Mrs. Seymour Hemphill; their daughter and son-in-law, Dr. and Mrs. Bernard Gojer; and Anne Hemphill's parents, E. Clyde and Florine Allen Seymour. Dr. Hemphill and Dr. Gojer are both UTSW Medical School alumni.