Hector Filizola, M.D.: Hemphill-Gojer Award in Internal Medicine
When a back injury derailed Dr. Hector Filizola's dream to play football, coaches and family members told him everything happens for a reason. Little did he know then that the experience and medical care he received would inspire him to become a physician.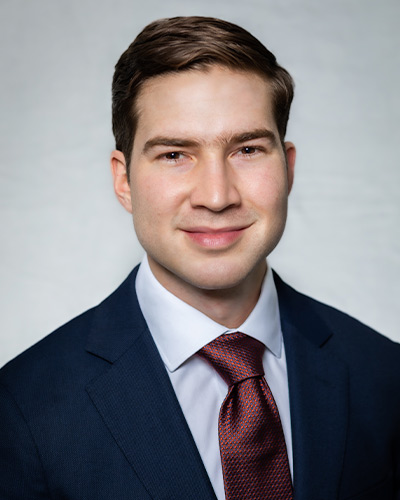 What this award means: Being selected for this honor by my role models means the world to me. The Internal Medicine faculty and residents taught through example and mentorship what humanistic, patient-centered care means.
Mentor comment: Hector's ability to build rapport with his patients and their family transcends his level of training. Having demonstrated a sophisticated ability to manage patients, Hector would be an exceptional addition to any residency program and the physician you would want at your own or your family member's bedside. – Kehinde Odedosu, M.D., Assistant Professor of Internal Medicine
Background and family: I was born and raised in Brownsville, Texas. My father is a financial consultant, and my mom owns a dance academy. I also just got married to my best friend! She works in diversity recruitment with Microsoft.
What led to your career path: My interaction with doctors after experiencing a back injury that prevented me from playing my dream sport led me to medicine as my calling. Coaches and family always told me everything happens for a reason, and it is not until now that I am discovering that reason. This experience, in combination with growing up in a city that is medically underserved and seeing how Hispanics are disproportionately affected, helped me find my passion – medicine.
College: I graduated summa cum laude from UT Rio Grande Valley. My biggest accomplishments there were establishing and leading two student organizations, Tutor for All (T4A) and Live to Serve (L2S). T4A is an organization of volunteers that tutors children in an underserved community. L2S provides volunteers to Rio Nursing Home at Fox Hollow. I was also a teaching assistant for several biomedical science classes, which was a great learning experience.
UTSW activities: In my spare time, I volunteer in free clinics and health fairs as a Spanish interpreter. During COVID-19 vaccination efforts, I volunteered to help administer vaccines. I am also a peer mentor for second-year medical students and was a Latino Medical Student Association officer.
Surprising fact: I once tried out for a role in a movie and got the part! Look me up in IMDb (one-hit wonder)!
Ultimate career goal:I aspire to be the type of doctor I would want to care for my family – an empathetic physician who can help a patient or their loved one when they need it the most. I want to work every day to help mitigate the disparities and communication barriers that underserved Hispanics face in medicine. I plan to move back to South Texas or work with a similar patient population once I conclude my training.
Future plans: I plan to take the tools and knowledge I gained here at UT Southwestern while I continue to grow and learn during my internal medicine residency at UCLA. I am really excited to have the opportunity to have a robust clinical training experience there with the diverse patient population. Currently, I am most interested in specializing in pulmonary and critical care. In this specialty, I believe I can use the internal medicine principles that I have been educated in and at the same time give the patients and especially their loved ones the compassion and communication they deserve.
About the award: The award, presented to one or more top medical students in internal medicine, was established by Ross H. and Anne Seymour Hemphill in honor of their son and daughter-in-law, Dr. and Mrs. Seymour Hemphill; their daughter and son-in-law, Dr. and Mrs. Bernard Gojer; and Anne Hemphill's parents, E. Clyde and Florine Allen Seymour. Dr. Hemphill and Dr. Gojer are both UTSW Medical School alumni.