Ho Din Award winner lured to medicine by the magic of anesthesiology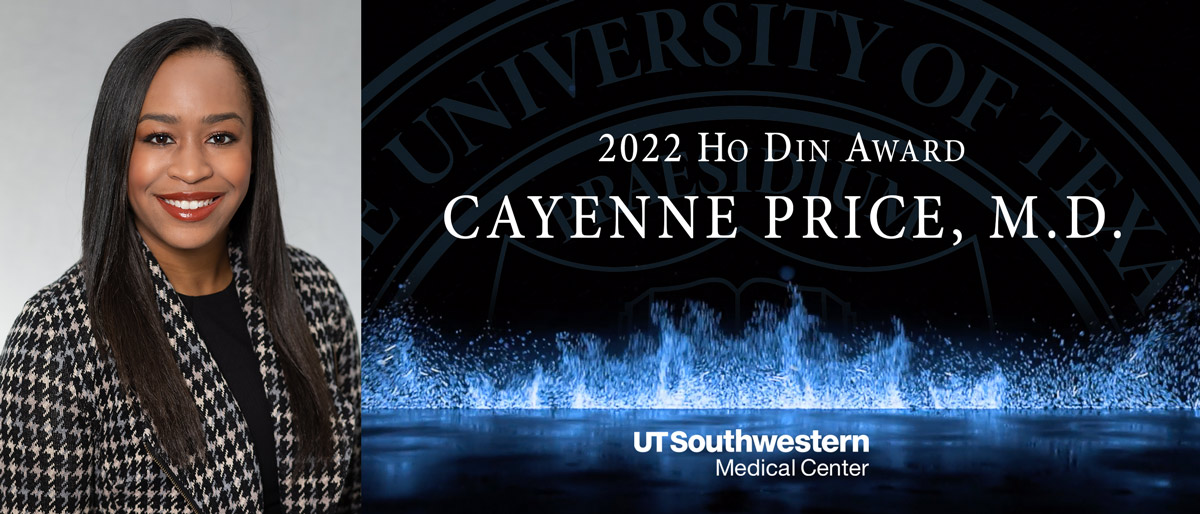 As a competitive dancer and gymnast in elementary school, Cayenne Price, M.D., had always been fascinated by how the human body works – she'd seen athletes push themselves to amazing extremes. In eighth grade, a human anatomy class convinced her to pursue a health care career.
But it wasn't until college, as she watched her first surgery while shadowing an anesthesiologist, that she fully recognized her calling.
"To my naïve eyes at the time, it seemed that in just a few motions of the anesthesiologist's hands, the patient, who just moments ago was completely dependent on us to support her basic life functions such as ventilation, was awake and breathing on her own … In that instant, I knew one thing to be true: Anesthesiology is magical, and I wanted to be – not just watch – the magician."
The North Texan who graduated summa cum laude from Southern Methodist University – while also being a cheerleader and student government senator – just graduated near the top of her class at UT Southwestern Medical School. She also received the highest medical student honor given at UTSW, the Ho Din Award.
Watch: Cayenne Price receives 2022 Ho Din Award
The Ho Din is awarded each year by Southwestern Medical Foundation to recognize a graduating medical student with attributes inherent in great physicians. It was established in 1943 and comes with a medal, certificate, and $10,000 scholarship.
"It is a great pleasure to celebrate Cayenne Price for her devotion to medicine and service to community," said Kathleen M. Gibson, President and CEO of Southwestern Medical Foundation. "Cayenne, like the Ho Din Award winners before her, exemplifies the qualities of medical wisdom and scholarship, service, and leadership inherent in all great physicians. Her passion and commitment to the underserved are an inspiring example to all of us who are seeking to address disparities in health care. I have no doubt that she will help us change the world for the better."
"Cayenne embodies all of the qualities we hope for in our students and aspire to as fellow physicians," added Blake Barker, M.D., Associate Dean of Students, Associate Professor of Internal Medicine, and Chair of the Student Awards Committee. "She is a true servant to her community and a role model in everything she does. We could not be more proud to see Cayenne receive this honor."
As a teenager, Dr. Price was fascinated by the care she witnessed inside a physical therapy clinic where her mother taught Pilates classes. The day she turned 16 years old, Dr. Price applied for and got a job as a physical therapy technician there, helping patients with exercises.
Initially, Dr. Price thought about becoming a physical therapist, and she earned a Bachelor of Science in applied physiology and health management at SMU. But a job at a DNA testing firm her junior year led her in a different direction as she interacted with physicians who sent in samples. When she shared her dream of becoming a doctor with a pharmacist at the company, he encouraged her to go for it.
Four years of medical school later, Dr. Price has built an impressive resume. Not only was she inducted into the Alpha Omega Alpha Honor Medical Society and the Gold Humanism Honor Society, but she worked as a tutor and served on committees to welcome new medical students to UT Southwestern. Dr. Price also helped plan a medical service trip to the Dominican Republic and participated in a study that examined ways to improve pain management for pediatric burn patients while lowering opioid use.
She has also been active in the community outside of medical school. After George Floyd was murdered in 2020 under the knee of a Minneapolis police officer, Dr. Price and her husband made a short film titled "What is Systemic Racism and What Can We Do About It?" presenting their thoughts on how to make a difference and sharing resources for more information. The Facebook and Instagram post has garnered almost 7,000 views.
While staying active in the community and completing medical school with distinction, she also gave birth to her first child, a son, on Nov. 27, 2021.
"It was very challenging," Dr. Price said of the experience juggling pregnancy and the rigors of medical school. "I was first-trimester pregnant – nauseous and tired. But it's kind of a difficult thing to do no matter what time of life you're in. I think it worked out really well. I didn't really miss a beat in medical school … I'm actually very passionate about living your life in the meantime."
As for winning the Ho Din Award, she called the experience "completely humbling, because there are so many incredible people in my class."
Dr. Price also received the MT "Pepper" Jenkins Outstanding Medical Student Award in Anesthesiology and Pain Management, which recognizes a student seeking a career in anesthesiology who excels academically, is empathetic with patients, and exhibits leadership, scholarship, and a thirst for knowledge. The award is named after the late M.T. "Pepper" Jenkins, M.D., who established and served as Chairman of the Department of Anesthesiology and Pain Management from 1948 to 1981.
"Cayenne is an extraordinary young woman," said Charles Whitten, M.D., Professor and Chair of Anesthesiology and Pain Management. "She has a true care and concern for those she interacts with each day – this defined Dr. Jenkins' legacy and will define Cayenne in the coming years. We expect great things from her."
Dr. Price, who grew up in McKinney, will begin her residency in anesthesiology at UT Southwestern this summer. She hopes to later complete a fellowship in pain management and one day work in an academic setting, practicing both anesthesiology and pain management.