Aman Narayan, M.D.: Lorraine Sulkin-Schein Medical Student Award in Geriatric Medicine
While working at Texas Children's Hospital in Houston, Dr. Aman Narayan researched the social determinants of health. He learned that physicians can help patients in two ways: medically and through advocacy for the health of communities. It was then that he realized he wanted to become a doctor.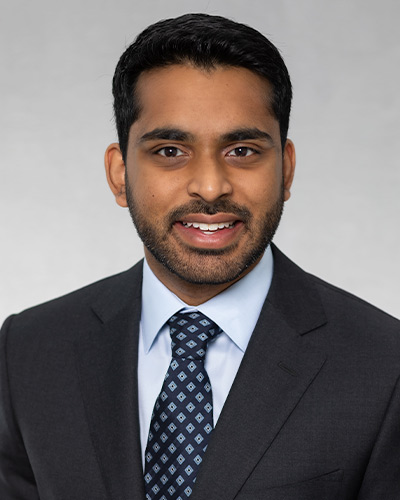 What this award means: I rotated on the geriatrics service during my internal medicine clerkship. It was there where I learned about several specific considerations necessary for caring for elderly patients. In addition, I had the opportunity to build strong relationships with several UTSW Geriatrics faculty. I'm honored to be recognized for my work and interests.
Mentor comment: I have been very impressed with Aman's focus, sense of responsibility, initiative, and commitment. He clearly enjoys teaching, and I have received very positive feedback from other trainees regarding his interest and skill as an educator. He easily establishes a strong rapport with his patients. His patients will feel most fortunate to have him as their provider. – Vivyenne Roche, M.D., Professor of Internal Medicine and a Distinguished Teaching Professor
Background and family: I grew up in Houston, Texas, and have lived in the state for most of my life. Being in Dallas has been nice because it has afforded me the ability to travel back home for big events – or frankly, whenever I have a few days off and miss my mom's food!
What led to your career path: I was always interested in the intersection of health and economics and held several positions that delved into the realm of health policy and public health. While working at Texas Children's Hospital in Houston, I had the opportunity to thoroughly research the social determinants of health. I realized then that physicians have the unique capability to help our patients medically but also have the power to advocate for the health of our communities on a more macroscopic level.
College: I attended Rice University, earning bachelor's degrees in economics and policy studies. I was named a Health, Humanism, and Society Scholar; and a Law, Justice, and Society Scholar.
UTSW activities: I spent significant time working with the Texas Medical Association (TMA). I sit on the statewide medical student leadership board, where I oversee all of the resolutions that medical students ask the TMA to adopt. This role allows me to work with nearly 100 students across the state to find policy issues that they are passionate about and effectively defend them in front of hundreds of physicians at the annual legislative conference. The resolutions span various topics, including public health, health care financing, science and medicine, and patient advocacy.
Surprising fact: I was debating between attending medical school and law school up until the summer before school started!
Future plans: I'll be pursuing my residency in internal medicine here at UTSW! I know that I want to incorporate the care of marginalized communities into my practice.
Ultimate career goal: To make sure that I devote adequate time to understanding and listening to patients. It's important to me that patients feel heard and understood, because the failure to do so is the basis for so many misdiagnoses, complications, and distrust with the system. I want to prioritize a patient-centered paradigm in all of my interactions as a physician.
About the award: The Sulkin-Schein Award recognizes a medical student who has demonstrated compassion, keen interest, and commitment to the care of older adults. The award is named in honor of Mrs. Schein, a longtime supporter of UT Southwestern who bequeathed funds to promote geriatrics as a career path for medical students. She died in 2007 at the age of 89.