Madeline Sparks, M.D.: Pediatric Society of Greater Dallas Award for Excellence in Pediatric Medicine
Dr. Madeline Sparks' passion for helping children grew after experiences tutoring middle school students and working as a nanny. Then in medical school, her rotations in pediatrics solidified her interest in the specialty and her desire to be an advocate for the youngest of patients.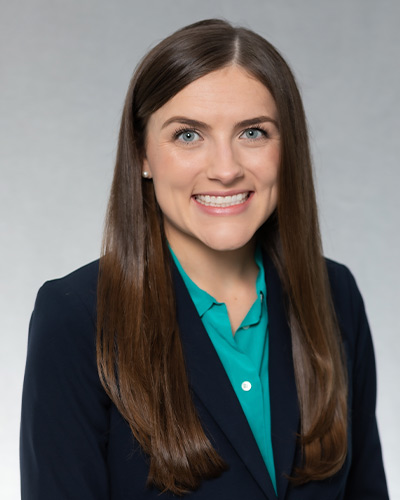 What this award means: I am so honored and humbled to be a recipient of an award that highlights characteristics that I hope to uphold in my career. I feel inspired to continue to work with my colleagues to be an active voice for children and to serve the community.
Mentor comment: Madeline has a passion for service-based learning and child advocacy that sets her apart. She's already distinguished herself through her work on childhood injury prevention on this campus, which is emblematic of how she has a heart for the most vulnerable." – Soumya Adhikari, M.D., Associate Professor of Pediatrics
Background and family: I grew up in Baton Rouge, Louisiana, with my parents and two brothers. I was first exposed to medicine through my dad, who is a radiologist. I'm so grateful for the support of my family.
What led to your career path: I discovered the joy of working with children when I tutored middle school students and worked as a nanny. In medical school, I had fun teaching children about health at an after-school program. Continuing into my clinical rotations, I enjoyed working with families in the clinical setting and found my passion for pediatric advocacy. Through all of these experiences, I knew pediatrics was the right field of medicine for me.
College: I graduated summa cum laude from the University of Georgia with a Bachelor of Science in genetics. I volunteered with Relay for Life, an organization that benefits the American Cancer Society, and served with the Clark County Mentoring Program, which pairs college students with youth for mentorship.
UTSW activities: Throughout medical school, I enjoyed learning and teaching about nutrition. I served as the Culinary Medicine elective coordinator and volunteered with the Food as Medicine Interest Group, teaching people about nutrition at food pantries. I also got involved in pediatric advocacy as a medical student delegate for the American Academy of Pediatrics and as a member of Trainees 4 Child Injury Prevention (T4CIP).
Surprising fact: I enjoy weekend trips out on the water. My boyfriend and I like to take trips to Lake Texoma to fish for striped bass.
Ultimate career goal: As a new doctor, my ultimate goal is to be a compassionate listener and active advocate for each patient and family I serve.
Future plans: I will be starting my pediatric residency at UT Southwestern. Throughout my career, I want to be an active pediatric advocate and continue to work with patients and the community in the realm of nutrition.
About the award: The award recognizes an outstanding graduate who has the personal character and dedication to serve, as well as be an advocate for, children.