Ahneesh Mohanty, M.D.: Excellence in Plastic Surgery Award
As a child, Dr. Ahneesh Mohanty was hospitalized with Kawasaki disease. Amazed at the care UT Southwestern physicians provided and how their efforts could positively transform lives, Dr. Mohanty came to realize medicine as his calling.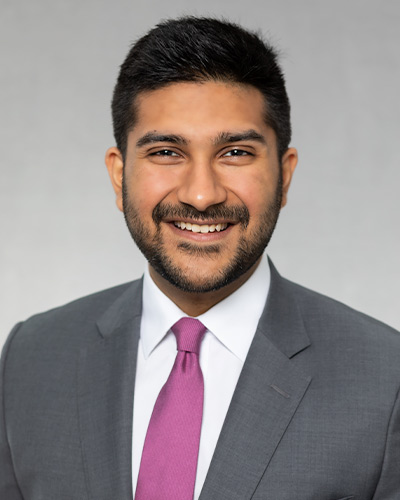 What this award means: This award represents a recognition of years of hard work in a field that I am so passionate about. I have been inspired by the impact that plastic and reconstructive surgery has on the quality of life for patients.
Mentor comment: One of the most unique aspects about Ahneesh is his insatiable curiosity combined with an unwavering work ethic, ability to execute at an extraordinary level, and very high intelligence. I have very little doubt as to his future contributions to medicine. – Shai Rozen, M.D., Professor of Plastic Surgery
Background and family: I was born and raised in Plano, Texas. My father is a first-generation immigrant from India, and my mother is a first-generation immigrant from Sri Lanka. Being a child of immigrant parents, they taught me the importance of working hard to achieve your dreams. They also did a tremendous job of making sure my brother and I stayed grounded by taking us home to India and Sri Lanka and showing us some of the poverty that exists there. These experiences additionally helped inspire me to pursue medicine.
What led to your career path: When I was a young child, I was hospitalized with Kawasaki disease here at UT Southwestern. I remember being amazed at how physicians had the capacity to change lives, and I knew from an early age that medicine was my calling.
College: I was accepted to the seven-year B.A./M.D. program with UT Dallas and UT Southwestern as a high school student. I graduated summa cum laude from UT Dallas with a Bachelor of Arts in biology and a minor in economics before matriculating at UT Southwestern.
UTSW activities: My first year at UT Southwestern, I served as President of the Plastic and Reconstructive Surgery Interest Group. I also became involved in DFW Hepatitis B/C Free, an organization dedicated to performing free hepatitis B and C virus screening to underserved populations. I became a director of the organization during my third year.
Surprising fact: I competed in geography bees throughout elementary and middle school, even going as far as the state level!
Ultimate career goal: A career in medicine has been a lifelong goal, and it still gives me chills that this dream is finally coming true. I want to impact the lives of patients for the better. I know I most likely won't change the world someday, but if I can change someone's world, that makes all the difference for me.
Future plans: I will be going to the University of Michigan, Ann Arbor, for my plastic surgery training. I hope to one day specialize in either craniofacial surgery, microsurgery, or peripheral nerve surgery; however, my ultimate goal is to become an academic plastic surgeon. I want to continue to do research and be involved in the education and mentorship of medical students and residents.
About the award: This annual award is presented by the Department of Plastic Surgery to a fourth-year medical student who has exemplified excellence in clinical care, integrity, compassion, ingenuity, and scholarly activity.