Adrienne Joseph, M.D.: Award for Excellence in Dermatology
A misunderstanding of her family's culture resulted in poor outcomes and mistrust of the health care system among some members of Dr. Adrienne Joseph's family. This led to her decision to pursue medicine to provide culturally and socially conscious care to patients from historically neglected groups.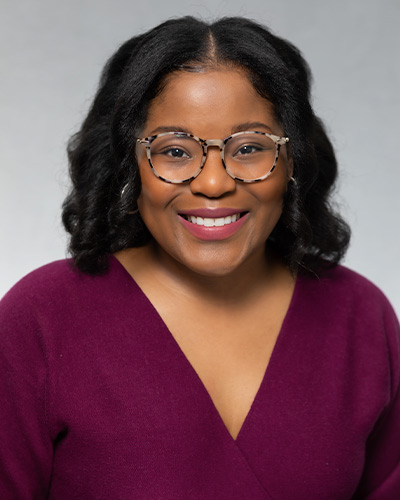 What this award means: This award is an illustration of the support that I have received from the Department and serves as motivation for me to contribute meaningfully to the field of dermatology.
Mentor comment: Adrienne was very productive as my research fellow, publishing two first-author manuscripts, one review, one case report, and one quiz with me. With Dr. Heidi Jacobe, she obtained a melanoma research grant award. She also worked on community health projects, researching diseases impacting skin color, and spearheaded a teledermatology initiative for the homeless. Adrienne has a bright future ahead in dermatology! – Benjamin Chong, M.D., Associate Professor of Dermatology, who holds the Anita C. Gilliam, M.D., Ph.D., Professorship in Dermatology
Background and family: I grew up in Houston, Texas, with my parents and older sister. I am very fortunate for the support that I received from my family. My parents taught me to work hard, be compassionate, and never settle. Thanks to the sacrifices made by my family, I will be the first person in my family to become a doctor.
What led to your career path: Many members of my family struggled with chronic diseases. A lack of understanding of my family's culture by some medical professionals resulted in poor outcomes and mistrust of the health care system by my family. I chose to pursue dermatology for two reasons. First was my interest in learning about skin and hair disease. Second was a recognition of the importance of increasing access to care, cultural competency, and diversity within dermatology.
College: I graduated magna cum laude from UCLA with a Bachelor of Science in microbiology, immunology, and molecular genetics. College volunteer activities include assisting at a primary care clinic that served patients from low-income backgrounds and educating high school students about reproductive health.
UTSW activities: I served as a community service chair for the Student National Medical Association, co-President of the Palliative Care Interest Group, and mentor for the Health Professions Recruitment and Exposure Program. Additionally, I regularly volunteered at UTSW student-run free clinics and published research related to dermatology in underrepresented populations.
Surprising fact: I love crafts. I mostly enjoy drawing or painting, but I have picked up knitting as an end-of-med-school hobby.
Ultimate career goal: My goal as a new doctor is to do the absolute best that I can for my patients. In addition to treating my patients' medical conditions, I strive to show them compassion.
Future plans: I plan to pursue a career in dermatology, advocating for marginalized groups and engaging in research focused on limiting health disparities in inflammatory skin disease. I will return to Houston, my hometown, to complete a transitional year at HCA Kingwood and a dermatology residency at UT Houston.
About the award: The award is given to UT Southwestern graduating medical students who have advanced dermatological patient care, research, or teaching in a special way, or who show promise for leadership in these areas. Each recipient receives a certificate and $1,000.