Laila Abbas, M.D.: Award for Excellence in Dermatology
As an undergrad, Dr. Laila Abbas set her sights on dermatology. She volunteered at a UTSW dermatology clinic and then began participating in research once she enrolled as a medical student. Dr. Abbas said the impact that a dermatologist can have on helping patients with complex skin diseases solidified her focus.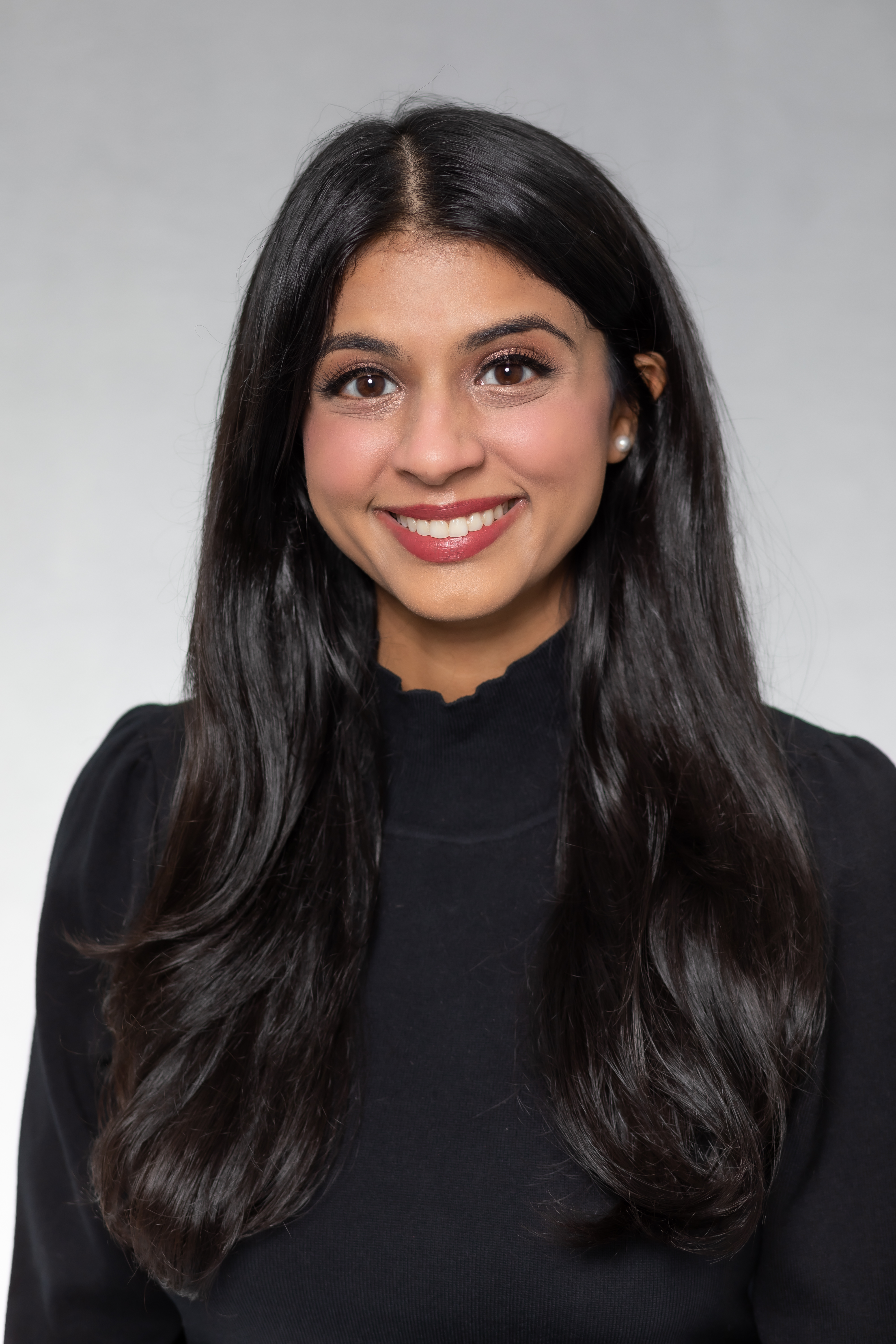 What this award means: It has been my dream for years to be a dermatologist, and I am so grateful for the excellent mentorship and exciting opportunities I have had at UT Southwestern.
Mentor comment: Laila has a long-standing commitment to dermatology dating back to her days as an undergraduate when she began volunteering in my clinic. After starting medical school, Laila maintained consistent contact by shadowing in the clinic and participating in research projects. This evolved into a yearlong fellowship. Throughout, Laila has been a joy to work with, exhibiting a true desire to learn, persevere, and get things done. – Heidi Jacobe, M.D., Professor of Dermatology,
who holds the James N. Gilliam, M.D. Chair in Dermatology
Background and family: My parents are first-generation immigrants from Pakistan. My mom is an elementary school special education teacher, and my father is an engineer. I have a younger sister who will start medical school this summer. I got married about a year ago, and my husband is currently completing his fellowship in cardiology.
What led to your career path: I became interested in dermatology as an undergraduate student when I volunteered as a research assistant in Dr. Jacobe's morphea clinic. I was fascinated by the complex skin diseases managed by dermatologists and the profound impact a dermatologist can have on patients' quality of life. In medical school, I really enjoyed the mix of medicine, pathology, and procedures found in dermatology. I particularly loved caring for patients with complex medical dermatologic issues and autoimmune skin disorders. During medical school, I pursued a clinical/translational research fellowship funded by the Pediatric Dermatology Research Alliance and the UTSW Dean's Research Scholars Program studying rheumatologic dermatology.
College: I graduated summa cum laude with a Bachelor of Arts in biology from UT Dallas and was part of a seven-year B.A./M.D. program with UT Dallas and UT Southwestern.
UTSW activities: I served as an Agape Dermatology Clinic volunteer, Agape Multidisciplinary Clinic Manager, SASS tutor, AOA Step Up to Clerkships Committee founder and chair, Medical Education I/II course director, Dean's Research Scholar, and Pediatric Dermatology Research Alliance Fellow.
Surprising fact: I really enjoy weightlifting, especially leg day!
Ultimate career goal: As a new doctor, my goal is to provide outstanding patient care while working daily to continually expand my knowledge and be a good team player.
Future plans: I plan to build on my existing work in dermatology and medical education in residency and beyond. I hope to one day make a positive impact in the care of patients with complex dermatologic diseases as both a clinician and educator while also conducting clinical/translational research. My goal is for my patients to remember me as a physician they look forward to seeing and who helps them achieve a more positive outlook on life by treating their skin condition.
About the award: The award is given to UT Southwestern graduating medical students who have advanced dermatological patient care, research, or teaching in a special way, or who show promise for leadership in these areas. Each recipient receives a certificate and $1,000.