Esha Hansoti, M.D.: North Texas Society of Psychiatric Physicians Award for Outstanding Medical Student in Psychiatry
The humble beginnings and sacrifices of Dr. Esha Hansoti's family from India influenced her desire to become a physician. She chose to specialize in psychiatry to empower patients, especially the underserved, with strategies to manage their mental illness and the socioeconomic impacts on their lives.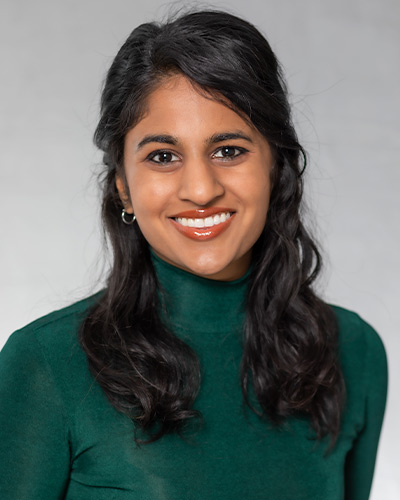 What this award means: As the daughter of immigrants, I have always been mindful of the generations prior who laid a foundation for me to succeed. From both my grandmothers receiving master's degrees after coming from difficult backgrounds to my parents traversing continents to a foreign land, many sacrifices were made before I was born. This award is not only a symbol of my hard work, but a recognition of the sweat and struggles of those before me.
Mentor comment: Esha is a thoughtful student with a deep love of psychiatry. Her advocacy work in women's mental health, LGBTQ communities, and underserved populations is evidenced by her Albert Schweitzer Fellowship and her membership in the Gold Humanism Honor Society. – Lia Thomas, M.D., Professor of Psychiatry
Background and family: I grew up in Flower Mound, Texas, with my parents, younger sister, grandmother, and aunt. My parents emigrated from India, and I have learned a lot about navigating two cultures and understanding human experiences from them.
What led to your career path: I was influenced by time spent in India with my grandparents. My grandmother always taught me to be thoughtful of those around me who weren't granted the same privileges that I was. As a teacher and principal, she dedicated her life to providing education to underserved girls in her community. This motivation of addressing disparities led me to medical school.
College: I majored in honors neuroscience and sociology at UT Austin. I volunteered as an advocate for survivors of sexual assault with The SAFE Alliance and worked with the organization Baal Dan Charities to send food to orphans in India. I took a year off after college to work with the nonprofit Action Research Community Health in Dharampur, India, providing reproductive health and nutrition education to women in rural tribal communities.
UTSW activities: As a first-year medical student, I helped found the student-run Gender Affirming Care Clinic in partnership with the Resource Center in Dallas to provide medical care to transgender and gender-nonbinary individuals. Later, through the Schweitzer Fellowship, I started the Strengths Based Gender-Affirming Care Program to provide case management to transgender individuals. I further served as the 2022 medical student class representative on the Women in Science and Medicine Advisory Committee to promote gender equity on the UTSW campus.
Surprising fact: I am a black belt in karate!
Ultimate career goal: My ultimate goal is to train as a community psychiatrist and found a community center for immigrant and refugee populations, providing mental illness care, social support, and legal resources.
Future plans: I plan to continue learning and growing as a psychiatrist in residency at Zucker School of Medicine at Hofstra/Northwell in New York. I also want to stay connected with community work wherever I end up and continue assisting underserved individuals.
About the award: The award honors a student for excellent work in psychiatry and mental health.