Class of 2022 Leadership Award: Rodolfo Fernandez-Criado, M.D.
As a child, doctor visits and learning about medicine fascinated Dr. Rodolfo "Rudy" Fernandez-Criado. With the support of his family, this first-generation Cuban American student leader is now realizing his dream, aspiring to practice in obstetrics and gynecology.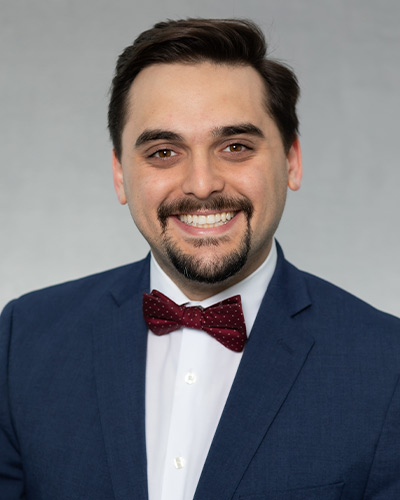 What the Leadership Award means: It has been such an honor to have been a part of student government for the Class of 2022. I never imagined I would be assuming the role of Class President in medical school. I am beyond thankful for my experience, because it taught me how critical a leadership role is and how much of an impact you can truly have. This award is a testament to me having fulfilled my role and making my fellow classmates feel included in all decisions during our time in medical school.
Mentor comment: Over the past four years, Rudy Fernandez-Criado has served as Class co-President and has led his peers through a number of significant challenges. His support and leadership were important in adapting to all of the various necessary curricular changes due to the pandemic. Rudy's positive upbeat attitude, deep care and concern for his peers, and strong advocacy supported his success as a leader and in providing a boost in morale during difficult times. Rudy has provided valuable input on campus strategic planning initiatives, curriculum innovations, and student services. Rudy is an excellent communicator, provides valuable insights, and has been a support to underclassmen in a similar role. – Angela Mihalic, M.D., Dean of Medical Students and Associate Dean for Student Affairs
Background and family: I was born and raised in Miami, Florida, to a Cuban American family. My grandmother left Cuba for the U.S. when she was in her early 40s, and my parents met in Florida. My mother, who became a registered nurse later in life, has been a continued source of motivation to pursue my dreams.
What led to your career path: As a first-generation student, deciphering the appropriate path in medicine was quite the feat. Although there weren't physicians in my family, they always provided a nurturing environment and reminded me of the potential I had when I would lose sight of it. I always found going to the pediatrician quite exciting, and learning about medicine always intrigued me. I wanted to grasp how intricate and delicate the human body was. Upon completing my Ob/Gyn rotation and maternal-fetal medicine selective, I found my calling in medicine.
College: I received my Bachelor of Arts in neuroscience from Johns Hopkins University. I found myself taking time off and worked at the Kennedy Krieger Institute at the JHU medical campus for a year. I then received a Master of Science in physiology and biophysics from Georgetown University and worked as an intern in a wellness clinic to learn about various aspects of health care.
UTSW activities: Besides being Class President for four years, I was also involved in the Lymph Notes, the on-campus a cappella group. I was also active with the Student Leadership Committee, PRE+OP counseling, Latino Medical Student Association, COVID-19 volunteering efforts, MS0 welcoming committee, and global health services trips.
Surprising fact: I was two rounds away from being a contestant on "The Voice!"
Ultimate career goal: I want to provide equitable, responsible, and comprehensive care to my future patients regardless of race, gender, or socioeconomic status.
Future plans: The next stop on my journey is taking me to Providence, R.I., where I will complete my Ob/Gyn residency at Brown University/Women & Infants Hospital. I am open to the possibility of a fellowship. So far, I have loved my time in maternal-fetal medicine and can see myself as a specialist in the future.
About the award: The Leadership Award annually goes to a student officer of the graduating class and includes a $1,000 award.