Sarah Prickett, M.D.: Iatros Award
This past year, Dr. Sarah Prickett had the terrifying and life-changing opportunity to become a caregiver herself when one of her sisters suffered a massive stroke. The experience solidified her commitment to become a doctor and support patient families.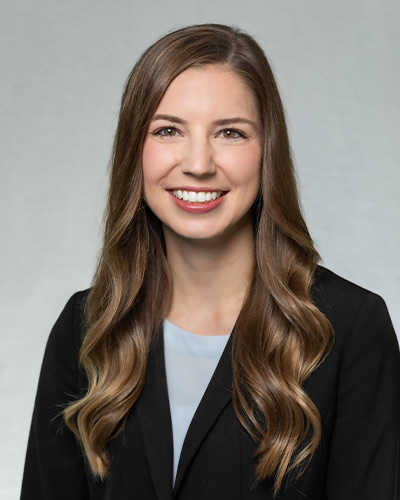 What this award means: The Iatros Award is particularly meaningful to me because it is peer-nominated and selected; to have received this recognition from my colleagues is an indescribable honor.
Class of 2022 student comments: Sarah's little sister suffered from a stroke in 2021. She never once used this horrible circumstance and piece of her life that required a lot of time as an excuse to not put forth anything than her best effort in all other aspects of her life, especially medical school. … Sarah continually goes above and beyond for patient care, addressing not only the needs of her patients, but their families as well. … She cares for patients so deeply. She takes their stories and their suffering with her. On multiple occasions she has cried to me about her patients, laughed with me about something that happened at the hospital that day, and simply just wanted to share their stories with me. … She is a quiet leader, remaining thoughtful and listening carefully to what everyone has to say.
Background and family: My father had a career in the military and my mother worked in ministry and social work. My two younger sisters inspire me every day with their perseverance, resilience, and joy in the face of difficulty. I met my husband, Sam, in college. He is a chemical engineer, a fly fisherman, and my biggest supporter.
What led to your career path: From a young age, I wanted to become a teacher. My senior year of high school, a scheduling error placed me in an anatomy class and I fell in love with the study of the human body. I enjoyed the science, but even more, I liked having information that could benefit others. Pediatrics offered rich opportunities to treat young patients while caring for the whole family.
College: I graduated summa cum laude from the University of Alabama in 2014 with a major in biology and minors in psychology and studio art. I volunteered at the local Veterans Affairs Medical Center, organized campus fundraising efforts benefiting St. Jude Children's Research Hospital, and mentored high school students.
UTSW activities: With United to Serve, I volunteered as a booth coordinator during my first year. I helped organize the first virtual fair as the graphic design chair in 2021 and ultimately was selected as a director in 2022. I also served on the PRE+OP committee and as a peer mentor for the Colleges program.
Surprising fact: While no one would be surprised that I've seen every Disney movie, they might be shocked to learn I've been just as devoted to James Bond films.
Ultimate career goal: : I have always felt called to tend to the emotional needs of my patients and their families as comprehensively as their physical needs. This past year, I had the terrifying and life-changing opportunity to become a caregiver myself when one of my sisters suffered a massive stroke. Experiencing the excruciating hours of waiting at the bedside, feeling helpless and afraid, renewed my perspective and solidified my desire to listen, be present with, and support my patient families. My ultimate goal as a physician is to provide the highest level care for my patients while helping families to feel encouraged, knowledgeable, and confident in their care.
Future plans: I am delighted to be continuing my medical training through a residency in Pediatrics at the University of Alabama – Birmingham. I am considering a career in hospital medicine.
About the award: The Iatros Award was established by the UT Southwestern Medical School Class of 1984 to honor a graduate who most emulates the complete qualities of a physician. The Iatros Award carries a cash prize provided by the Alumni Association.