Graduate student studying pediatric tumors receives the Ida M. Green Award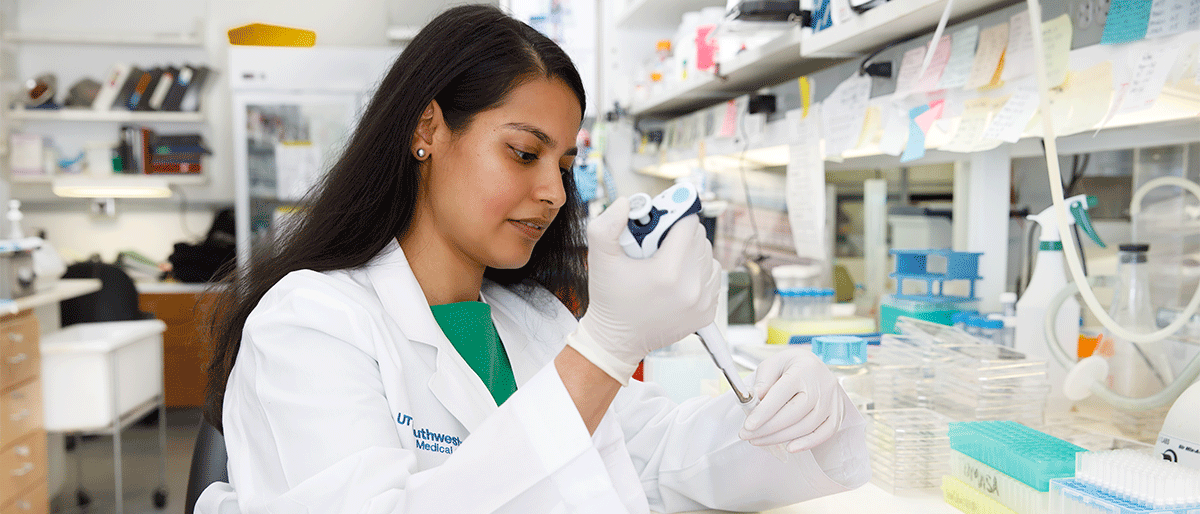 Senior graduate student Akansha Shah has been awarded the 2022 Ida M. Green Award for leadership achievements along with her research work to understand development of the childhood muscle tumor rhabdomyosarcoma and the basis of heart regeneration in newborn mice.
This honor is presented annually by Southwestern Medical Foundation to one female student in the UT Southwestern Graduate School of Biomedical Sciences to recognize the student's scientific endeavors and commitment to the UTSW community.
Ms. Shah's impact extends to serving as a role model for fellow graduate students, said her mentor, Eric Olson, Ph.D., Chair of Molecular Biology, in whose lab she works as a researcher.
"Akansha is an extremely dedicated experimentalist who always has a smile on her face. Beyond her exceptional work ethic, scientific insights, and enthusiasm, she is a leader among her peers," Dr. Olson said.
A Ph.D. candidate in the Genetics, Development, and Disease (GDD) Graduate Program, Ms. Shah spent two years working with Miao Cui, Ph.D., and Zhaoning Wang, Ph.D., to understand why newborn mice fully repair their hearts after a heart attack but lose this capacity within a week after birth. She established several cell-based assays that made it possible to identify potent regenerative factors that promote cardiac muscle cell proliferation and blood vessel formation. These findings were published in the high-impact journals PNAS, Developmental Cell, and Cell Reports.
Enthusiastic to take the lead of a project that diversified the scope of the Olson lab, Ms. Shah subsequently channeled her focus to understand rhabdomyosarcoma tumor growth, Dr. Olson said.
Through her research, Ms. Shah demonstrated that a transcription factor called Twist2 interacts with other regulators of gene expression to maintain growth of rhabdomyosarcoma tumors and showed that the depletion of Twist2 shifts the tumor toward differentiation in muscle tissue.
Although her passion is research, Ms. Shah is equally dedicated to making a difference in the community.
"I have had the privilege to be supported by exceptional mentors who provided me with space and guidance for academic and personal growth," she said. "I am motivated by that to contribute to the scientific community and encourage younger generations of women in science to follow their ambitions as I was able to pursue mine.
Ms. Shah is also mentored by Ning Liu, Ph.D., Associate Professor of Molecular Biology, and Rhonda Bassel-Duby, Ph.D., Professor of Molecular Biology, and has worked closely with both of them to expand the study of rhabdomyosarcoma in the Olson lab.
At UT Southwestern, Ms. Shah is committed to supporting her fellow students by establishing new opportunities for career development and academic growth. As President of the Biotechnology Club, she has invited professionals from various life sciences industries to offer their insights and career advice.
Ms. Shah led an effort to bring the Three Minute Thesis (3MT) competition to UT Southwestern. 3MT allows graduate students to present their thesis work to a broad audience, improving their public speaking and communication skills.
In addition, Ms. Shah has been actively involved in community outreach. As a member of the Graduate Student Organization (GSO) Leadership Board, she has organized volunteering opportunities such as the Habitat for Humanity Build Day. She also has served as a mentor and judge at the International Genetically Engineered Machine (iGEM) competition for undergraduate students interested in synthetic biology.
Born in India and raised in Thailand, Ms. Shah completed her undergraduate studies in biochemistry and biotechnology and then a Master of Philosophy in biomedical sciences, both at the University of Hong Kong. In Hong Kong, she also served as a tutor and graduate teaching assistant. When she traveled to the United States for two scientific conferences, Ms. Shah was captivated by the cutting-edge science and research opportunities available here. She came to UT Southwestern in hopes of contributing to its history for groundbreaking research and collaborative science.
The Ida M. Green Award, which was established in 1987, comes with a monetary award provided by the Women in Science and Medicine Advisory Committee and Southwestern Medical Foundation.
Ms. Shah said she is deeply honored to be recognized by the award that she sees as an inspiration for her continued commitment toward collaboration, mentorship, and service in the research community and beyond.
"I've learned that if you listen, keep an open mind, and motivate people who will help you to execute your vision, there are always ways to give back to the community," she said.