Journey from the farm to high-tech pharmacy operations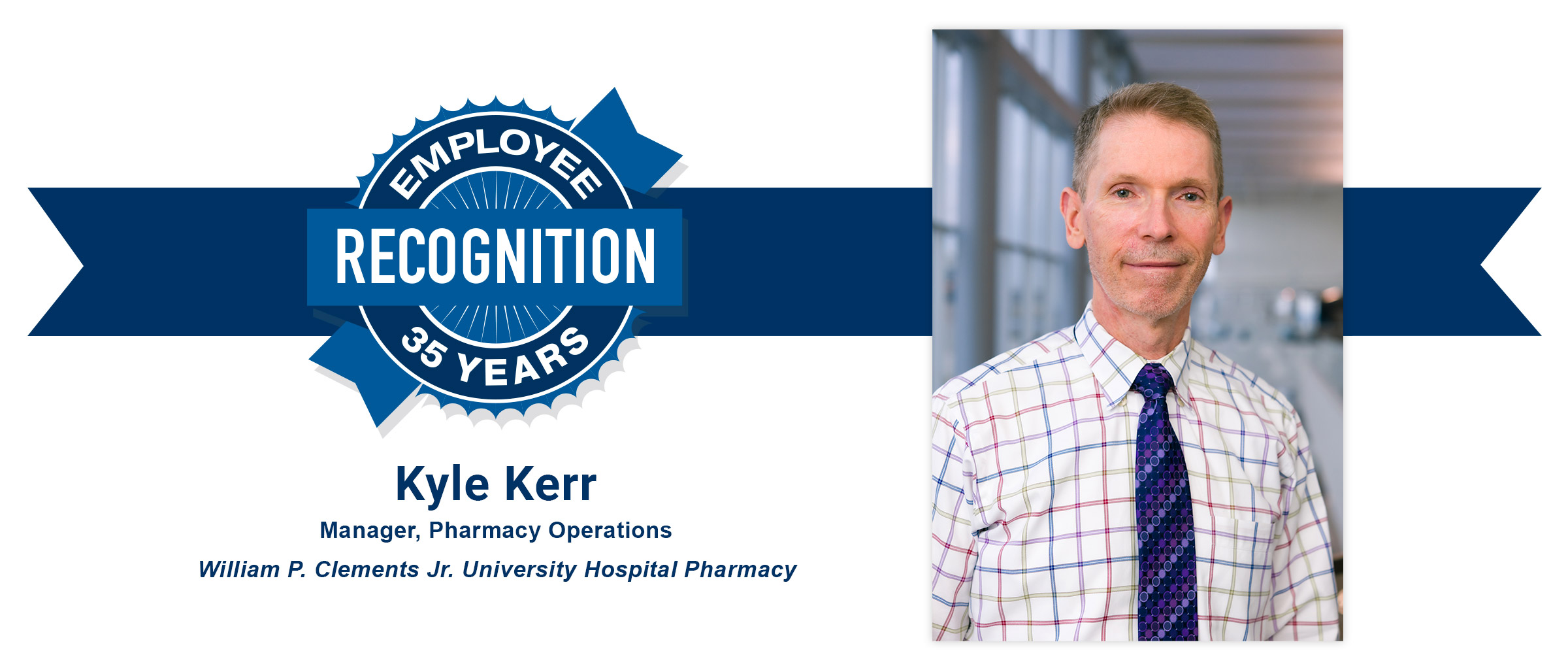 From his first days working as a pharmacist at the former St. Paul University Hospital in Dallas, Kyle Kerr began looking for ways to implement technological advances to improve patient safety. And now after 35 years at UT Southwestern, Mr. Kerr has enjoyed opportunities to do just that.
"When I started at St. Paul, we didn't have Pyxis (automated medication dispensing cabinets), we didn't have inventory management software (carousels), and we didn't have the sterile compounding software," he says. "All of these developments were designed to improve patient safety."
Indeed, the high-tech world of pharmacy that Mr. Kerr embraced turned out to be dramatically different from that of the southwest Oklahoma farm where he was raised as a child.
"I grew up working cattle, plowing the field, and driving a combine during harvest," Mr. Kerr says, amazed at times to grasp the transformation from country boy to urban medical professional.
As Manager of Pharmacy Operations today, Mr. Kerr says he has been fortunate to contribute to the implementation of many technical advances, especially in inventory management, sterile compounding, and drug distribution. His interest in innovation – either technical or operational – keeps him looking forward. But it's his memory of the past that has come in handy on the job.
"As such a longtime employee, I have the historical memory of why we did something or why we didn't do it, and I have been noted to often say, "In 1902 …," Mr. Kerr says.
Known for being a good listener, Mr. Kerr says his secret to really hearing what co-workers say is understanding how important it is to get feedback before implementing a change.
Since he started working at UT Southwestern in 1986 as a Clinical Staff Pharmacist, Mr. Kerr says he has enjoyed the collegial staff and leaders who have supported him.
One of his greatest assets, he says, is an ability to stay cool, calm, and collected in any situation.
In retirement, he has a short list of things he wants to do: "I'm looking forward to reading, playing the piano, and traveling," he says.