This race car enthusiast finds microscopy just as riveting and challenging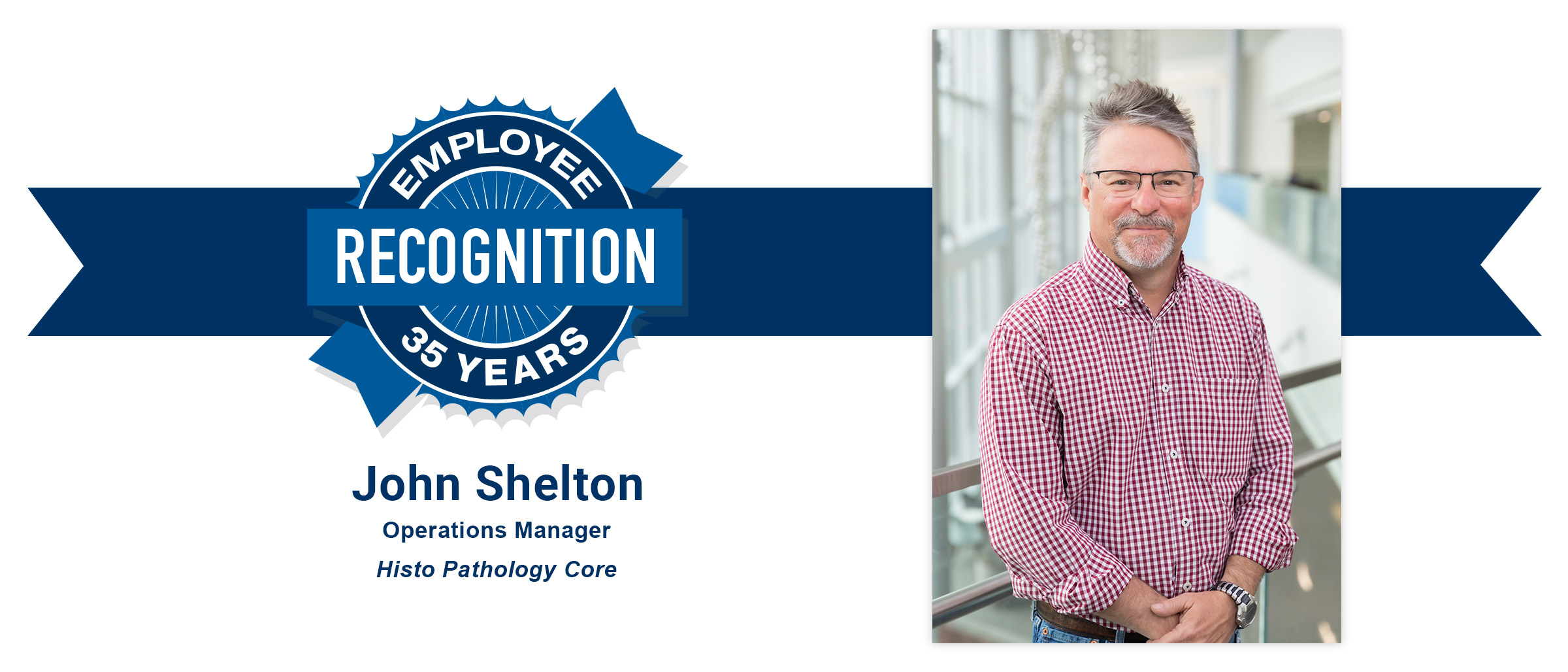 As Operations Manager for the Histo Pathology Core laboratory, John Shelton has spent much of the past 35 years peering into a microscope. Far from tedious, it's an aspect of his job he finds extremely rewarding.
"I enjoy microscopy immensely, having been given my first microscope for my ninth birthday, ordered from the Sears and Roebuck catalog," he says.
In 1986, Mr. Shelton joined UT Southwestern, armed with a degree in plant and laboratory sciences. He applied his microscopy skills to clinical pathology in the Division of Comparative Medicine and in 1992 co-founded the Histo Pathology Core laboratory, which serves the University by preparing and evaluating tissue from research animals.
At any one time, up to 300 projects are underway in the lab. Mr. Shelton is responsible for all technical and business functions of the lab.
"I have been blessed to work on myriad projects and have contributed as an author on more than 150 publications," he says.
Over more than three decades at UT Southwestern, looking into a microscope and sharing the experience with others who are equally as enthusiastic continues to be his greatest passion.
"Looking back on the past 35 years, I am rewarded by the memories of people I have interfaced with through the Histo Core ... those whom I have helped, trained, and sent on their way to corners of the globe," he says. "I am rewarded to know that the histology service that my Core offers is unparalleled, and I am proud to have had a hand in building it to that stature."
Away from work, Mr. Shelton enjoys racing vintage cars such as his 1965 AC Cobra replica. He also owns a 2012 Corvette Grand Sport. "The adrenaline I experienced the first time I tracked my car was addicting," he says.
Since 2009, he has participated in events at Texas Motor Speedway, Eagles Canyon Raceway, MotorSport Ranch Cresson, Harris Hill Raceway, and Hallett Motor Racing Circuit. He also organized track events at Harris Hill from 2010 through 2013, raising approximately $50,000 for the charities of Operation Comfort Automotivation and the Cystic Fibrosis Foundation.