Clements University Hospital expansion enhances patient care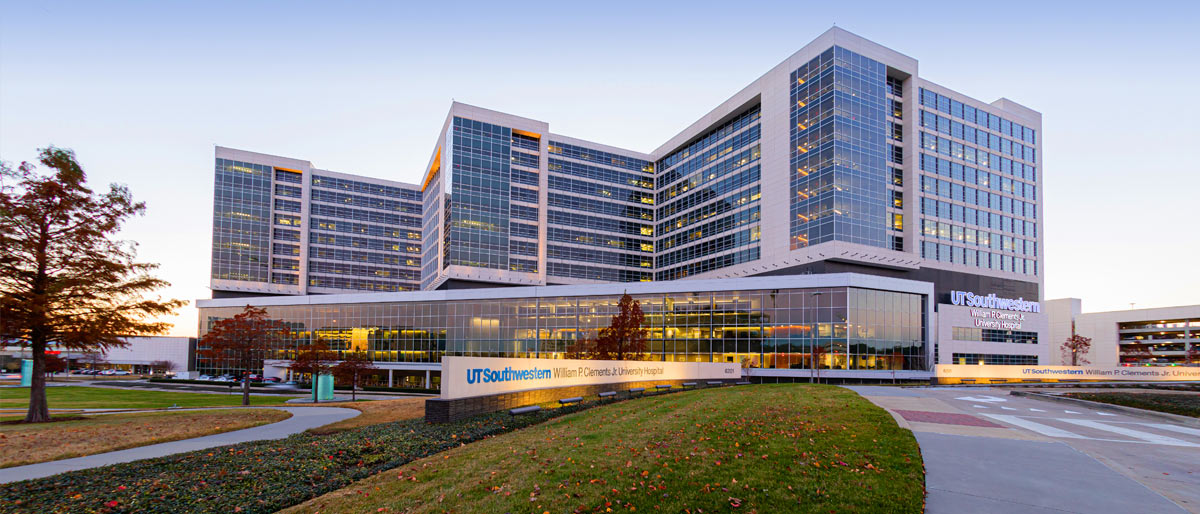 The 12-story third tower at William P. Clements Jr. University Hospital opened in January, furthering UT Southwestern's position as a leading provider of health care and broadening opportunities to integrate research and education with clinical care.
The new wing, designed to fit seamlessly with the existing hospital that opened in 2014, brings the hospital's bed count to about 750, adds operating rooms, and increases the capacity of the emergency department by more than 50 percent. Serving as the new clinical home for the Peter O'Donnell Jr. Brain Institute, the tower includes specialty units for acute stroke care, epilepsy monitoring, and specialized psychiatric services.
"The expansion marks an exciting chapter in our history demonstrating our continuing commitment to the health of North Texans. Now more than ever, the addition of nearly 300 beds to serve the ever-increasing number of patients who come to UT Southwestern is critically important. The opening of the third tower better positions us to improve the exceptional care we are known for, especially as we continue to respond to the COVID-19 pandemic," said Dr. Daniel K. Podolsky, President of UT Southwestern.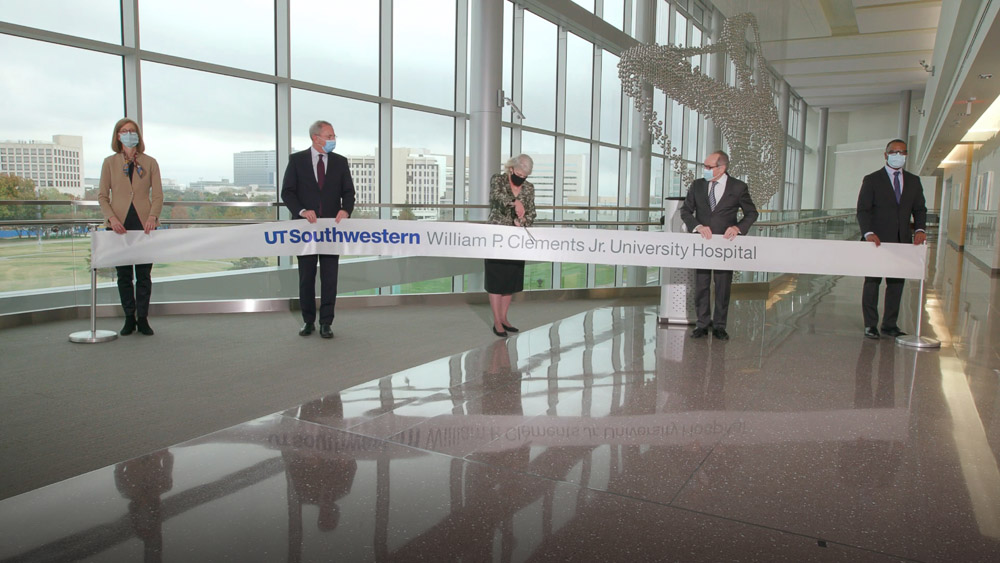 The same principles that guided the development of Clements University Hospital were also employed in the new tower, with every aspect of design intended to enable caregivers to provide exceptional care.
"Clements University Hospital, including the third tower expansion, was conceived and developed using a patient-centered, thoughtful design bolstered by the most advanced technology, research, and training available today," said Dr. John Warner, Executive Vice President for Health System Affairs.
Surgical areas in the third tower provide a team-based clinical environment with technologies coalescing around the patient. Features include 19 new operating rooms, three angiography suites, as well as intraoperative MRI, Gamma Knife, and high intensity focused ultrasound (HIFU) technologies that enable physicians to utilize a noninvasive method to treat tumors and other diseases typically treated with radiation or surgery.
A priority for planners was designing a facility that allows clinicians to quickly respond to critical conditions such as stroke. Designers created an environment that thoughtfully places care units adjacent to support areas. For example, a new helipad is just steps away from the entrance to the angio suite, where patients receive time-sensitive interventional care. Similarly, the neurointensive care unit is located on the same floor as the angio suite so that patients can be quickly transferred to the neuro-ICU after receiving emergency care.
"Time is of the essence when clinicians are making treatment decisions for emergency patients. Through the use of co-location strategies, UT Southwestern brings together multidisciplinary teams to offer the most advanced neurosurgical and neuroendovascular care in a single space," Dr. Warner said.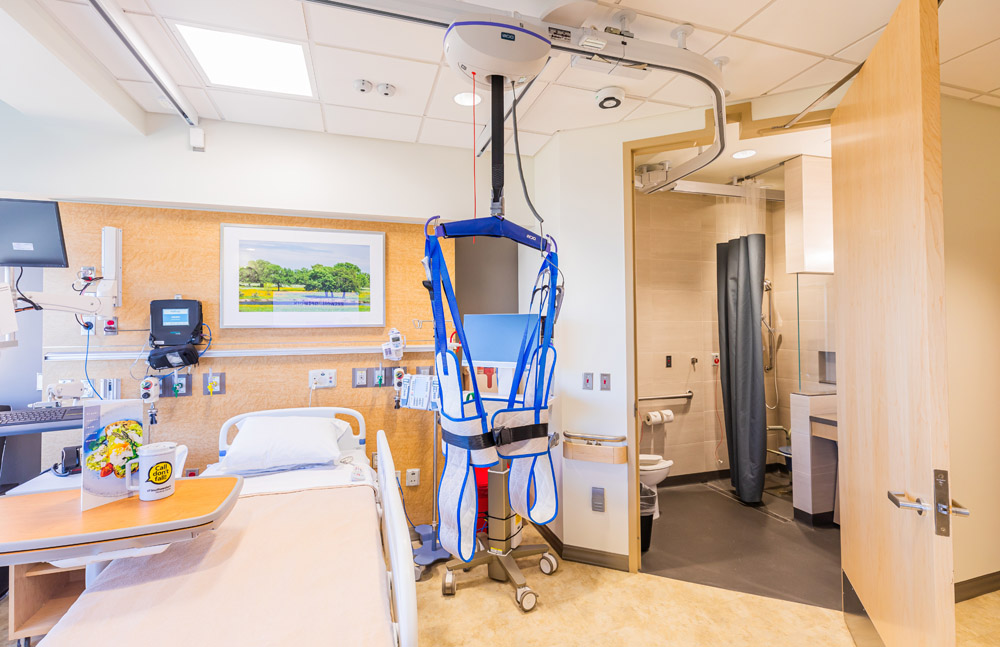 In fact, the numerous specialty care units make the new addition exceptional. The third tower includes an epilepsy monitoring unit (EMU) designed to enhance patient safety while giving specialists access to the latest research tools. A central command center allows clinicians to observe patients' brain activity or seizures in real time. Rooms are also uniquely outfitted with harnesses suspended from the ceiling to help patients independently move around their rooms with less risk of falling.
The psychiatric unit, formerly at Zale Lipshy Pavilion, has been expanded at Clements University Hospital. The larger unit is able to treat more complex psychiatric conditions, with 23 private patient rooms. The additional space also includes outpatient services, such as group therapy centered around specialized psychiatric offerings. The unit takes a holistic approach to treating mental health, featuring 5,000 square feet of outdoor space and a wellness garden designed to provide a positive-care environment and recreation.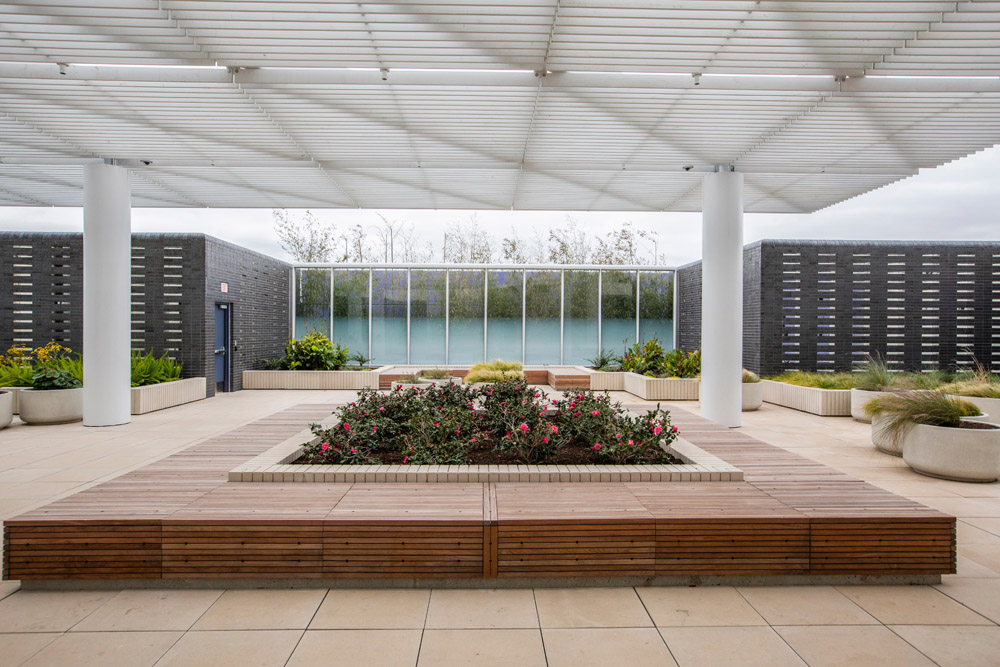 Additionally, new features and modern tools help advance the institution's research efforts by fostering close relationships between researchers and physicians and allowing them to explore new therapies and study evidence-based practices together.
"Research lies at the heart of the care we deliver, and the addition includes dedicated space for our clinical research staff to work. This supports a key UT Southwestern mission, which is to integrate our clinical research with patient care," said Chris Rubio, Associate Vice President and Chief Operating Officer, University Hospital.
Furthermore, the addition provides an increasingly rich learning environment for trainees as well as new employment opportunities. By January, more than 250 jobs were added to support additional services. That figure is expected to rise to 750 by the end of 2021, and the projection currently provides for 1,000 new positions in all, according to Mark Meyer, Chief Financial Officer.
Clements University Hospital was built with the idea that it would be expanded in 10 to 15 years, but growing demand for care at UT Southwestern moved up the timeline.
"This expansion has enabled us to continue advancing on our mission and to provide exceptional experiences for our patients and their families. I am grateful for the efforts of so many of our staff, and our community, for making this possible," Dr. Warner said.