UT Southwestern School of Health Professions' Class of 2021 graduates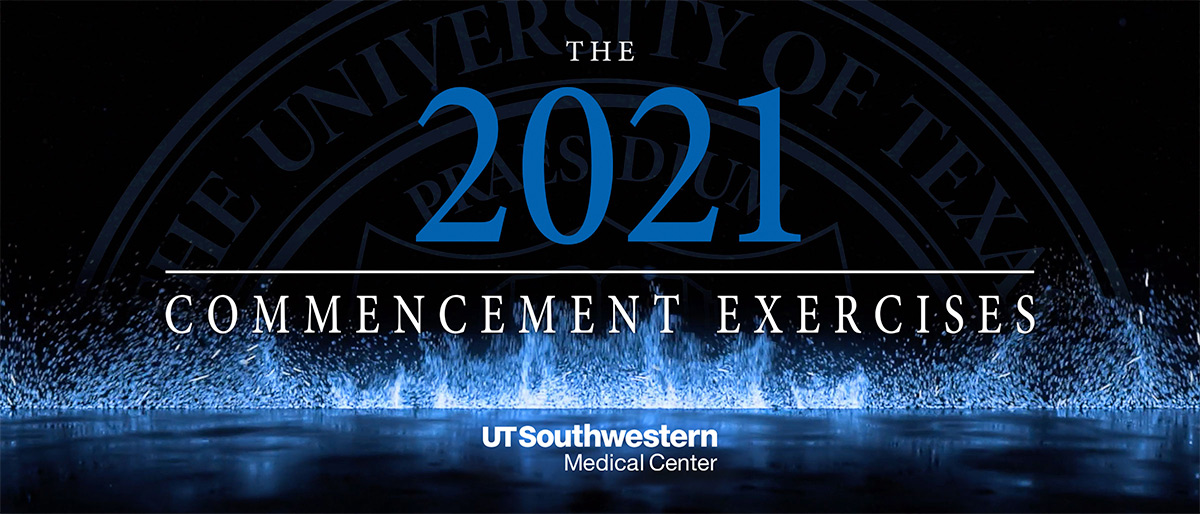 Congratulations to the School of Health Professions' Class of 2021. Below is a list of 132 students earning degrees, broken down by program. The campus community can access the virtual commencement here at 2 p.m. on Dec. 12.
Doctor of Physical Therapy
Rachel Louise Agostino
Marcella Eleanor Barrilleaux
Shraddha Bista
Madison Marie Boule
Megan Broussard
Madison Michelle Choate
Kristin Lorraine Contreras
Jillian Denee Cornell
Casey Crosson
Alexandra René Detrick
Danielle Eule
Madison Sheley Ferraro
Christin Marie Garrison
Sahil Devan Gopal
Tatumn Gutierrez
Olivia Brianna Haggerty
James Patrick Heckart
Samantha Lauren Elizabeth Hickey
Tricia Domingo Interino
Shana John
Susie Kim
Haley Kristine Laque
Krista Marie Madrid
Maghan Nicole Martz
Andreanna Roxanne McLeod
Clara Margarita Oliva
Madison Margaret Parks
Kirsten Parrish
Shivani Patel
Joshua Cooper Quinn
Samuel Benjamin Roth
Alexandra Kate Watson
Sarah Elizabeth Weeldreyer
William Aaron Weller
Dustin Lee West
Alex Steven Wiebold
Caroline Workman
Doctor of Philosophy in Applied Clinical Research
Chung Lin Kew
Brittany Nicole Wright
Master of Science in Clinical Science
Kershaw Viraf Patel, M.D.
Elizabeth Bernard Peeler, D.O.
Master of Clinical Nutrition
Sarah Elizabeth Bartels
Jenifer Luna Fang
Caroline Fox
Matthew Mark Gerberding
Dee Anna Lee Guillon
Victoria Elizabeth Inghram
Celine Marie Karam
Aasim Mehmood Khan
Jordan Michelle Martin
Sarah Meng
Whitney Fayone Mollenhauer
Daileen Janneth Rodriguez
Ana Laura Vielledent
Yinying Wei
Zoe Woloszko
Master of Physician Assistant Studies
Jeanette Marie Acker
Marcus Rene Ayala
Madeleine Niemann Baughman
Surraya Haley Burkard
Chloe Madison Carrier
Esmeralda Carrillo
Tanya Patricia Casagrande
Lindsay Taylor Chang
Dawn DeSimone
Stella George
Jennifer Marie Gigliotti
Victoria Teresa Gonzalez
Cameryn Grassanovits
Kavia Gupta
Alexandra Rashi Harris
Margaret Tiye Lashay Hazelton
Carrigan Jean Horton
Damaris Iriondo
Nicole Narayan Jenkins
Niveen A. Joulani
Tracy Kwan
Tina Diem Le
Christopher Joe Liendo
Alexandria Paige Lovell
Alyssa Michelle Elilai Musheff
Jonathon Ngo
Kathleen Nguyen Tran
Nneka Odera Chisom Jermaine Nweke
Bernadette Okpei
Cameron Albert Orme
Jesse Marie Pace
Shanny Sothida Pao
Avanika Manoj Patil
Stephanie Kristin Powdar
Riley Catherine Powers
Giovanna Privitera
Marissa Quehl
Clayton Andrew Rabbe
Megan Elise Ray
Alejandro Rodriguez
Kaitlin Stutts Scott
Rebeccah Renee Sewell
Olivia Margaret Shealy
Andrew David Smith
Rachel Ann Steed
Elexis Andréa Stephens
Elizabeth Ann Suarez
Nawal Joulani Suleman
Tiarra Rachell Thomas
Lauren Thomson
Sierra Lamar Treviño
Abby Kathryn Wolf
Joseph Wendong Xin
Monika Hany Youssef
Qurratulain Tahir Yousuf
Hannah Nicole Zoorob
Master of Prosthetics-Orthotics
Clayton Sue Benson
Ashton Noel Blasingim
Caitlyn Danielle Conley
Ann Claire Crain
Julia Nicole Dann
Rebekah Lee Forshey
Ariel Riley Gibilaro Fortenberry
Isabel Lourdes Gonzalez
Kaelee Shay Knoll
Tristine Lam
Davionne Valdez Laney
Victoria Marie Maselli
Collin James Patterson
Caitlin Anne Peters
Georgia Michelle Strickler
Kevin Q. Zhang
Master of Radiation Therapy
Danielle Leeanne Bachhofer
Shelbee Brooke Gilmore
Aerion Ashleigh Olive
Ayriana Windfield