UTSW Radiation Oncology building expansion opens door to new therapies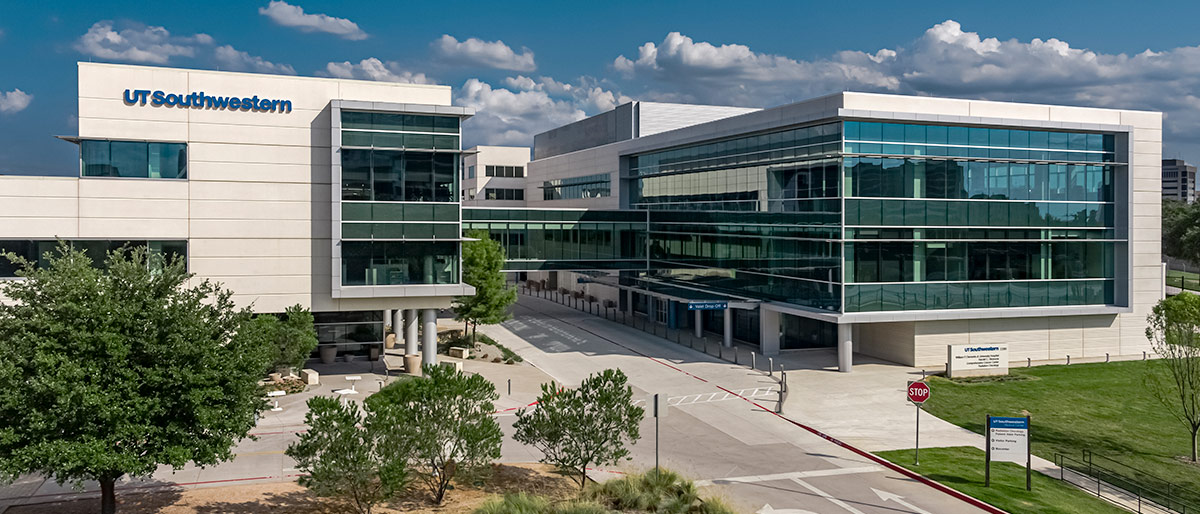 UT Southwestern Medical Center recently completed its 71,000-square-foot expansion of Radiation Oncology services, heralding a new avenue of treatment to patients called adaptive therapy.
Watch: Tour the expanded facility
"For years, UT Southwestern has been a recognized leader in the field of radiation oncology, advancing research in stereotactic ablative radiotherapy, immunotherapy, and personalized patient care through the use of artificial intelligence," said Hak Choy, M.D., Chair of Radiation Oncology, who holds The Nancy B. and Jake L. Hamon Distinguished Chair in Therapeutic Oncology Research. "With the opening of our expanded building, we're preparing to enter an exciting phase in the field of radiation oncology – adaptive therapy – which is not just the next iteration in care but a paradigm shift."
Adaptive therapy combines real-time, high-resolution imaging and modern radiation techniques to deliver ultra-precise treatment that can quickly be adapted to changes in patients' anatomy and tumor size.
"This distinctive campus with its unique technology opens the opportunity for our medical doctors to provide truly personalized adaptive radiation therapy to our patients," said Arnold Pompos, Ph.D., Associate Professor of Radiation Oncology and Director of Strategic Expansion Plans.
The Radiation Oncology expansion includes 49 exam rooms, procedure rooms, patient support rooms, two children's areas, a cafeteria, and more than a dozen advanced imaging/treatment machines including:
Two Varian Ethos machines, which incorporate CT scans and artificial intelligence with radiotherapy.
Two Elekta Unity machines, which incorporate MRI imaging with radiotherapy.
Two Varian Halcyon machines, which incorporate cone-beam CT imaging with radiotherapy.
One RefleXion machine, which incorporates PET imaging with radiotherapy.
Two CT simulators/AIRO.
One MR simulator.
One high-dose-rate brachytherapy suite.
One Xstrahl treatment machine.
One GammaPod treatment machine for breast cancer.
Radiation Oncology is a key component of UT Southwestern's Harold C. Simmons Comprehensive Cancer Center – one of 51 designated comprehensive cancer centers in the U.S. by the National Cancer Institute, a member of the elite 30-member National Comprehensive Cancer Network, with its cancer program nationally ranked among the top 25 by U.S. News & World Report.
UTSW's Radiation Oncology facility, with total combined space of more than 130,000 square feet, boasts a collection of the most sophisticated treatment machines. Coupled with image-guided therapy, the equipment is versatile and capable of treating an array of cancer malignancies under one roof. The additional "smart" treatment technologies provide a personalized patient experience through artificial intelligence-assisted radiation therapy adaptable to changes in the patient's anatomy, tumor size, and position, along with the ability to monitor treatment progress due to biological and functional changes.
"The adaptive machines not only provide precise image-guidance to tumors, they can realign and reshape radiation beams to the borders of the tumor as it changes, meaning we'll be able to better target tumors and avoid healthy tissue," said Robert Timmerman, M.D., Professor and Vice Chair of Radiation Oncology, who holds the Effie Marie Cain Distinguished Chair in Cancer Therapy Research.
That adaptive capability makes treatment regimens easier on patients because they won't have to follow strict preparation routines in order to receive precise, effective radiotherapy.
"With this equipment, we're able to account for the shape, position, and relationships of all organs close to the tumor each day and literally replan the treatment, if needed, while patients are on the table," said Dr. Timmerman, also a Professor of Neurological Surgery. Previous technologies can take a week or more to prepare sophisticated radiotherapy plans.
UT Southwestern has plans to take the technology further by combining it with a "big data" approach enhanced by artificial intelligence to create even more effective and highly personalized treatments called PULSAR, now being investigated through multiple clinical trials at UT Southwestern.
"The basic idea behind PULSAR is that we will extend the interval between individual radiotherapy pulses by weeks or months, allowing enough time to observe meaningful change," Dr. Timmerman said. "The change can be exploited. As an example, our preclinical studies show PULSAR gives the immune system a chance to mount a more effective response."
Adaptive therapy today is focused on conforming radiation to changing anatomy to make treatment more precise, said Steve Jiang, Ph.D., Professor and Vice Chair of Radiation Oncology, who holds the Barbara Crittenden Professorship in Cancer Research. But the dosage level and treatment schedule remain the same throughout despite the other changes. Moving forward, UT Southwestern's goal is to take data gleaned from research and artificial intelligence to make the care not just more precise, but more personal.
"In the near future, we'll have more intelligent adaption based on biomarkers, for example," said Dr. Jiang. "We'll be able to prescribe different levels of radiation to patients based on their unique response to treatment and what models and past data for similar conditions suggest are optimum."
These machines possess impressive tools for fine-tuning the delivery of radiation therapy, precisely defining the location of disease, and minimizing the dose to normal, healthy tissues to an extent almost unimaginable just five years ago.
"The expanded building is a confluence of multiple state-of-the-art technologies and the foundation of our vision for Radiation Oncology over the next five to 10 years," said David Sher, M.D., Professor of Radiation Oncology, Associate Vice Chair for Clinical Operations, and Chief of the Head and Neck Radiation Oncology Service. "That vision, and all the technology behind it, is aimed at vastly improving outcomes, including both the cancer control rate and patients' quality of life."
Complementing the precise instruments and enhancing the quality and safety of therapy at UT Southwestern is a one-of-a-kind system designed to improve safety, efficiency, and the patient experience. Upon arrival for treatment, patients are equipped with wristbands that use real-time location system (RTLS) technology that not only allows providers to know where each patient is, but when in their visit they are.
"This is a unique system we developed and provides our patients with a crucial safety advantage," said Dr. Sher, also a Professor of Population and Data Sciences. "It seamlessly aligns and verifies all components of treatment for each individual person, thus eliminating errors, and it allows us to know how long each treatment takes, which in turn provides us with tools to optimize the scheduling of treatments. This minimizes wait times, which can't be overstated because time is important, and the live feedback it gives us – having all parts of the treatment automated and linked together electronically – is wonderful for the patient experience."