Former Neurosurgery Chair Batjer named Professor Emeritus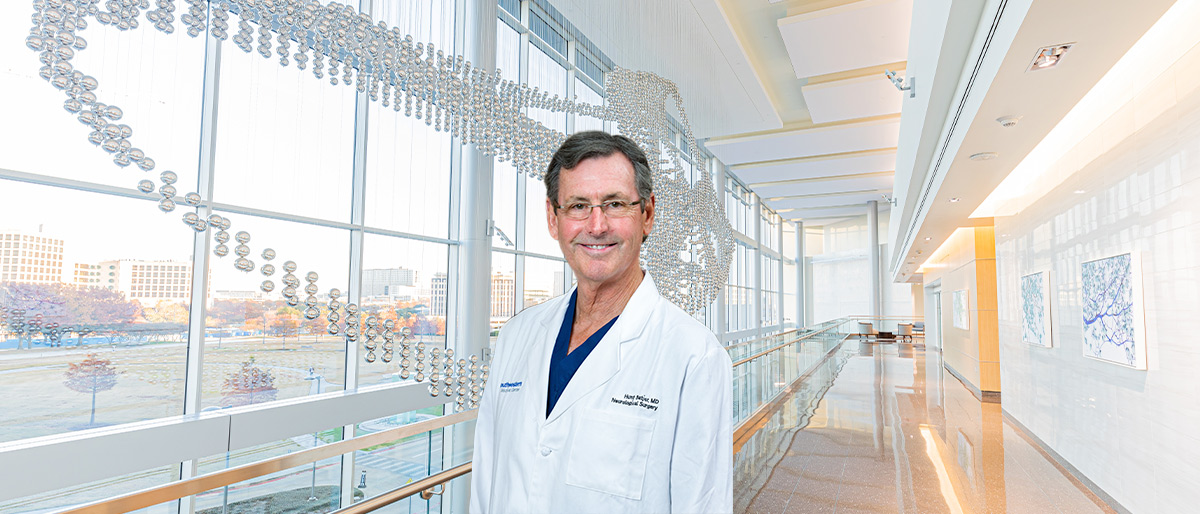 Over the course of his almost four-decade career, former Chair of Neurological Surgery Hunt Batjer, M.D., established himself as an internationally recognized cerebrovascular surgeon and a luminary in academic neurosurgery – achievements that have led to his appointment as Professor Emeritus.
"During his time in organized neurosurgery – due to his force of personality and acumen – neurosurgery improved public access to spine surgery and endovascular surgery as well as bolstered neurocritical care as an independent specialty," said Jonathan White, M.D., Professor of Neurological Surgery and Radiology in the Peter O'Donnell Jr. Brain Institute.
Dr. Batjer retired at the end of 2020 and was named Professor Emeritus in September. The new role gives him the opportunity to be available to mentor faculty, residents, and students as well as assist with recruitment and program development.
"It also allows me to follow the trends in the education of future neurosurgeons 'on the ground' – a topic I am keenly interested in," he said.
Dr. Batjer's UT Southwestern journey began in 1973 as a medical student. He completed his medical degree, general surgery internship, and neurological surgery residency at UTSW, followed by a neurology fellowship at the University College London and a cerebrovascular disorders fellowship at the University of Western Ontario. He served on the UTSW faculty for 13 years before leaving to become Chair of Neurological Surgery at the Northwestern University Feinberg School of Medicine. In 2012, he returned to UT Southwestern as the third Chair of Neurological Surgery.
"While Chair, he built on the Department's excellent clinical reputation," Dr. White said. "In hopes of expanding the UT Southwestern footprint across the metroplex, he created a UTSW Neurosurgery outpost at Texas Health Dallas. He also had the vision to create the UTSW Spine Center, which now provides multidisciplinary, patient-centric spine care to an enormous number of patients."
Dr. Batjer's academic pursuits and research in ischemic and hemorrhagic stroke and brain injuries have resulted in nine books and 467 peer-reviewed publications and book chapters. He also has presented 53 endowed lectureships and served as a visiting professor in 63 medical institutions worldwide. In addition, as co-Chair of the NFL Head, Neck, and Spine Committee for eight years, he helped develop the league's concussion protocol.
Among his many accolades, Dr. Batjer is the 2020 recipient of the Harvey Cushing Medal, the highest honor bestowed by the American Association of Neurological Surgeons. Now Treasurer of the Accreditation Council for Graduate Medical Education (ACGME), he previously served as Chair of the ACGME's Residency Review Committee for Neurological Surgery and as Director and Chair of the American Board of Neurological Surgery. He is a past President of the Congress of Neurological Surgeons, The Society of University Neurosurgeons, the Neurosurgical Society of America, the Society of Neurological Surgeons, and the American Association of Neurological Surgeons.
"I am fortunate to have trained at UTSW under great neurosurgeons," Dr. Batjer said. "I benefited immensely from that training and look forward to being able to give back to the organization that gave me so much."