In Memoriam: Dr. Maurice Korman was UTSW's first Chief of the Division of Psychology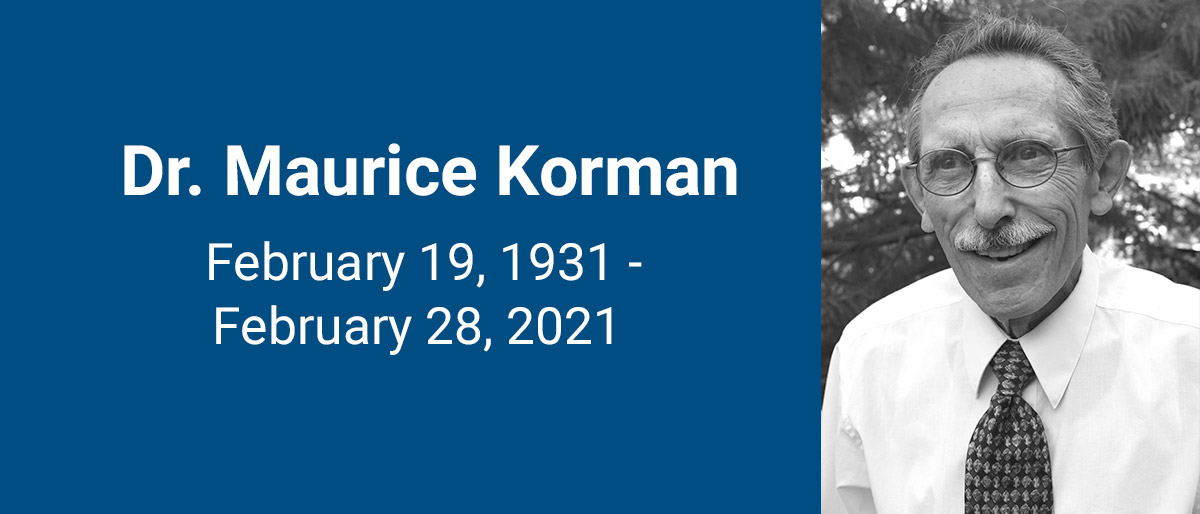 Dr. Maurice Korman, Professor Emeritus and founding Chief of the Division of Psychology who spent nearly 50 years at UT Southwestern, died Feb. 28. He was 90.
Dr. Korman joined UT Southwestern in 1958 as Assistant Professor of Psychiatry and retired in 2007 as Professor and Chair of the Department of Rehabilitation Science in what is now the School of Health Professions. He was also founder and Director of the master's degree program in Rehabilitation Counseling Psychology and established the doctoral program in Clinical Psychology in the Graduate School of Biomedical Sciences.
He served as the founding Chief of the Division of Psychology after the University of Texas System's Board of Regents created the Division within UT Southwestern's Department of Psychiatry in 1964. Dr. Korman led the Division until 2002, growing it from two faculty members to more than 100 by the time he stepped down. It now has more than 150 faculty, said Dr. C. Munro Cullum, Vice Chair and Chief of the Division of Psychology, and a member of the Peter O'Donnell Jr. Brain Institute.
He described Dr. Korman as "a brilliant, thoughtful, and humble man. He really dedicated his life to training and mentoring others and never sought any limelight for himself."
"He established a thriving Psychology Division and exceptional graduate program," said Dr. Beth Kennard, Professor of Psychiatry and Director of UT Southwestern's Doctoral Program in Clinical Psychology.
"He was very strategic in developing programs and mentoring young professionals who contributed to the community," she said. "He was very interested in turning out well-trained, competent psychologists for our community, the state, and the nation."
Dr. Korman also helped establish an innovative, accelerated Ph.D. program that let students obtain a doctorate while completing an accredited internship. It remains a rare combination even today, said Dr. Kennard.
Dr. Korman held the Pam Blumenthal Distinguished Professorship in Clinical Psychology and the Elizabeth H. Penn Professorship in Clinical Psychology. He served as President of the Texas Psychological Association and on the Council of Representatives of the American Psychological Association.
Dr. Korman graduated cum laude with a degree in psychology from Brooklyn College in New York, then obtained his Ph.D. in clinical psychology from the University of Minnesota in 1957. He served as a Psychology Technician in the U.S. Army in New Cumberland, Pennsylvania, from 1953 to 1955.
"Dr. Korman was an outstanding leader and role model who contributed so much to the growth and success of psychology and psychiatry programs at UT Southwestern," said Dr. Carol Tamminga, Chair of Psychiatry. "He is fondly remembered as a true gentleman and dear mentor, colleague, and visionary for psychology education, and a generous contributor."
He is survived by his children, David, Ken, and Stephanie Korman, six grandchildren, and five great-grandchildren.
Graveside services, which will be open to the public, will be held 11 a.m. Sunday, March 7, at Sparkman/Hillcrest Funeral Home.