Graduate student delving into mysteries of the brain receives Ida M. Green Award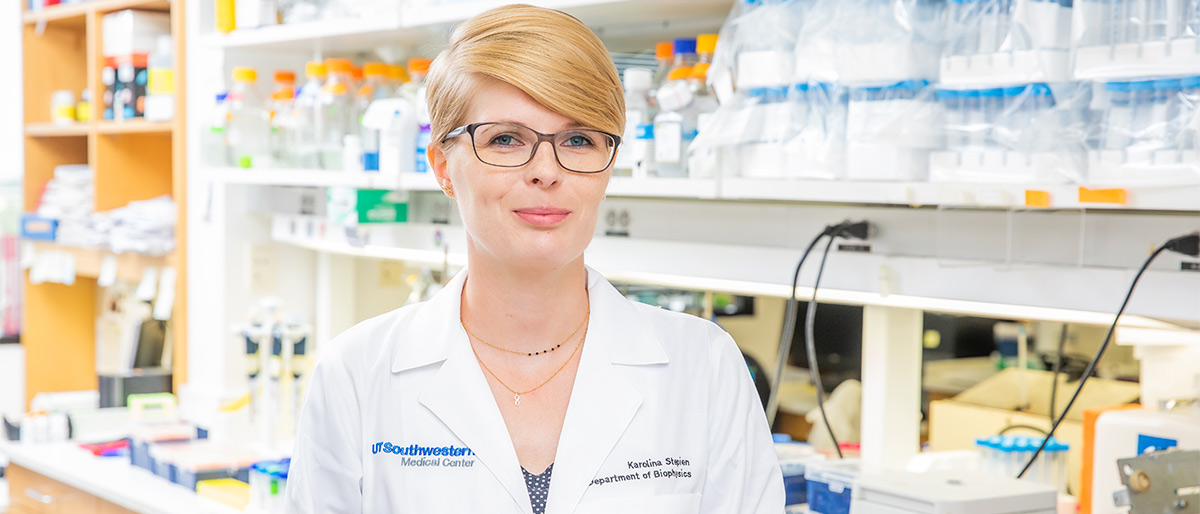 Karolina Stepien, who studies how the brain's neurotransmitters are released from one neuron to send a signal to another, has been named winner of the 2021 Ida M. Green Award. This honor is given each year by Southwestern Medical Foundation to a female student in UT Southwestern's Graduate School of Biomedical Sciences based on her scientific accomplishments and commitment to the UTSW community.
Ms. Stepien said she was extremely happy to receive the award, which is one of the most prestigious for UTSW graduate students. "I like that there is an award that specifically recognizes a scientist who is a woman. In general, women have had fewer chances than men in the sciences," she said.
Her basic research into how powerful neurotransmitter chemicals housed within vesicles, or tiny bubbles, inside nerve cells are released outside the cells could one day help scientists understand the mechanisms involved in and devise treatments for neurodegenerative, emotional, and movement disorders such as Alzheimer's disease, depression, and epilepsy.
Ms. Stepien, a Fulbright Scholar from Poland, is working toward her doctorate in molecular biophysics as a graduate student researcher in the lab of Jose Rizo-Rey, Ph.D., a Professor of Biophysics, Biochemistry, and Pharmacology. She initially came to UTSW in 2014 as an exchange student in the BioLAB program, which provides Polish master's and doctoral students in the biological sciences a one-year paid internship to study at UT Southwestern or other American institutions.
At the time, Ms. Stepien was focused on biotechnology, the subject she received her undergraduate degree in from the Wroclaw University of Science and Technology. But she became fascinated with Dr. Rizo-Rey's biophysics research into neuronal function and was impressed by UTSW's supportive and collaborative atmosphere. After returning to Poland and completing her master's in 2016, she came back to UT Southwestern to pursue doctoral studies in molecular biophysics.
"This is the process that underlies everything that we do – our emotions, feelings – basically who we are as humans," she said, explaining her attraction to research about how nerve cells in the brain communicate.
"Karolina Stepien has a brilliant intellect and enormous curiosity that drives her to tackle multiple projects in parallel," Dr. Rizo-Rey said. "She has a combination of talent and effort that I have seen in very few students over my 32 years at UT Southwestern."
"We are honored and delighted to celebrate Ms. Karolina Stepien as the 2021 winner of the Ida Green Award," said Kathleen M. Gibson, President and CEO of Southwestern Medical Foundation. "Ms. Stepien has served the UT Southwestern community and the Graduate School with distinction across a broad spectrum, both in leadership and in service. Her scientific contributions have advanced the understanding of the mechanisms of neurotransmitter release and embody the innovative spirit and rich legacy of Ida Green."
The Ida M. Green Award was established by the Southwestern Medical Foundation in honor of Mrs. Green, who died in 1986. Her husband, Cecil Green, who died in 2003, worked at General Electric and later co-founded Texas Instruments. Mrs. Green provided unrestricted gifts to many community organizations, including a major bequest to Southwestern Medical Foundation. The award includes a $2,000 prize.
In 2019, Ms. Stepien's work led to publication in Nature Communications of a study that explained the competition between two neuronal proteins – Munc18-1 and αSNAP – to bind to a protein in the membrane of the neuron called syntaxin-1. Depending on which protein wins this competition, membrane fusion and then release of the neurotransmitters outside the cell is either helped or inhibited, Ms. Stepien said. This was her first study as lead author.
In 2021, she was the first author of a PNAS study that focused on recapitulating the process of neurotransmitter release in the test tube with purified proteins. She also has been an author on six additional papers in high-impact journals.
During her time at UTSW, Ms. Stepien has served as President of Quest for Careers, an organization that helps Ph.D. students learn about career options, and volunteered as chair in the science area for United to Serve, which organizes an annual health fair in Dallas. Working with a friend who is also a Fulbright Scholar and a UTSW graduate student, Martyna Kosno, Ms. Stepien founded a local chapter of the Fulbright Scholar organization for those in the Dallas area. In addition, she chairs the Molecular Biophysics Program's social committee, arranging monthly get-togethers.