'Mentorship matters': Howell-Stampley named Master of Cary College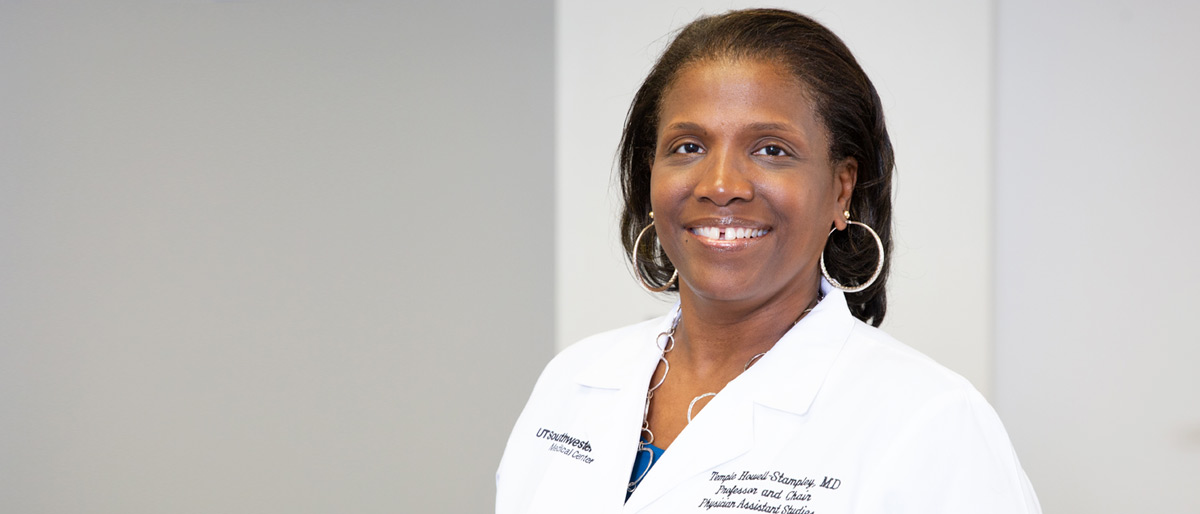 Dr. Temple Howell-Stampley has been named Master of Cary College at UT Southwestern Medical School effective Jan. 1, succeeding Dr. Arthur Sagalowsky, who is retiring from that role after 10 years.
Dr. Howell-Stampley is a Professor of Internal Medicine and Department Chair and Program Director of the Physician Assistant Studies program in the School of Health Professions. She has served as a Cary College mentor for the past four years and will be the first African American female physician to hold the title of Master of an academic college at UT Southwestern.
"What a wonderful opportunity to play a role in developing future health care professionals," said Dr. Howell-Stampley, a UTSW faculty member since 1997. "Mentorship of students and faculty is one of my passions."
Cary College is one of six colleges at the Medical School, along with Estabrook, Fashena, Pritchard, Seldin, and Sprague. Students are assigned to a college at the beginning of their first year, helping them transition to Medical School life by fostering friendly competition, collaboration, common bonds, and camaraderie. Each academic college has 10 or more faculty mentors who oversee about six students each. In addition to individual and group mentoring, the colleges provide a learning environment in which clinical and professional skills are taught and modeled by the mentors. The students also engage in team-based learning activities that further their knowledge of medical ethics and professionalism, both of utmost importance in the practice of medicine. The long-term goal is to develop excellent physicians who are caring, compassionate, and empathetic.
"Mentorship matters," Dr. Howell-Stampley said. "It has played an important role in my own life and I believe it's my duty to give back to others." She will oversee Cary College, both mentors and mentees, to ensure that the students develop strong professional and clinical skills while establishing solid support networks. The new role expands her own path of service.
"Throughout my formative years, I was naturally drawn to science and ultimately developed a passion for it. I also had a strong desire to be of service to others that was instilled in me by my mother. Medicine was my chosen path to unite both of those passions," said Dr. Howell-Stampley.
During her time at UT Southwestern, she has seen the importance of diversity and inclusion expand in many ways. Of the six academic colleges, half are now led by women as college masters.
"Dr. Howell-Stampley is an accomplished clinician and educator," said Dr. William Gary Reed, Associate Dean for Quality, Safety, and Outcomes Education and Headmaster of Academic Colleges. "We are excited and honored that Dr. Howell-Stampley has agreed to assume this important position."