When nurses become family: Caring for COVID-19 patients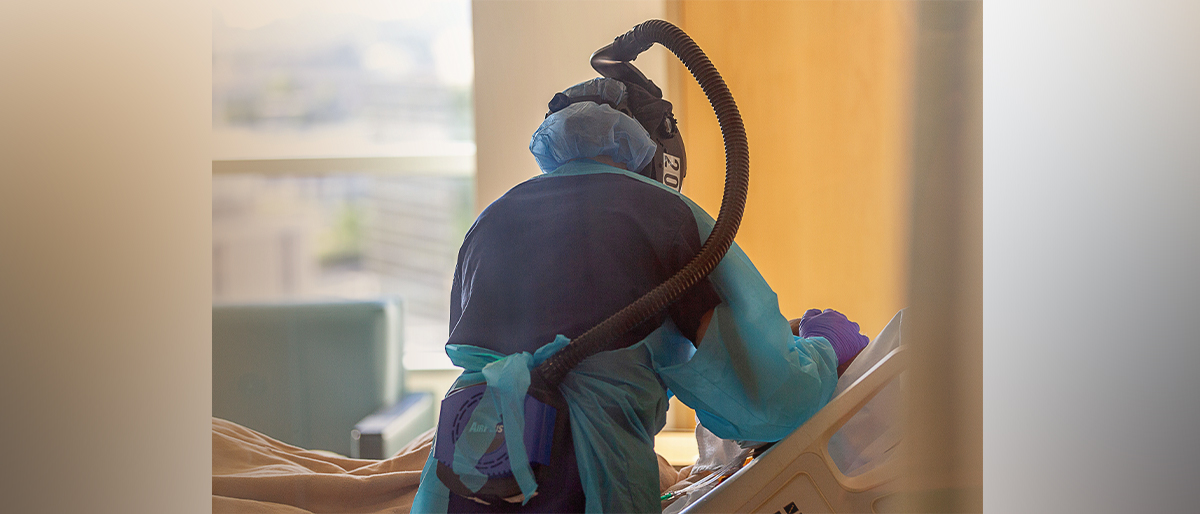 Isolated from loved ones and fighting for their lives, COVID-19 patients are counting on nurses and other health care professionals to be their emotional lifelines
"These people need someone with them. We're acutely aware that, right now, we are their family," said Blair Lane, Interim Nurse Manager in the intensive care unit (ICU) at William P. Clements Jr. University Hospital.
Providing support for patients and their families – separated by an infectious disease that prevents them from being together – is part of the added challenge facing UT Southwestern health care workers on the front lines of the pandemic.
Ms. Lane, who has 13 years of nursing experience, manages a 24-bed ICU with 110 employees, including nurses, patient care technicians, and hospital unit coordinators. She said the virus has forced her staff members to figure out new ways to maintain their high level of care while taking steps to reduce the risk of infection and preserve critical personal protective equipment like masks and gowns.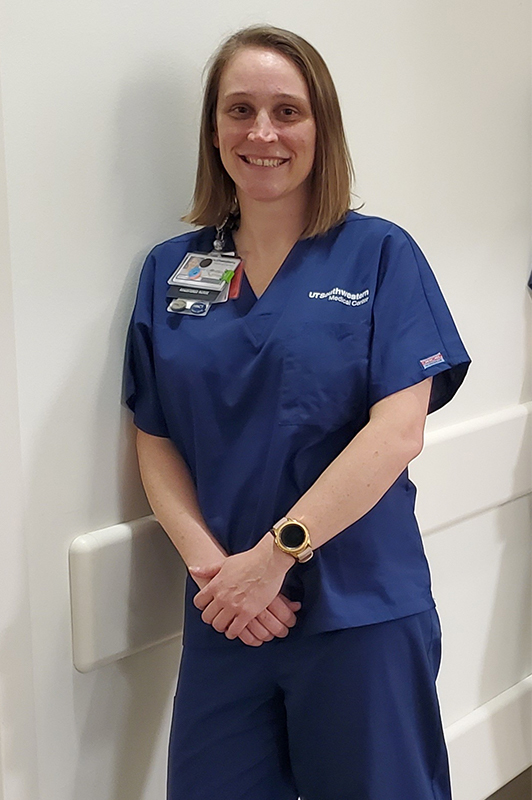 For example, furniture was rearranged to position hospital beds farther from doors, yet still within eyesight, so nurses can check on patients without entering the room. IV pumps and ventilator control panels were moved outside of rooms into hallways. While limiting contact with patients is an important safety measure, it changes the core nature of nursing.
"Touch is so important because it shows caring. Taking that out of our everyday life is hard," said Ms. Lane, wiping tears from her eyes.
Sitting with critically ill patients is a part of working in the ICU, but with COVID-19 patients it is the norm. Nurses regularly handle phone calls with family members who are stressed and scared. All patient rooms at Clements University Hospital are equipped with large television screens that connect to video platforms such as Skype, BlueJeans, and Teams – so helping patients use this technology is also now part of the job.
"When family members are present and supportive, they take the emotional side for you. Now it's a constant. No one has family here," Ms. Lane explained. "When emotional support becomes your responsibility, it can increase your stress level."
Coping with all these stressors requires support on many levels.
"The feedback I receive from nurses is that what keeps them moving through these challenges is: working with a team they like and respect; transparent communication from all levels of leadership; and the outpouring of support from our community," said Susan Hernandez, UTSW Associate Vice President and Chief Nurse Executive.
After spending spring break with her two children in mid-March, Ms. Lane noticed big changes at the hospital. When she left for vacation, there was one COVID-19 patient there. When she returned, there were 16. "It became real the day I returned from spring break. Facilities was remodeling my unit to make it a negative air pressure space for COVID patients only."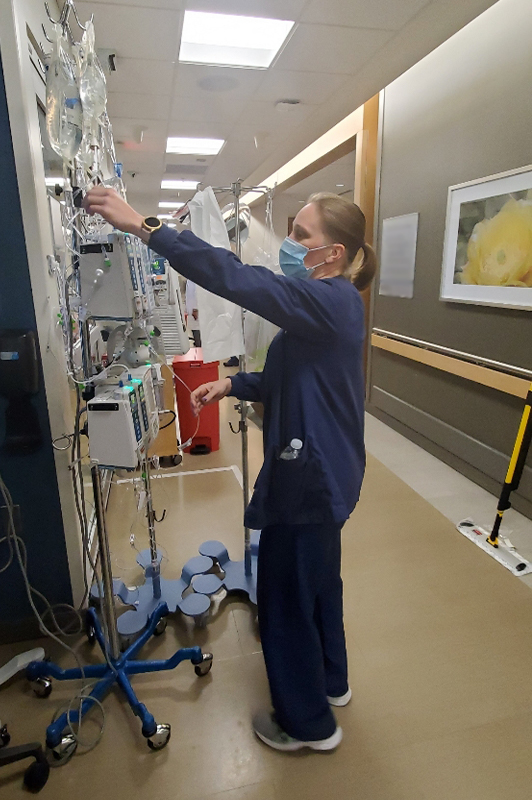 By March 25, the entire unit was allocated for COVID-19 admissions. New safety guidelines were established, leading to a range of new ways to provide care.
UT Southwestern nurses came up with dozens of innovations for safely administering care for COVID-19 patients, which were described in a recent paper published in the Journal of Neuroscience Nursing. Ms. Lane was senior author.
The changes also affected her home life. To prevent the risk of bringing the virus home, Ms. Lane and many other CUH health care workers stay in hotel rooms paid for by UT Southwestern. Before UTSW arranged hotel rooms, she slept in her office two nights a week. Ms. Lane still keeps an air mattress under her desk, just in case she's needed during a night shift.
The first two months of the pandemic, she only went home for two weekends.
Home is in Midlothian where daughter Aimee, 11, and son Aaron, 9, lean on their dad and grandmother for support during her absence. Their dad is a firefighter and also considered essential, so the whole family is grateful that Ms. Lane's mom can help out too. Many employees at Clements are in similar situations, and their managers are well aware of their dual responsibilities.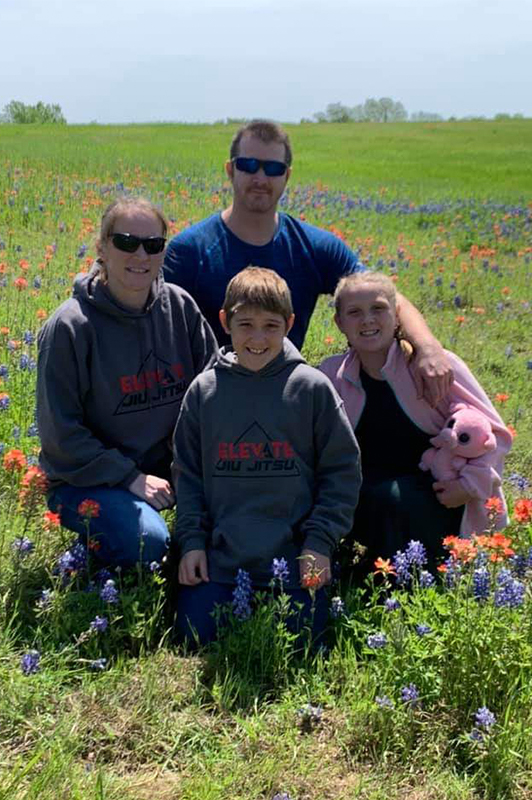 "Nurses are essential workers. They couldn't be home to provide child care and teach school to their children, and had to find other ways to safely and efficiently balance it all," said Ms. Hernandez.
These brave workers are fueled by their resilience, and also by the meals and other community donations for health care workers at Clements. There is little time to go downstairs to the cafeteria during a shift. At the end of the day, those workers heading for hotel rooms often take the leftover lunches along. The meals are real lifesavers – and health care workers are extremely grateful.
Just before her interview for this story, Ms. Lane grabbed a banana since she had missed breakfast. "That's about as good as it gets," she said with a laugh. And she admitted that some bad dietary habits – once beaten – have returned.
"My Dr Pepper habit is back in full force. I figure I can wait until after COVID to go off it again."