Local robotics team makes, donates PPE for COVID-19 responders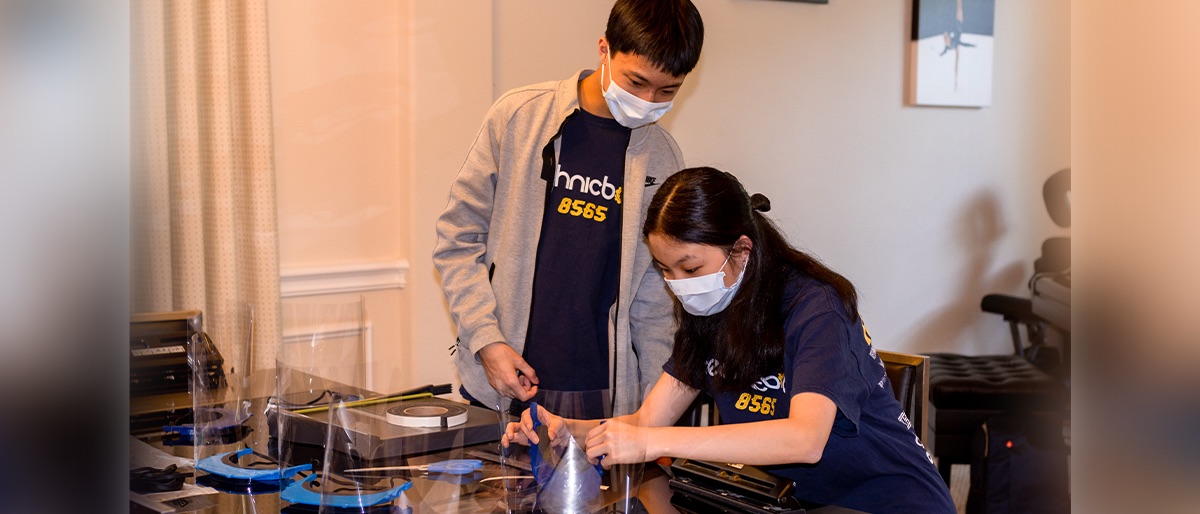 For the first hour of their day, Jasper High School sophomores Audrey He and Derek He work together at home to assemble face shields.
The dining room serves as a workstation for the twins, with materials like elastic bands, clear plastic sheets, and 3D-printed face shield frames spread out on the table. Sounds of hole punchers and plastic snapping into place fill the room until a batch is complete or it is time to transition to distance-learning assignments for school.
Their work is part of a larger collaborative project run by a local robotics team known as TechnicBots – FIRST (For Inspiration and Recognition of Science and Technology) Tech Challenge Team No. 8565. The team includes 14 middle school and high school students across North Texas who develop skills such as hard work, innovation, and teamwork, said Dr. Fang Wang, their coach.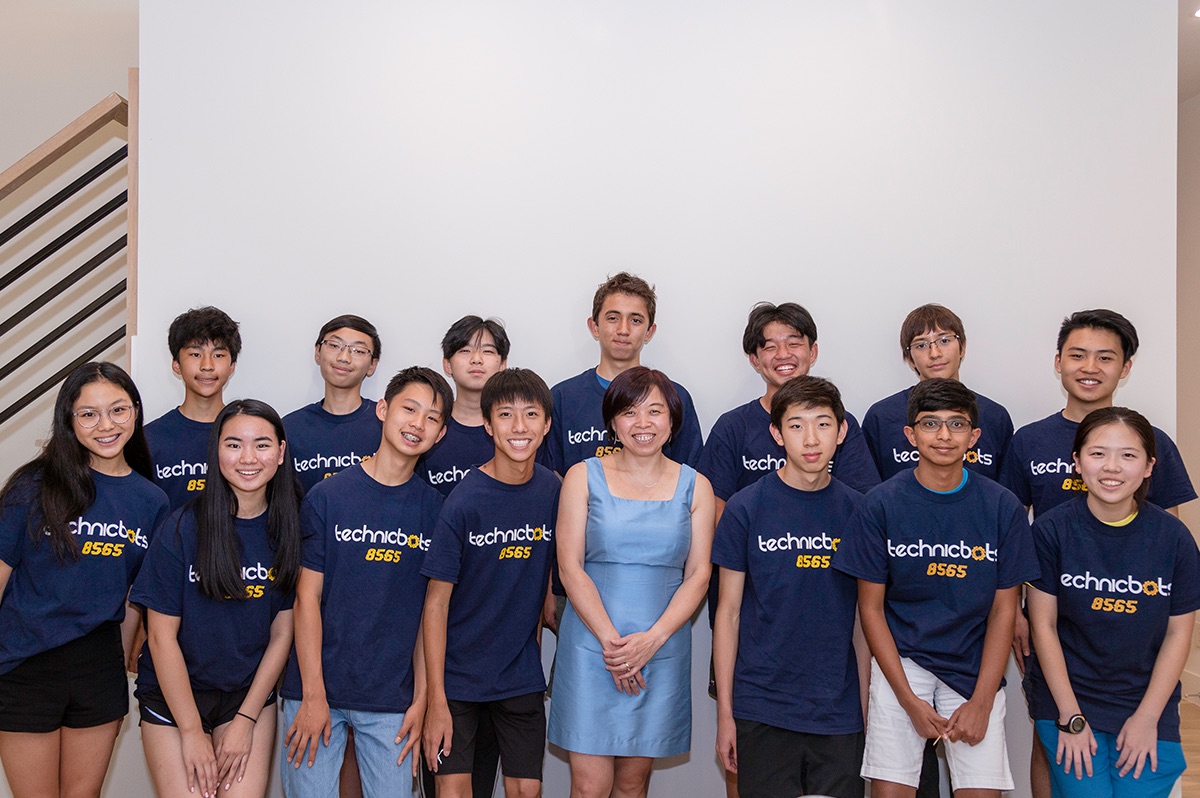 With robotics competitions canceled because of the pandemic, the students had time to take their commitment to community outreach to a new level. In late March, TechnicBots set its sights on assisting clinics and hospitals, including UT Southwestern, with personal protective equipment (PPE). Without hesitation, the team dedicated thousands of hours to produce donated face shields and ear guards for health care workers using 3D printing technology.
"It's been shocking to see how some of the most vital equipment needed to protect health care workers was in scarce supply," Audrey He said. "They need PPE in order to help take care of people and save lives. The least we can do to help – even if it is just within our own community – is to lend our skills and resources."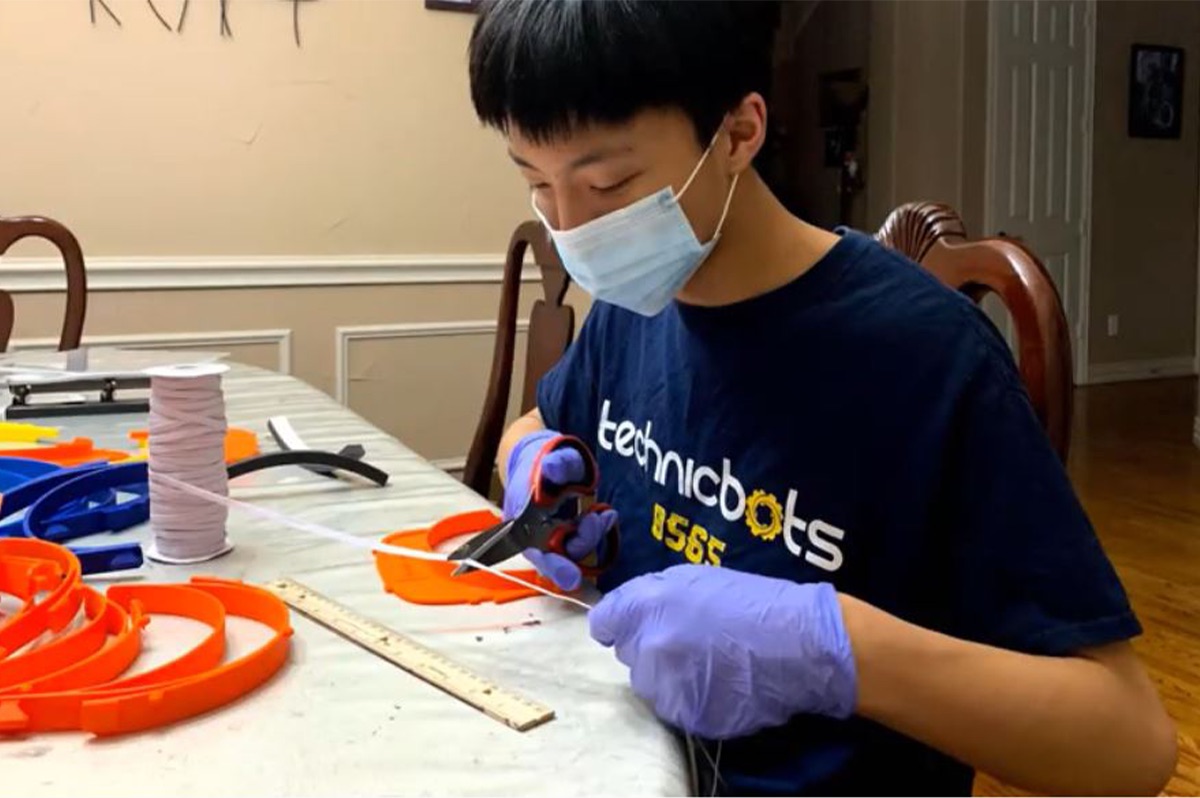 TechnicBots continued producing PPE this summer when Texas became a national hot spot due to rising COVID-19 cases. The volume of requests they receive for 3D-printed PPE varies greatly and largely depends on the shifting needs of clinics and hospitals. By the end of July, the makers had fulfilled requests for more than 1,900 face shields and 3,800 ear guards from more than 45 local clinics and hospitals with the assistance of five other FIRST teams and a UT Dallas professor. More than 20 percent of the 3D-printed PPE have gone directly to those on the front lines at UT Southwestern. Dr. Wang said the team intends to carry on with its project for as long as is necessary.
How it's made
TechnicBots' recipe for success has one key ingredient: organization. Team members set up a streamlined supply chain that includes designated roles for each person. Members are divided into subunits that specialize in handling order requests, material research, printing, assembly, sanitation, distribution, and printer maintenance. Daily virtual team meetings keep everyone aligned while apart.
It all begins with a handful of students, including Coppell High School junior Ellen Sun, who are tasked with contacting health care providers to gauge interest and need for PPE donations. They take on a customer-facing role and help clients submit orders.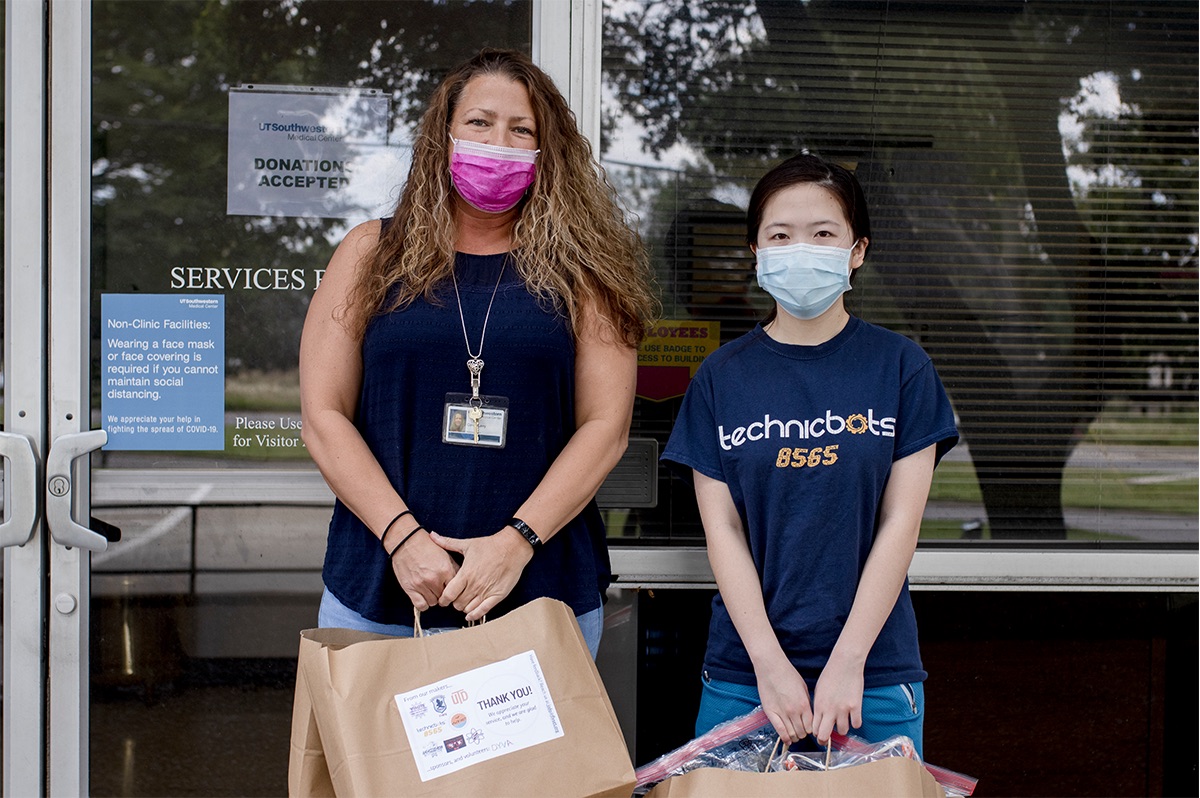 A number of individuals oversee printing. In all, the operation uses 16 3D printers with a production capability of 40 to 50 face shields and 100 ear guards per day. Once a printer has completed a batch of visors or ear guards, someone from the assembly team picks up the prints from that person's house, assembles everything in their own home, and sends the PPE off to the next group where it is disinfected with an ultraviolet light sanitizing device and packaged before it reaches its final destination.
The young students have learned to function like a well-oiled machine. Melody Hu, a sophomore at The Hockaday School, said the demands of the project were initially difficult to balance with school work. "It requires real-time project management and everything is virtual," she said. "We've had to learn to work with that and adapt."
Making a difference
Ellen Sun said recipients of their products are quick to respond with gratitude.
Mary Strauch, a nurse and UTSW Care Coordinator at Zale Lipshy Pavilion -William P. Clements Jr. University Hospital, said an ear guard is invaluable during a nine-hour shift.
"This little object plays a big role to those who are wearing it," Ms. Strauch said. "The 3D-printed ones work best for me and help me more comfortably and properly wear PPE. Some of the masks in production have elastic bands that vary in length, but the ear guards allow you to make adjustments so your mask fits perfectly. I can't go a shift without one."
UTSW Senior Research Nurse Donglan Xia, Ellen Sun's mother, volunteered her photography services as an additional mode of fundraising to ensure her daughter's robotics team had enough supplies, such as spools of filament for the desktop printers, to produce the PPE. The total cost of materials used thus far is about $5,000.
Ms. Xia is most proud of the TechnicBots' determination and resilience. At the start of the project, the robotics team only had one half-functional printer, she said, and it takes up to four hours to print a single face shield. The students have put in a lot of time researching, designing, and repairing broken printers since spring. In addition, they recruited others to join their ambitious project to maximize output.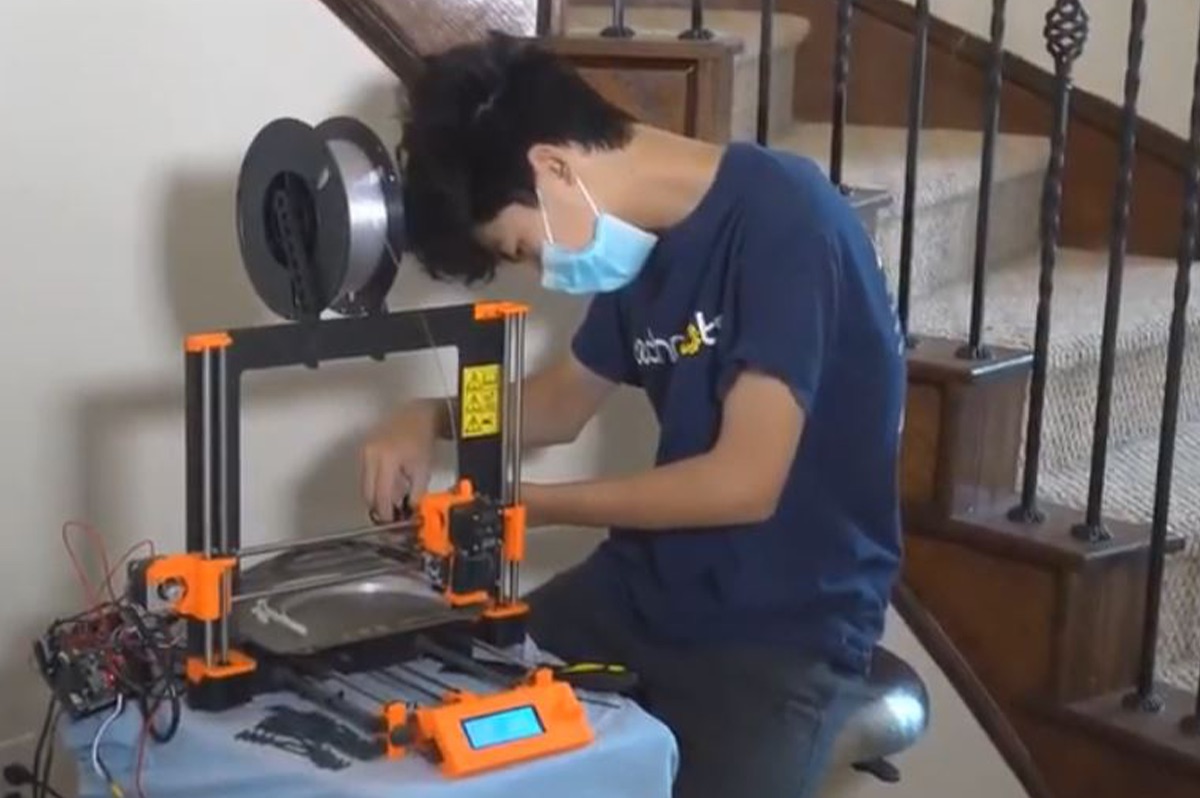 "The main thing we've all learned from this is how to apply our robotics knowledge to a real-world situation," Melody Hu said.
Dr. Wang, who holds a Ph.D. in electrical engineering, is a Solution Architect with IBM Watson Health and has been involved with the FIRST Robotics program since 2009. She said projects like this fuel students' passion for serving the community.
"My team has been devoted to community outreach and dedicates over 1,000 hours to community service each season with days of service at locations like the Boys and Girls Club, where they teach courses promoting STEM," she said. "But this time I think there is more motivation for the team members since they are taking on a leadership role while making something really concrete to help the people here."