UTSW honors legacy of Dr. Martin Luther King Jr.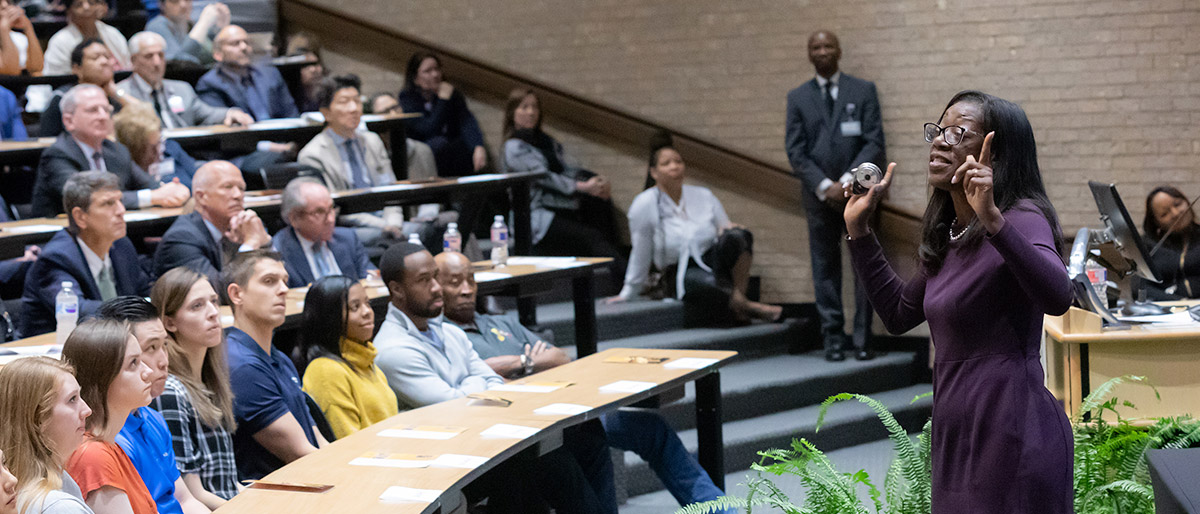 Dr. Dayna Bowen Matthew stood before a packed campus audience and challenged every person attending to reduce health care disparities. On a screen behind her were maps of Dallas that vividly showed how these differences still exist – even more than a half-century after passage of the Civil Rights Act.
"We know that health equity is all the rage, but what's that got to do with medicine?" Dr. Matthew asked. "It turns out that Title VI [of the Civil Rights Act of 1964], the law that embodies justice in the United States, happened because physicians, dentists, and patients collaborated to bring justice to medicine. I want that to inspire you."
Dr. Matthew, keynote speaker for UT Southwestern's annual Martin Luther King Jr. Commemorative Celebration, emphasized how justice in medicine starts with the individuals in the room, as well as with UT Southwestern as an institution.
Welcoming attendees to the Jan. 15 event was Dr. Shawna Nesbitt, Associate Dean in the Office of Student Diversity and Inclusion, whose opening remarks carried the same message of community involvement.
"Community service was at the heart of Dr. King's work, and our celebration today highlights the continuation of that service through the work of our outstanding students," Dr. Nesbitt said. "At UT Southwestern, this commitment is at the very core of our mission. We practice it daily and aspire to teach students about the importance of service in their learning experiences."
First-year medical student Deborah Oyedapo sang the John Legend hit "If You're Out There" to welcome visitors to the program, which was held in a Eugene McDermott Plaza Lecture Hall on South Campus.
UT Southwestern President Dr. Daniel K. Podolsky then spoke about Dr. King's legacy: "At UT Southwestern, we are deeply committed to the principles and actions that are encompassed within diversity and inclusion. We continue to look critically at how we apply those principles in our daily lives, ensuring that we have the very best decision-making possible in place by including diverse perspectives in addressing solutions to the challenges that confront us."
Dr. Nesbitt introduced Dr. Matthew, the William L. Matheson and Robert M. Morgenthau Distinguished Professor of Law and the F. Palmer Weber Research Professor of Civil Liberties and Human Rights at the University of Virginia School of Law. The keynote speaker also holds an appointment in the School of Medicine's Department of Public Health Sciences and is the author of Just Medicine: A Cure for Racial Inequality in American Health Care.
Dr. Matthew talked about continued disparities in Dallas-area health care among different races, and how fixing those disparities depends upon health care workers first. She encouraged those in attendance to take decisive actions for progress.
"What you're doing at UT Southwestern is remarkable in this country, and I'm saying you still need to do more," she continued. "As an institution, as an anchor in your community, you are the answer to justice in health care. Your mission states that you are dedicated to promoting health and a healthy society. You understand that you are part of a whole – you are not just here to treat an individual, you are here to treat a community."
Dr. Nesbitt cited several examples of how UT Southwestern is working to reduce health care disparities, including plans to establish a new medical center at the former Red Bird Mall, educational programs that target underrepresented minorities such as STARS (Science Teacher Access to Resources at Southwestern) and HPreP (Health Professions Recruitment and Exposure Program), and the Healthcare in Underserved Communities class that connects medical students with those in need of health care access.
The event, which ended with a reception, was co-sponsored by the Office of Student Diversity and Inclusion, and the Office of Institutional Equity and Access.