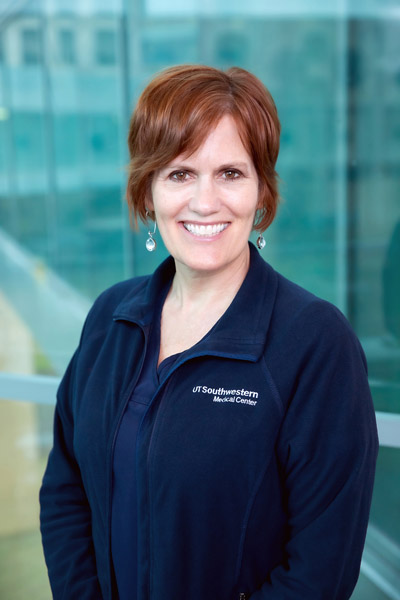 Registered Nurse II
Adult Cystic Fibrosis Clinic (SOTP)

First UTSW job: Working as a Research Nurse.
Best part of my job: Having fun co-workers who work hard together to make a positive difference for our patients, and working with great doctors who really care about our patients.
Best memory: Meeting people from lots of different departments over the years.
How co-workers describe me: I think they would say that I am a strong patient advocate, and also that I'm dedicated and hardworking.
What energizes me at work: Our cystic fibrosis patients motivate me to work hard. It is an exciting time to be a part of the CF community as life-changing therapies are approved for our patients.
I'm really good at: Being a patient advocate and volunteer.
Hobby or passion: Hiking, traveling, and volunteering with my husband of over 25 years. We have two sons and a yellow Lab.