In Memoriam: Edith Jones O'Donnell, a cherished friend and transformative supporter of UT Southwestern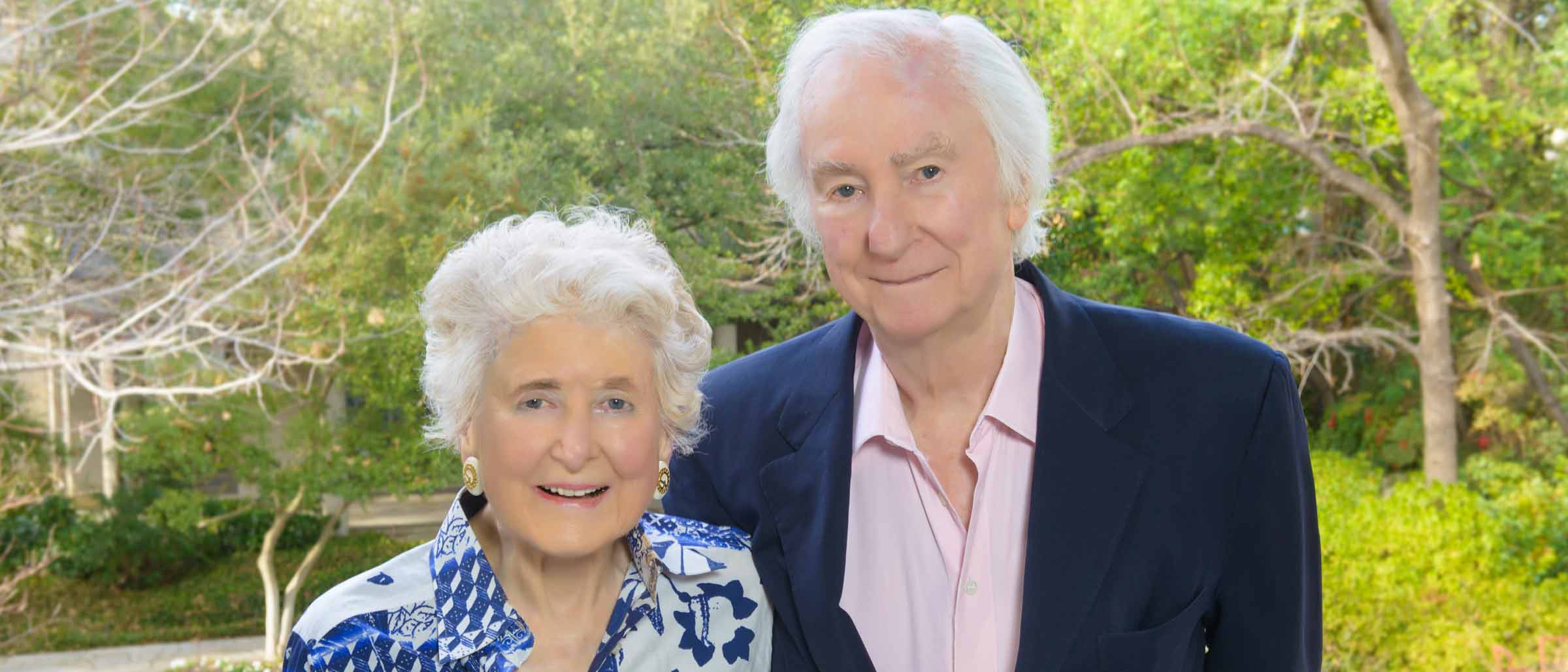 Edith Jones O'Donnell, renowned for her commitment to arts and education and a pivotal figure in helping transform UT Southwestern Medical Center through extraordinary support from the O'Donnell Foundation she founded with husband Peter O'Donnell, Jr., passed away on Nov. 14. She was 94.
Together and through the Foundation they established in 1957, Edith and Peter O'Donnell have supported some of the most innovative and impactful programs at the Medical Center. The O'Donnells' gifts to UT Southwestern transformed the Medical Center into an internationally recognized research leader through support for educating new generations of physician-scientists, supporting Nobel Prize-winning research, and recognizing those contributing to its educational and caregiving missions.
"Edith O'Donnell was a quiet visionary in so many capacities. While best known and appreciated for cultivating public appreciation and support for the arts and education, she held a deep commitment along with Peter to improve the health of the community she loved. Her unwavering support for pioneering biomedical research, improving clinical care, and recognizing the importance of cultivating new generations of physician-scientists touched countless lives," said Dr. Daniel K. Podolsky, President of UT Southwestern.
Mrs. O'Donnell, an Abilene native, graduated from The Hockaday School, where she later served on the Board of Trustees. In 1948, she graduated with a Bachelor of Arts in psychology from UT Austin, and later received the Distinguished Alumnus Award. That same year, she met her future husband, and the two were married in 1952, raising three daughters, Carol, Ann, and Ruth.
The couple established the O'Donnell Foundation in 1957 and worked together to oversee its substantial endeavors, which began with an initiative to improve passing rates for Advanced Placement test takers and blossomed over decades to recognize outstanding teaching efforts, research efforts, arts education, and support that was instrumental in establishing Dallas' arts community.
At UT Southwestern, the O'Donnell Foundation provided funds for the Center for Human Nutrition and to support the research of Nobel Laureates Dr. Michael Brown and Dr. Joseph Goldstein. The Foundation continues to support their work, as well as fellow Nobel Laureate Dr. Bruce Beutler, and the many members of the National Academy of Sciences and the National Academy of Medicine with roots at UT Southwestern. To help ensure financial support for UTSW to train and mentor the next generation of medical scientists, the O'Donnell Foundation created the Endowed Scholars Program in Medical Science and provided a lead gift to help launch UT Southwestern's Clinical Services Initiative. In addition, the couple supported the establishment of the Peter O'Donnell Jr. Brain Institute, a comprehensive center dedicated to better understanding the basic molecular workings of the brain and applying those discoveries to the prevention and treatment of brain, spine, nerve, and muscle disorders.
Beyond her commitment to UT Southwestern, Mrs. O'Donnell spent much of her effort cultivating the Dallas Museum of Art, where she began as a docent, served as a member and Chair of its Education Committee, and served as a DMA Trustee since 1989. Recently, her passion and support for arts education led to an endowment allowing free general admission to the museum, the posting of its collection online, and the creation of an arts institute at UT Dallas bearing her name, which collaborates with UT Southwestern Medical School to foster research, teaching, and programs.
Mrs. O'Donnell was appointed to the Texas Commission on the Arts, the original board of the Friends of the Governor's Mansion of Texas, and the advisory board of The University of Texas College of Fine Arts. She also co-founded Young Audiences of Greater Dallas in 1989 (now Big Thought).
The O'Donnells developed the plan to endow the Dallas Symphony Orchestra Principal Musician Chairs, provided significant support to the Dallas Opera, and launched Met: Live at the Booker T. Washington High School for the Performing and Visual Arts – free live viewings of Metropolitan Opera performances for Dallas public school students, their immediate families, and their teachers.
In 2008, Edith and Peter O'Donnell together received honorary Doctor of Humane Letters degrees from Southern Methodist University for their pivotal roles in advancing the arts and education, and they were presented the College Board's Lifetime Achievement Award for excellence in education.
"Edith's efforts to cultivate arts, education, and health for Dallas is difficult to fully appreciate, and will be sorely missed. But it certainly carries forward in so many lives that her caring efforts were able to touch," said Dr. Podolsky.