UTSW expands virtual care during pandemic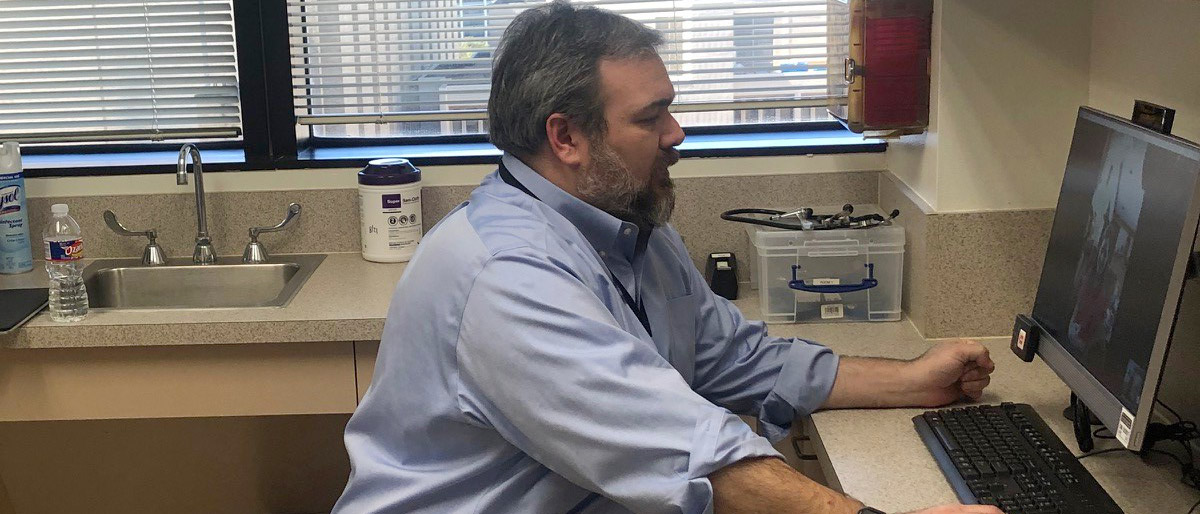 A physician huddled close to his desktop monitor, waiting for the next patient to appear on the computer screen. As with any new technology, there is a learning curve for both patient and provider that may include a spotty virtual connection or fine-tuning speaker volume or camera settings.
"Good afternoon," Dr. Jaime Almandoz, Medical Director of UT Southwestern's Weight Wellness Program and Assistant Professor of Internal Medicine, said to his patient checking in for a follow-up visit. "How are you doing today?"
"Ah, there you are," the patient replied, explaining she had some difficulty initially connecting. "I'm good. Nice to see you, even though virtually."
As the telehealth visit proceeded, the initial awkwardness of talking by video faded away. Soon, the conversation flowed easily as the patient talked about her progress in the weight loss program or current challenges. Welcome to medicine in the virtual age, prompted into overdrive by COVID-19.


COVID-19 fast-tracks telehealth
The coronavirus pandemic has forced health care providers to rethink how they deliver services to patients. Clinics have undergone rapid technological change in a matter of weeks to fulfill patient care needs as nonurgent hospital and clinic visits were suspended to reduce the spread of COVID-19.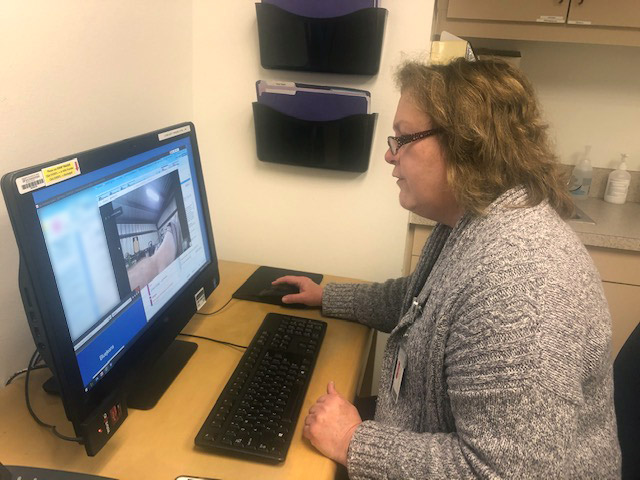 At UT Southwestern, virtual care is filling the gap for many during this public health emergency and protecting those who are most vulnerable. Successful implementation of virtual care has largely relied on communication and group problem-solving since the new territory comes with connectivity issues, technical glitches, and computer errors that physicians must troubleshoot in real time.
Dallas County extended shelter-in-place orders through May 15, and UT Southwestern announced in March that it would postpone or reschedule any upcoming nonurgent office visits, such as routine checkups or tests, until after June 1.
To serve patients in the meantime, the institution fast-tracked deployment of a virtual care platform originally set to launch in late spring or early summer, said Alan Kramer, Assistant Vice President of Health System Emerging Strategies. As a result, the number of video visits has skyrocketed since mid-March. On average, UTSW clinics had been providing four telehealth visits per day. But as of April 7 that number surged to about 1,600 per day and counting.
Many providers like Dr. Almandoz said moving toward telehealth was much easier than they expected. However, virtual care does come with some trade-offs.
"In the Weight Wellness Program, our interdisciplinary team works hard on developing patient trust and rapport," said Dr. Almandoz, who used telehealth for the first time in March. "Some of the nuances in body language and vocal tone that we instinctively rely on may not be as apparent through a computer monitor, so to compensate for that we are engaging with patients to make sure that things aren't lost in translation."
Dr. Surendra Barshikar, Assistant Professor of Physical Medicine and Rehabilitation (PM&R) and Medical Director of the UTSW and Parkland PM&R Clinics, said trainings helped clinicians learn the ins and outs of the new system. PM&R also had zero telehealth visits prior to the rollout.
"Within a week we had to bring virtual care live," he said. "Some providers tagged along with others during video visits to observe until they were comfortable using the technology on their own. Our physicians have handled the transition well, but some of our biggest challenges come from the patients' side of the screen."


How it works
The virtual care platform is managed within UT Southwestern's Epic electronic health record system. Providers use Epic to conduct their video visit, and patients use the UTSW MyChart mobile application to communicate with their provider. The telehealth visit can be done with either a smartphone or a computer equipped with a video camera and microphone. Patients click on a link in MyChart to activate the visit.
"This is a major tool in our health care delivery transformation process," Mr. Kramer said. "We quickly mobilized and trained more than 1,400 physicians and advanced practice providers within primary care and 35 specialties and subspecialties to use the platform in all clinical departments at UT Southwestern and have been transitioning all in-person visits that can appropriately be handled by telehealth. This platform is allowing us to care for patients who otherwise would have a difficult time getting care right now."
Mr. Kramer said the changing regulatory environment helped speed up deployment of virtual care. The Centers for Medicare and Medicaid Services (CMS) announced on March 17 that some restrictions on telehealth visits would be temporarily lifted due to COVID-19 to provide patients a wider range of services from their doctors without requiring travel to a health care facility. "With some of those regulations eased at the moment, it allows you to really hit the gas," he said.
UT Southwestern initially prioritized telehealth training to ensure the most vulnerable populations, such as patients of the Harold C. Simmons Comprehensive Cancer Center, Surgical Transplantation, and the Division of Geriatric Medicine, received access to virtual care as soon as possible. With the platform in place, UTSW is able to deliver an integrated, multidisciplinary approach to care by allowing multiple clinicians and care team members to join the visit at the same time from different locations. In addition, UTSW has developed the processes that allow language interpreters to join video visits, enabling a seamless operation regardless of the patient's primary language.


Early adopters
A handful of early adopters were ahead of the curve even before COVID-19 struck. One was the Department of Neurology and Neurotherapeutics, which was prepared to expand telehealth due to ongoing efforts to improve access. From September 2018 to November 2019, UTSW Neurology clinics completed 108 telehealth visits.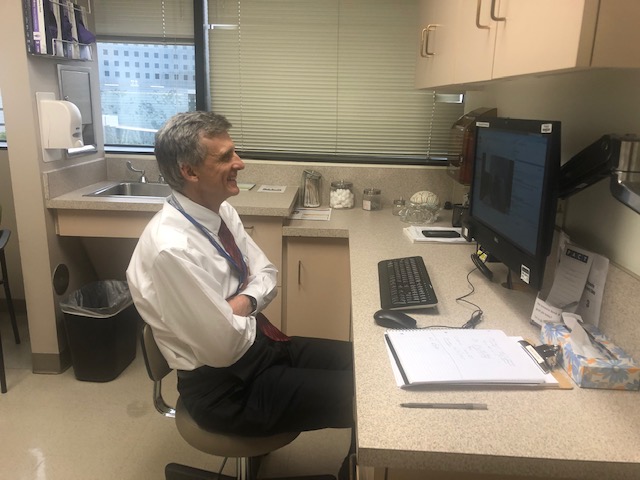 Dr. Jaya Trivedi, Medical Director of Ambulatory Neurology and Professor of Neurology and Neurotherapeutics, said having incorporated telehealth capabilities earlier to serve patients remotely has paid off in the era of COVID-19.
"At this point today, I can offer a telehealth visit to any of our patients where it is clinically appropriate, allowing the patient to join from their home and our clinician to join from their academic office, clinic, or home," said Dr. Trivedi, also a member of the Peter O'Donnell Jr. Brain Institute. "I'm just thrilled that we were able to launch telehealth in our clinic on a larger scale in an expedited fashion. We were lucky UT Southwestern was already working on this project and did not have to start from scratch."
With a commitment to provide telehealth visits for their patients during the COVID-19 pandemic, on-site neurology clinics are now averaging more than 150 telehealth visits a day, with over 90 percent of neurology patients being seen by a video visit each day.
"I am happy that we've been able to help a significant number of our patients with telehealth," Dr. Trivedi said.
Patients with disabilities, limited transportation, or chronic conditions like epilepsy, dementia, or headache who do not need as detailed of a neurological examination during visits following their diagnosis are a few examples of those who benefit from having an in-person office visit converted to a telehealth visit. Someone who needs to discuss medication adjustments or symptoms is also a good candidate.


Everything has changed
Providers predict health care delivery will shift after this pandemic is over.
"Everything has changed 180 degrees – and I cannot imagine going back to what it was before COVID-19 hit the U.S.," Dr. Trivedi said. "We will likely continue to see a rise in telehealth in the years to come."