COVID-19 and me: A global pandemic gets personal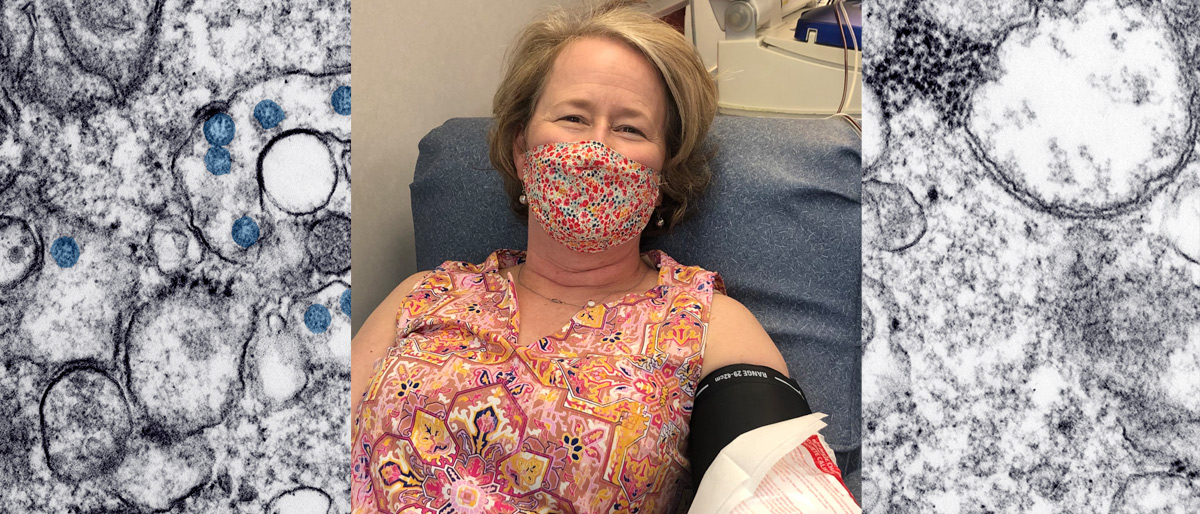 In a personal essay, Dr. Claire Aldridge, AVP of Commercialization and Business Development at UT Southwestern, shares her own story after battling COVID-19.
On a cloudy Wednesday in May, I'm standing in a strip mall parking lot trying to take a decent selfie.
The wind is having a field day with my hair, but I can't really ask for help with the photo because: a) there are very few people around; b) we're in the middle of a global pandemic; and c) it would take too long to explain why I want to mark this occasion in front of a white bus stretching across four parking spaces.
Beneath my flowery mask and sunglasses, however, I am smiling wide because this appointment at the Carter BloodCare mobile collection station means two very important things:
I am fully recovered from COVID-19.
And I am finally able to donate my plasma, rich with virus-fighting antibodies. There's a reason they call it "liquid gold."
Two months earlier, the novel coronavirus turned my world – the entire world – upside down. For nearly two weeks, I was alone in my bedroom with excruciating headaches, unrelenting body aches, and inescapable fear. There were moments when I wasn't sure I'd make it.
But today, as I get ready to participate in UT Southwestern's trailblazing convalescent plasma program, I am feeling strong and fighting back against COVID-19, energized by the possibility that my plasma might be able to save some lives.
Visit the UT Southwestern Medblog to read the full essay.