Chen honored with 2020 Coley Award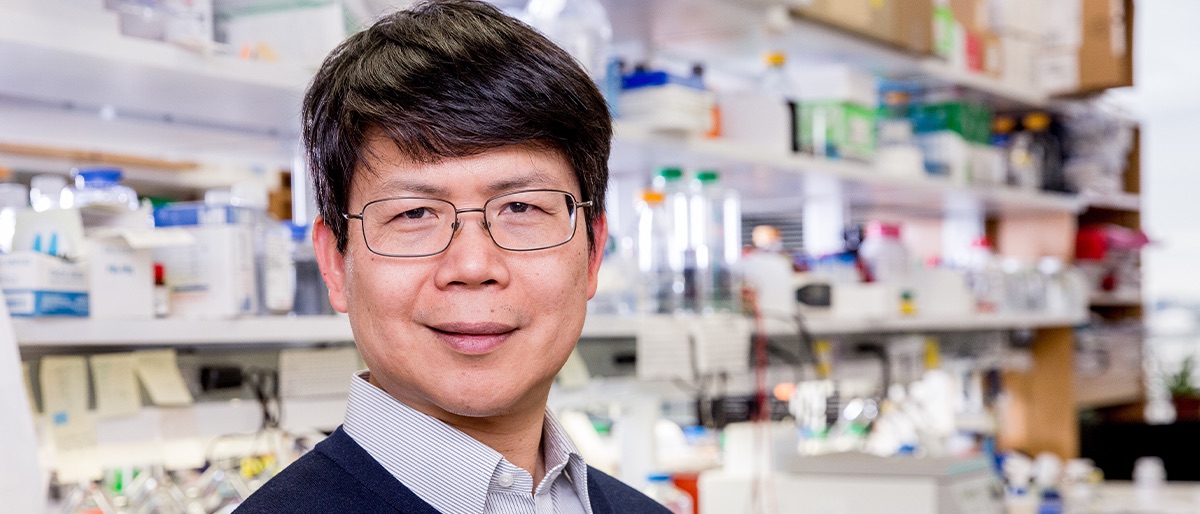 Dr. Zhijian "James" Chen, Professor of Molecular Biology and Director of the Center for Inflammation Research, is being honored with another award for his role in discovering a pathway now being used in the fight against cancer.
Dr. Chen is one of five scientists receiving the Cancer Research Institute's 2020 William B. Coley Award for Distinguished Research in Basic and Tumor Immunology for their individual contributions to the discovery and characterization of the cGAS-STING pathway, an important component of the innate immune system that is now being used in the development of novel immunotherapies against cancer.
"I am humbled to be recognized by this award in honor of Dr. William Coley, who is widely regarded as the father of cancer immunology. Previous award recipients are giants in immunology," said Dr. Chen, also a member in the Center for the Genetics of Host Defense and a Howard Hughes Medical Institute Investigator. Dr. Chen won the 2019 Breakthrough Prize in Life Sciences for his 2012 discovery of cGAS.
While DNA is best known for its function as the carrier of the genetic code, it also plays a lesser-known role in immunology – triggering immune responses. Present in most pathogens, DNA serves as a sign of infection and is sensed by the immune system, which launches a defense response to infections, Dr. Chen said.
However, the DNA sensor remained elusive until 2012, when the Chen Lab at UTSW discovered the enzyme cGAS and showed that it recognizes DNA and triggers a cascade of immune reactions. Subsequent studies found that cGAS also recognizes tumor DNA and is important for anti-tumor immunity.
"We are continuing to dissect the cGAS-STING pathway at the molecular level, with the goal of harnessing this pathway to improve therapies for human diseases including cancer, autoimmune and infectious diseases," he said.
Established in 1975 in honor of the cancer immunotherapy pioneer, the Coley Award is given to one or more scientists for seminal discoveries in the fields of basic immunology and tumor immunology. Several previous recipients of the Coley Award, including Dr. Bruce Beutler, Director of the Center for the Genetics of Host Defense and Professor of Immunology, have gone on to receive the Nobel Prize.
The Cancer Research Institute will present the Coley Award at a virtual gala Sept. 29. Additional 2020 Coley Award recipients are Dr. Andrea Ablasser of the École Polytechnique Fédérale de Lausanne in Switzerland, Dr. Glen N. Barber of the University of Miami Miller School of Medicine, Dr. Veit Hornung of Ludwig-Maximilians-Universität München in Germany, and Dr. Russell E. Vance of the University of California, Berkeley.
Dr. Chen's research is supported in part by the Cancer Prevention and Research Institute of Texas.