UTSW's Dr. Zhijian 'James' Chen wins Breakthrough Prize for innate immunity discovery
This story was originally posted on Center Times Plus on October 17, 2018.
---
UT Southwestern biochemist Dr. Zhijian "James" Chen today was named winner of the prestigious 2019 Breakthrough Prize in Life Sciences for his discovery of the cGAS enzyme that launches the body's immune defense against infections and cancers. That enzyme patrols the cell's interior and triggers the immune system in response to DNA.
The four 2019 Breakthrough Prizes in Life Sciences, plus prizes in physics and mathematics, will be presented during a live, globally televised awards ceremony in Silicon Valley on Nov. 4. The international award program, founded in 2013, is sponsored by Sergey Brin, Priscilla Chan and Mark Zuckerberg, Ma Huateng, Yuri and Julia Milner, and Anne Wojcicki. Winners receive $3 million each.
Dr. Chen's 2012 discovery of the enzyme cyclic GMP-AMP synthase (cGAS) solved a century-old medical mystery. DNA was known to activate the immune system long before its role as a genetic material was understood. In 1908, a Nobel Laureate noted in his acceptance speech that surgeons in Europe treated patients with DNA to boost their patients' defense against infections. Dr. Chen's biochemical investigations revealed the pathway underlying that response.
The innate immunity sensor cGAS discovered in the Chen laboratory sounds the alarm when it encounters DNA – either from pathogens or from the body's own cells in the case of autoimmune disease – in areas of the cell where that genetic material should not be. Dr. Chen also identified the small molecule cGAMP, which is produced by the enzyme cGAS and acts as a secondary messenger in the innate immune system.
The body has two immune systems: an inborn, or innate, immune system that is activated when cells in the body initially encounter an invading pathogen and an adaptive immune system that deploys specialized cells that execute a long-term response.
"This award recognizes Dr. Chen's outstanding research that elucidates the fundamental mechanisms of innate immunity, the body's first, generalized response to infection," said Dr. Daniel K. Podolsky, President of UT Southwestern. "His work has advanced our understanding of the relationship between the body's immune defense system and autoimmune disease as well as how this immunity pathway is linked to the development of cancer, cellular aging, and Parkinson's disease."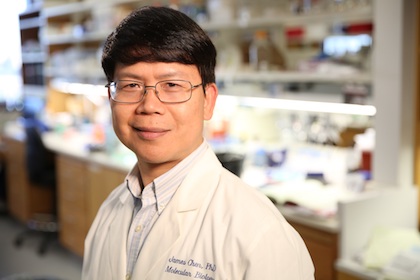 Dr. Chen's other important contributions include the discovery of MAVS (mitochondrial antiviral signaling) protein, which plays a pivotal role in immune defense against RNA viruses such as those that cause influenza, hepatitis C, and Zika. He also discovered the key functions of a small protein called ubiquitin in regulating immune and inflammatory responses.
Dr. Chen, Professor of Molecular Biology and Director of the Center for Inflammation Research at UT Southwestern as well as a Howard Hughes Medical Institute Investigator, said he was "totally shocked and thrilled" when informed he would receive the prize.
"This is a wonderful recognition and endorsement of the discoveries made by the talented and dedicated students and research scientists in my lab here at UT Southwestern," he said. "The highly supportive and nurturing environment at UT Southwestern has made it possible for us to focus on making original discoveries that are impactful. I am very grateful to the strong leadership at UT Southwestern that truly values science and scientists. It's my privilege to work in this exceptional institution and to be constantly inspired by my scientific mentors and heroes on our campus."
Dr. Chen is the second UT Southwestern faculty member to win the Breakthrough Prize.
Raised in Anxi County, China, Dr. Chen received his B.S. degree in biology at Fujian Normal University and then earned a scholarship to study in the United States, which led to a Ph.D. in biochemistry from State University of New York at Buffalo.
Dr. Chen is also a member of the Center for the Genetics of Host Defense led by Dr. Bruce Beutler, who shared the 2011 Nobel Prize in Physiology or Medicine for his work on innate immunity.
Dr. Chen's honors have multiplied since his arrival at UT Southwestern in 1997 and include the Searle Scholar Award (1998), The Welch Foundation Norman Hackerman Award in Chemical Research (2005), the Edith and Peter O'Donnell Award in Science by The Academy of Medicine, Engineering and Science of Texas (2007), the National Academy of Sciences Award in Molecular Biology (2012), the Merck Award from the American Society for Biochemistry and Molecular Biology (2015), and the Lurie Prize in Biomedical Sciences (2018). Dr. Chen was elected to the U.S. National Academy of Sciences in 2014. Dr. Chen's work includes more than $5 million in support from the Cancer Prevention and Research Institute of Texas (CPRIT).
UT Southwestern's first Breakthrough Prize in Life Sciences recipient was geneticist Dr. Helen Hobbs (2016). She received the award in recognition of transformative genetics research techniques she developed and used to identify key genes involved in lipid metabolism and fatty liver disease.
Dr. Hobbs is Director of the Eugene McDermott Center for Human Growth and Development, Professor of Internal Medicine and Molecular Genetics at UT Southwestern, and a Howard Hughes Medical Institute Investigator.