Postdoctoral biophysicist receives Brown-Goldstein Award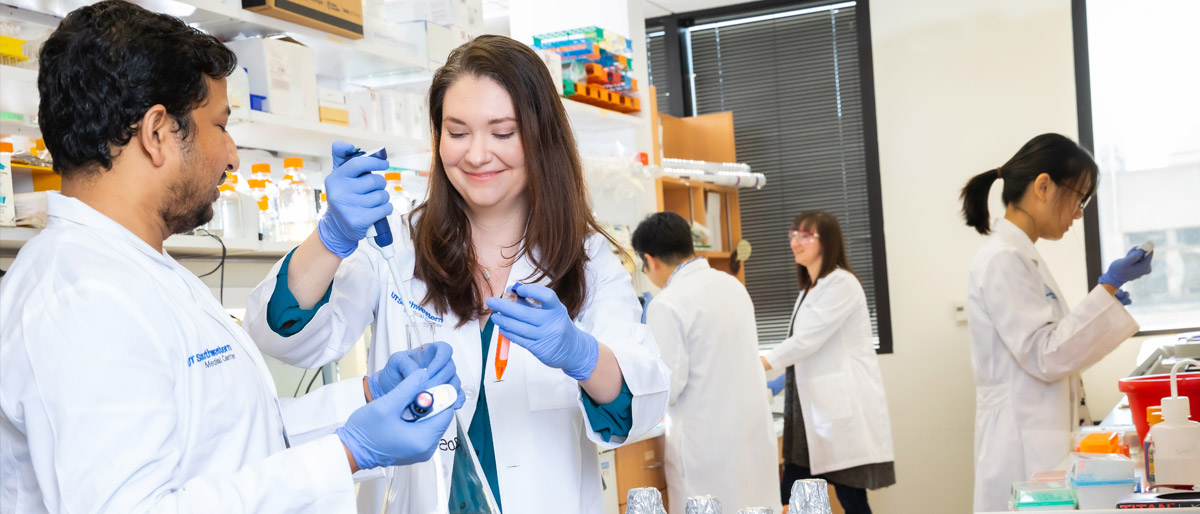 Biophysicist Dr. Lindsay Case remembers the moment in her research four years ago when she looked through a microscope and saw that the molecules she was studying formed dynamic liquid droplets that could trigger the formation of actin filaments, extending like a kaleidoscope of molecules. She was excited by the potential ramifications of this observation.

"Perhaps liquid phase-phase separation not only organizes these signaling molecules but also regulates their biochemical activity. There is growing evidence that phase separation is a major organizing principle in cells," she said. However, there are still a lot of questions about the functional consequences of clusters of macromolecules that hold together without the need of membranes, she added.
Dr. Case has devoted the past five years to studying the "why" behind the cellular phenomenon. In particular, she wanted to know how phase separation might regulate specific signaling pathways.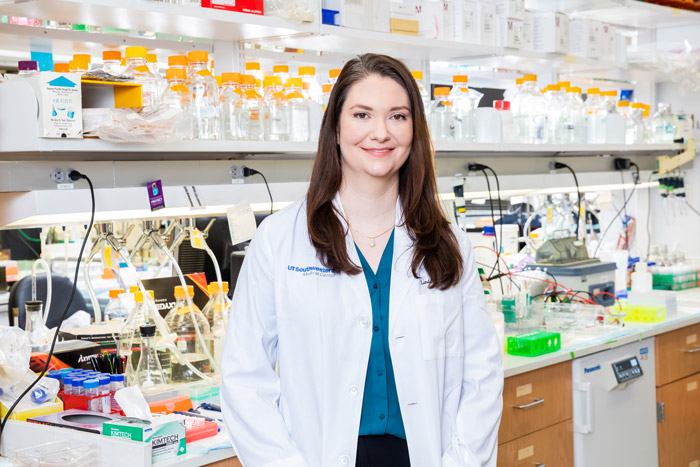 Her work uncovered a key mechanism of liquid-liquid phase separation that resulted in a study in Science and in her selection as the 2020 recipient of the Brown-Goldstein Award for Excellence in Postdoctoral Research.
The award given by the Graduate School of Biomedical Sciences honors the contributions of Drs. Michael Brown and Joseph Goldstein to training future scientists. It represents the highest recognition the Graduate School bestows on postdoctoral trainees.
Dr. Case's mentor, Dr. Michael Rosen, was recently one of three scientists honored with the 2020 Wiley Prize in Biomedical Sciences for pioneering work revealing how liquid-filled cells can subcompartmentalize their insides without any membrane barriers.
Phase-separated biomolecular condensates are droplet like clusters of macromolecules that stay together like classic membrane-bound organelles but without the help of any physical barrier, akin to the separation of oil and water. The field has moved quickly in the last decade from the discovery of this phenomenon to understanding why the condensates occur.
Enter Dr. Case, who joined the Rosen lab to understand the formation of focal adhesions – the cell's attachment points to the external environment, which can go wrong in cancer, contributing to its spread.
First, she found that many of the molecules that make up focal adhesions undergo phase separation. Her work suggested that phase separation may be the mechanism by which focal adhesions form on the inner surface of the cell membrane. She has also found that phase separation can increase the biochemical activity of signaling molecules, which helps tune the cell's response to external stimuli.
"Lindsay brought the focal adhesion project to my lab and has revealed a key mechanistic principle that will frame all future work on these important cellular structures," said Dr. Rosen, Chair of Biophysics and a Howard Hughes Medical Institute Investigator. "The Brown-Goldstein Award is a wonderful recognition of her commitment and success."
Dr. Case, also a 2020 recipient of the Damon Runyon-Dale F. Frey Award for Breakthrough Scientists, said Dr. Rosen greatly aided her success.
"Mike has been a supportive and encouraging mentor throughout my postdoc and has helped me to become a more critical and thoughtful scientist. I had very little experience with biochemistry prior to my postdoc, so I'm also indebted to my patient colleagues in the Rosen lab who helped teach me so many new skills and techniques," she said.
As a graduate student, Dr. Case met Dr. Rosen when he presented a lecture at the National Institutes of Health. She earned a Ph.D. in cell and developmental biology through a joint program at the NIH and the University of North Carolina.
"He presented his early work on phase separation. I was blown away by his talk," she recalled. "I realized that phase separation had the potential to conceptually shift our understanding of how cells are organized and could be a huge leap forward for cell biology. I got in touch with him about potentially doing my postdoc in his lab – and the rest is history."
As an undergraduate at Franklin & Marshall College in Lancaster, Pennsylvania, Dr. Case double majored in biology and French.
The Brown-Goldstein Award includes a monetary prize, as well as the opportunity to give a University Lecture. Dr. Case's seminar, "Protein Phase Separation Regulates Transmembrane Signaling," is scheduled April 14.
In addition, Brown-Goldstein Award finalists Alpaslan Tasdogan, Ph.D., Wenhan Zhu, Ph.D., and Zheng Kuang, Ph.D., postdoctoral scholars at the Children's Medical Center Research Institute at UT Southwestern, Department of Microbiology, and Department of Immunology, respectively, will receive Dean's Discretionary Awards for their outstanding research.