Biophysicist Michael Rosen recognized for pioneering studies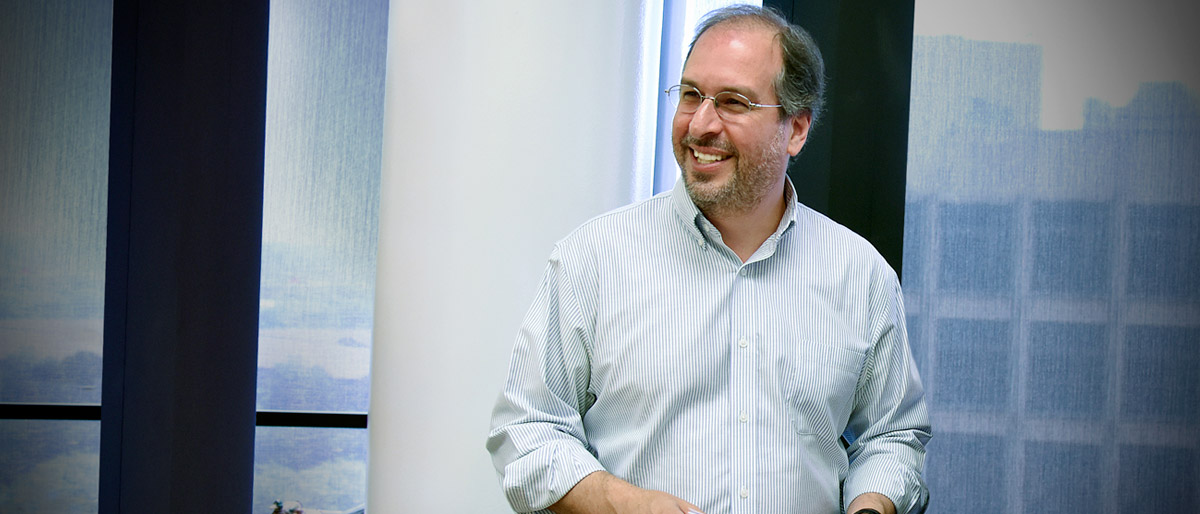 UT Southwestern Biophysics Chair Dr. Michael Rosen is among three scientists awarded the 2020 Wiley Prize in Biomedical Sciences for determining how cells can compartmentalize processes without the use of membranes. These phase-separated structures are involved in many cellular mechanisms in health and in disease.
The other awardees are Dr. Cliff Brangwynne, a Professor in the Department of Chemical and Biological Engineering at Princeton University and an Investigator of the Howard Hughes Medical Institute (HHMI), and Dr. Tony Hyman, Director and Group Leader at the Max Planck Institute of Molecular Cell Biology and Genetics in Dresden, Germany.
"Their pioneering work has revealed a new principle for subcellular compartmentalization based on formation of phase-separated biomolecular condensates, a process implicated in both physiological and pathological events," reads the award announcement. The award honors research that champions novel approaches and challenges accepted thinking.
Dr. Rosen, also an HHMI Investigator, for five years led an HHMI-funded international summer research institute to advance this line of investigation at the Marine Biological Laboratory at Woods Hole, Massachusetts. Drs. Brangwynne and Hyman participated in that institute, which, in addition to studying biological phase separation, posed the question: How can scientists best structure collaborative research teams to speed discovery?
"We honor them for the discovery of a completely new aspect of cell biology that impacts our understanding of how cells work," said Deborah Wiley, Chair of the Wiley Foundation.
Dr. Jeffrey Woodruff, Assistant Professor of Cell Biology and Biophysics, was a postdoc in the Hyman laboratory in Germany prior to joining the UTSW faculty.
"I had the fortune to work alongside both Tony Hyman and Mike Rosen at the Woods Hole Summer Institute. I benefited most from the inspirational atmosphere and from bouncing ideas back and forth," said Dr. Woodruff.
"At the time, I was in the middle of an experiment where I was stuck at a mental roadblock and could not make sense of some of my data. Talking with Mike Rosen about two of his organizational concepts really framed and improved my interpretations of my own results. It was the conceptual breakthrough that I needed to complete my project," he recalled.
In learning of the Wiley Prize, Dr. Rosen said, "It is a tremendous honor to have our work recognized by the Wiley Foundation. The award is testament to the hard work and creative insights of the students, postdocs, and technicians in my lab over the past decade, and the encouragement of our colleagues at UTSW and HHMI. I am grateful to them all for stepping with me into an unexplored area, and taking the risks that ultimately led to our discoveries."
First awarded in 2002, the Wiley Prize in Biomedical Sciences is presented annually to recognize contributions that have opened new fields of research or have advanced concepts in a particular biomedical discipline. Among the many distinguished recipients of the Wiley Prize in Biomedical Sciences, nine have gone on to be awarded the Nobel Prize in Physiology or Medicine and two have gone on to be awarded the Nobel Prize in Chemistry.
Dr. Steven McKnight, UTSW Professor and former Chair of Biochemistry, received the award in 2014 for his work on oxygen sensing in cells along with the three winners of the 2019 Nobel Prize in Physiology or Medicine: Dr. William G. Kaelin, Dr. Peter J. Ratcliffe, and Dr. Gregg L. Semenza.
This year's award of $50,000 will be presented to the winners on April 3 at the Wiley Prize luncheon at The Rockefeller University. The winners will deliver an honorary lecture that will be livestreamed.
Wiley is a global leader in research and education involved in publishing, platforms, and other services.