UT Southwestern research teams win prizes at Big Idea Competition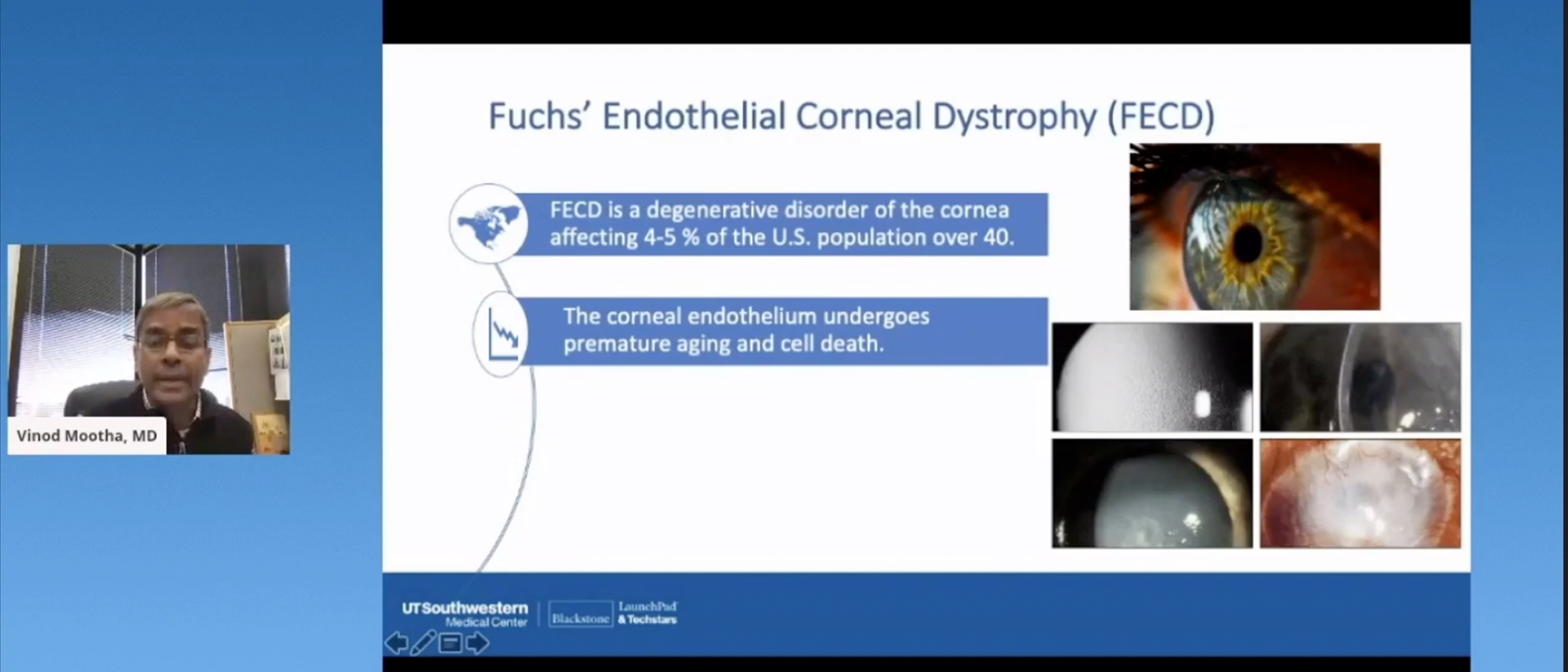 A UT Southwestern scientist who developed a compound to treat a genetic defect that can cause blindness won a $50,000 prize at the Big Idea Competition, an annual event to promote entrepreneurship at The University of Texas at Dallas.
A second UT Southwestern project claimed $12,500 for an algorithm that uses artificial intelligence (AI) to improve cancer diagnosis. Both were entries in a new category called the UT Southwestern Biotech+ Track.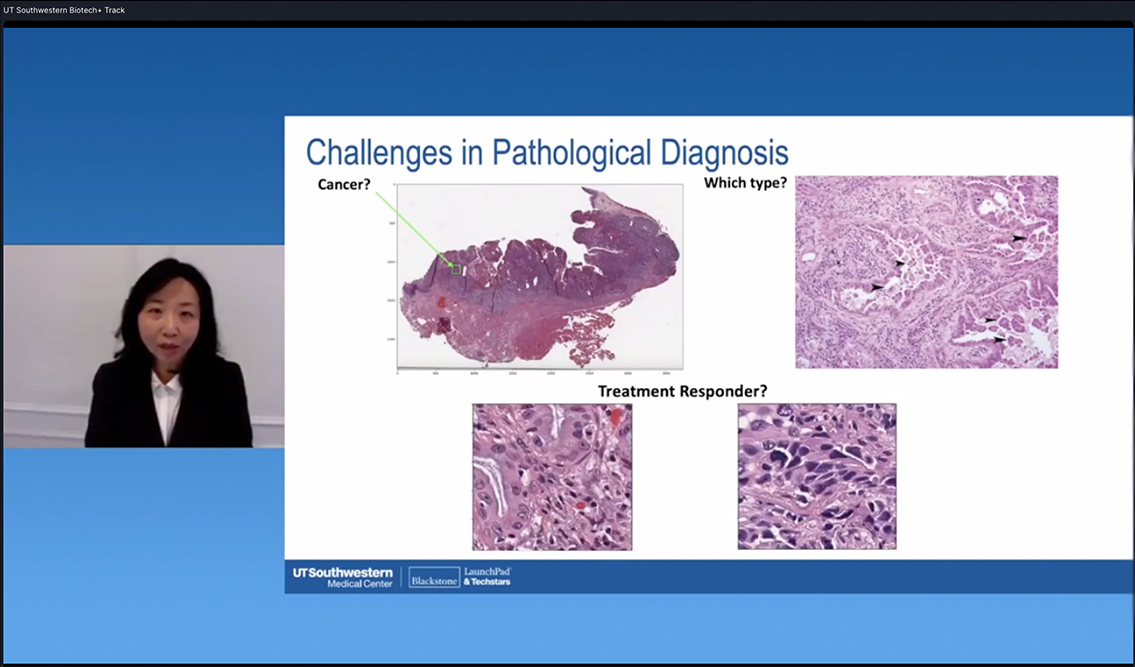 And in a different category, a UT Southwestern ophthalmologist was the faculty adviser to a group of UT Southwestern Medical School and UTD students who designed an implant to treat glaucoma. That team won a $25,000 prize.
The finalists who competed at the Nov. 19 virtual event, timed to coincide with Global Entrepreneurship Week, pitched their ideas like contestants on the popular TV show "Shark Tank" to panels of business leaders, entrepreneurs, and venture capitalists. In all, more than $200,000 in prize money and scholarships was awarded in four categories: Biotech+, student pitch, alumni pitch, and research commercialization track.
Mark Cuban, star of the popular ABC program as well as owner of the Dallas Mavericks basketball team, was the keynote speaker. He told an online audience of nearly 700 how he started his first business selling garbage bags door to door at age 12, then reentered the entrepreneurial world in his 20s after getting fired from a job selling software.
He said Dallas is ripe for creating biotechnology startups.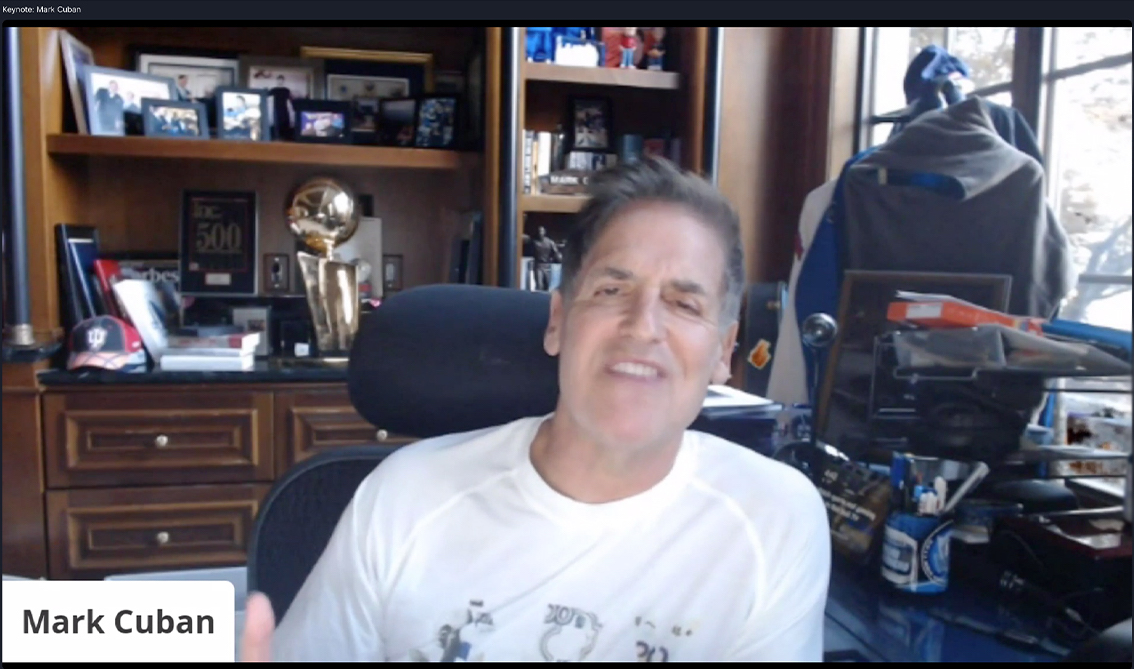 "North Texas is rapidly becoming a leader in AI," Cuban said after the event. "Combine this with the incredible base of knowledge we have at UTSW and throughout North Texas and I think we certainly will continue to have a position of leadership in all things science-driven."
UT Southwestern, along with UTD and Lyda Hill Philanthropies, presented this year's event.
Dr. V. Vinod Mootha, Professor of Ophthalmology and in the Eugene McDermott Center for Human Growth and Development, won the grand prize in the Biotech+ Track for his treatment for Fuchs' endothelial corneal dystrophy, an eye disease caused by a genetic defect.
One in 20 Americans over the age of 40 suffer from the condition, he told the judges, and it requires a corneal transplant to prevent blindness. Even when done at specialized transplant centers, about 5 percent of grafts fail within five years and the surgery must be repeated, he added.
Dr. Mootha's lab has studied the genetics of Fuchs' dystrophy for eight years and, in conjunction with the Corey Lab at UTSW, developed several promising compounds to neutralize the toxic effects of the overly long sequences of RNA encoded in Fuchs' dystrophy, he said. The solution is to create a so-called antisense oligonucleotide that will bind to the toxic RNA and neutralize it, he said.
Dr. Mootha said he was excited to win the $50,000 prize, which also comes with guidance on intellectual property law and a video marketing package from Zelaya Productions.
"The prize money will help grow our small but productive research team to further develop our project," he said. "We are probably five years away from clinical use." The next step, he said, will be to find a business partner to help.
A pitch from Dr. Yang Xie, Professor in the Department of Population and Data Sciences, led to a second-place prize for a project that developed an artificial intelligence algorithm to analyze pathological slides of tissue samples to check for signs and characteristics of cancer. Currently, an expert pathologist must manually read such tissue slides for disease diagnosis.
Artificial intelligence can help pathologists make faster and more accurate diagnoses, Dr. Xie said. The AI model can also quantify and characterize spatial distributions of different types of cells, thereby improving treatment outcomes and providing new biological insights.
Money from the Big Idea prize will help her team develop the user-friendly software needed to take its product into a clinical setting, she told the judges. The event will also help the team connect with potential business partners, said Dr. Xie. In addition to the monetary award, she will receive intellectual property guidance and business service support.
Dr. Karanjit Kooner, Associate Professor of Ophthalmology, advised the team of students who won the Student Pitch Track for a device that is inserted into the eyes of glaucoma patients to drain excess fluid.
The group came up with the idea during UT Southwestern's hackathon in 2019 and is in the process of forming a company called Glaucomedi that has two patents pending for its Squid Glaucoma Shunt, Dr. Kooner said.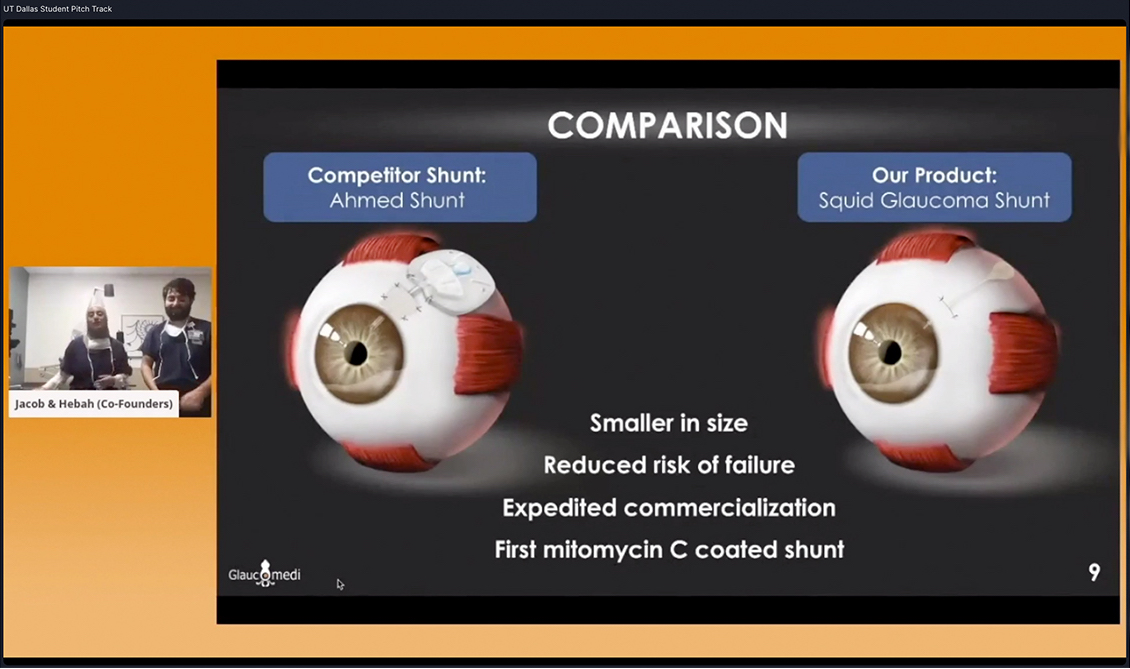 The novel device is smaller, more reliable, and less expensive than existing shunts, the group told judges. The U.S. market for such devices will top $2 billion in 2023, they said.
The prize money will allow them to produce prototypes and test their product in the laboratory, with hopes to take it to market in three years, Dr. Kooner said. They are currently looking for investors.
Winning the prize, which also comes with $10,000 in Amazon Web Services credits and a video marketing package from Zelaya Productions, boosted the team's spirits, he said. "We are invigorated and determined to keep on working toward our goals."
Finalists in the Biotech+ Track were selected after review of their proposals by UTSW faculty and staff. Two other finalists competed in the UT Southwestern Biotech+ Track: Dr. Kiyoshi Ariizumi, Professor of Dermatology, who presented an antibody to boost patient response in cancer immunotherapy; and Dr. Bo Li, Assistant Professor of Immunology in the Lyda Hill Department of Bioinformatics, with a blood test for early cancer detection.
"The remarkable technologies represented in this competition are a testament to the rapidly growing, innovative ecosystem within North Texas," said Dr. Claire Aldridge, Associate Vice President of Commercialization and Business Development at UT Southwestern. "UT Southwestern is a global leader in advancing early stage research that is expanding the frontiers of health care."