Game of Codes: Hackathon teams up techies with faculty in a hunt for better treatments and scientific advances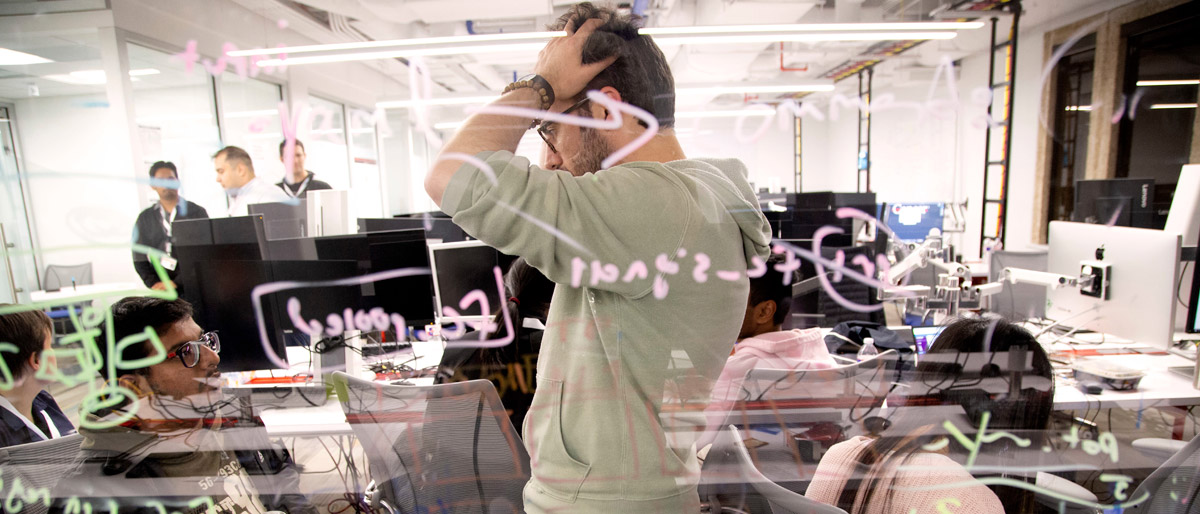 The energy in the room was palpable as UT Southwestern's President and its Chair of Bioinformatics welcomed more than 120 "hackers" to the institution's second annual hackathon, part of a worldwide craze drawing techies in swarms.
Watch: Faculty and techies team up with goal to develop scientific advances

The "hackers" – mostly 20- and 30-something computer scientists and engineers –combined their skills with those of UT Southwestern's doctors, medical researchers, and high-performance computing capabilities to solve real-world problems and help patients at the Medical Center and elsewhere.
"I am enthusiastic about the creativity and energy you bring today that has the potential by the time you leave on Sunday to yield great new advances that move this campus forward," UTSW President Dr. Daniel K. Podolsky told those gathered for the Friday kickoff of the three-day event, tagged U-Hack Med 2019. The event took place Nov. 8-10 on South Campus.
"A hackathon is defined as a group of people coming together with burning questions that might be solved computationally," explained Dr. Gaudenz Danuser, Chair of the Lyda Hill Department of Bioinformatics and Professor of Cell Biology.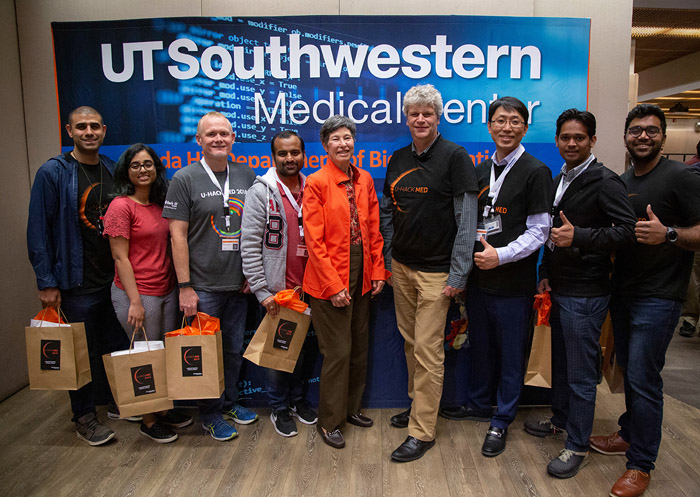 A different kind of "hacking"
Such events began around the turn of the millennium and have become a rage among tech-talented youth. "This is a cool thing to do," Dr. Danuser said. "We had people from universities in California and New York who came here for this. It's a huge networking opportunity, and it gives our campus recognition as well."
At hackathons, the "hackers" – really just people adept at developing computer solutions and software code – sign up to spend long hours over a day or a weekend ferociously working around tables full of computers alongside fellow quick-minded computer geeks. Divided into competing teams, they chase a software app solution in hopes of impressing the event's organizers and possibly winning a prize. The goal might be to come up with a new phone app, a video game, or cloud-based software that offers a solution to a problem described at the event's beginning.
At the health care-linked hackathon organized by UT Southwestern, teams were carefully selected from applications and assigned to data-intensive clinical or basic science problems. "Our hackathon is distinct in that we have formulated the problems," Dr. Danuser said. "They're real problems, not Mickey Mouse."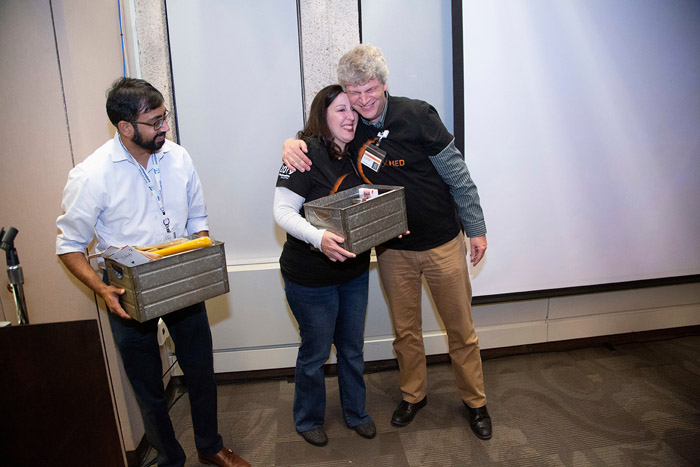 And, he added, "We have one of the biggest computer systems in Texas that they can play with," referring to the research institution's Nucleus computing system, which has more than 65 terabytes of RAM and was accessible to the hackers via the University's Wi-Fi system.
From Abu Dhabi to Dallas
Among those hacking were two high school students from St. Mark's School of Texas, a private boy's school in Dallas. Meyer Zinn, a senior and member of his school's robotics club who plans to study computer science in college, returned after participating in last year's event.
This time, he brought a friend: James Singhal, who at 15 was the youngest "hacker." Both were assigned to Team 2, which faced the task of coming up with a tool that could more accurately tell benign thyroid lumps, or nodules, from cancer. "It's a bit more meaningful than other projects that I've been working on in my school," James said.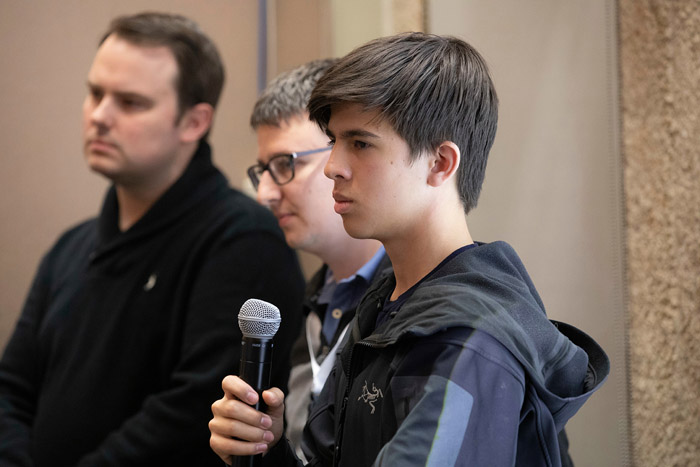 A Houston-based technology company, Mark III Systems, co-sponsored the event with UT Southwestern's Lyda Hill Department of Bioinformatics, helping to provide continuous meals and snacks as well as prizes. Lyda Hill, whose gift of $25 million in 2015 established the Department of Bioinformatics named in her honor, donated travel scholarships for 28 participants.
Samridha Man Shrestha, who flew in from Abu Dhabi, received one of the travel scholarships. The senior majoring in computer science at New York University's United Arab Emirates outpost said U-Hack Med 2019 was his sixth hackathon.
Participating in hackathons allows networking with other students and professionals, potentially leading to job opportunities later on, he said. Tackling medical subjects is more meaningful than other hackathon projects, Samridha added. "You're not just coming up with some little app – like some food app."
Playing off the theme of a marathon – a race over 26 miles – U-Hack Med 2019 stretched over 26 working hours. It ended Sunday evening with the 12 competing teams, each led by a UT Southwestern faculty member or researcher, feverishly making last-minute tweaks around tables strewn with apple cores, orange peels, and bowls of candy and popcorn.
The evening's finale was an awards dinner at which the teams, one by one, stood before the audience to describe their findings in flashy – code designer style – presentations.
Winning innovations
In the end, Meyer and James' team didn't win. Neither did Samridha's.
Instead, Team 9 claimed the top prize, the Lyda Hill Award, which came with up to $1,500 per team member to travel to a scientific or developer conference of their choice. The hackers had designed a faster way to evaluate children with congenital heart disease when using an MRI and catheter, shaving an estimated 40 minutes off the time it normally takes to evaluate patient data.
The award was presented by Ms. Hill, one of eight judges from the University and business and philanthropic communities who evaluated the developers' creations. Awards were judged based on the likelihood of a project leading to a grant for further study or development of a prototype, whether the solution advanced the field, and potential impact of the project on patient care – as well as its "cool science" factor.
"I appreciate you coming together for several days to solve the world's problems," Ms. Hill told the participants. "This has been very exciting – you arrived from many countries to work jointly on common challenges. The world needs more people like you."
Other prizes went to:
Team 11, which received the Startup Success Award for developing a tool to more accurately diagnose glaucoma. Their prize was a dinner with health care investor and event judge Michael Gregory, co-Managing Partner of Avidity Partners Management, a Texas hedge fund. Other components of the award included UTSW vests for faculty leads and programming circuit board kits for hackers.
Team 11 won a second prize, the Most Effective Visualization Award. The award included tickets to the Nasher Sculpture Center and gift cards.

Team 7, which developed software to improve care for patients undergoing rehabilitation, won the Health Impact Award. Their prizes were Bluetooth circuit boards and books.
One member of Team 5 won the prize for posting and drawing the most attention to his team's findings on GitHub, an online community platform to share code. His prize was a high-end graphics card and Jetson Nano developer kit.
Taking the next step
A representative from the National Institutes of Health who helped UT Southwestern organize its first hackathon returned for the event – Dr. Allissa Dillman, NIH's Biomedical Data Science Outreach Coordinator, who has a Ph.D. in computational neuroscience and teaches biologists and doctors how to code.
As the event neared its close, Dr. Dillman called on participants to share their findings with the code development community. "The whole point of building something really awesome is so you can share it with the community and we can continue to build it. … You may not have gotten there, but you can at least get somebody else to hit the ground running," she said.
The life sciences and medicine are shifting to the use of computers to make sense of the massive amounts of data collected and are developing specialized software solutions to accomplish that, Dr. Danuser explained, underscoring why events such as the hackathon are important for UT Southwestern to take part in.
"As vast amounts of numerical readings accrue in the biomedical sciences, innovation depends on the ability to interpret those numbers and look for scientific clues within them," he said.
Flip through the gallery for a look inside the hackathon.