Aguilera receives Damon Runyon Award to study emerging immunotherapy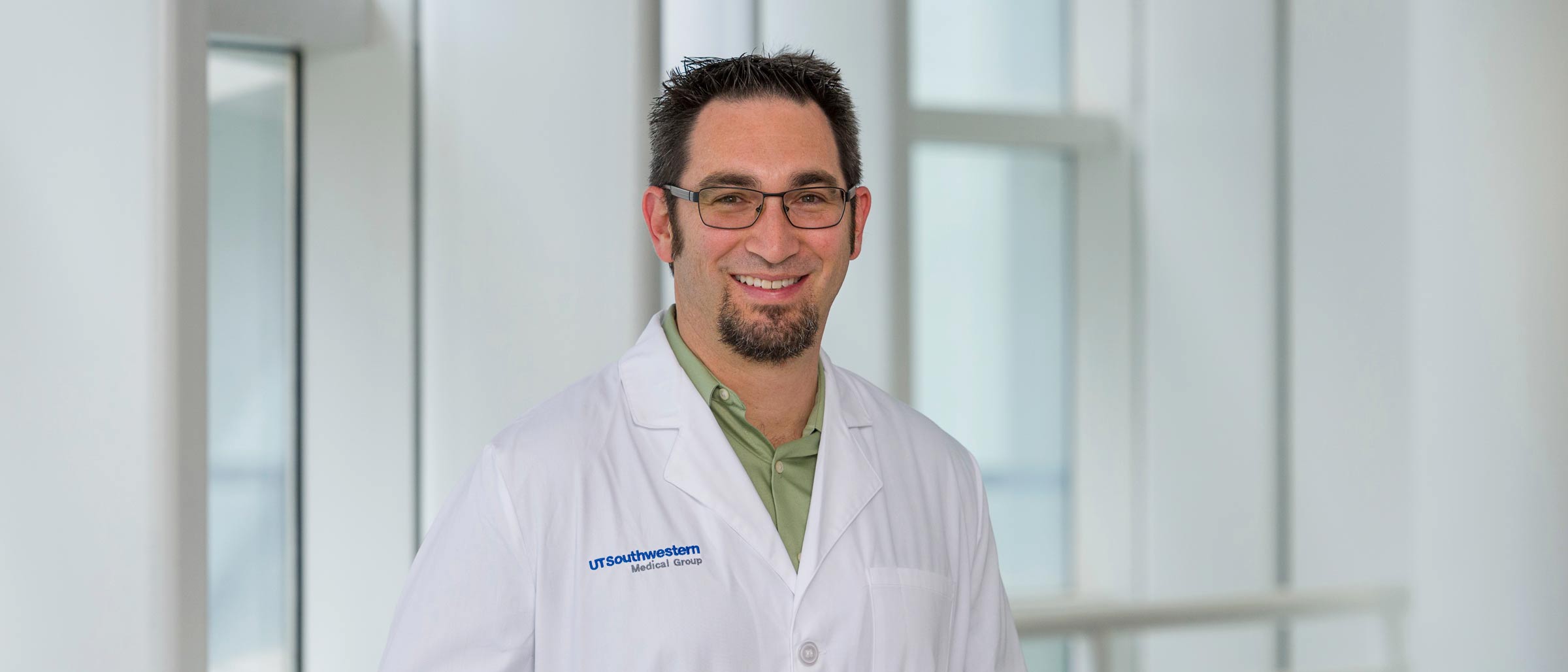 In the 20 years since his personal victory against cancer in his late teens, Dr. Todd Aguilera has been studying and treating hard-to-cure cancers with the goal of reducing recurrence – "something I have been privileged and blessed to escape," he said.
"The beauty of caring for such amazing, resilient colorectal and pancreatic cancer patients is that I look forward to not having to say goodbye so often as we continue to improve treatment and survival," he said.
The Damon Runyon Cancer Research Foundation recently named Dr. Aguilera as one of four new Damon Runyon Clinical Investigators. The three-year, $600,000 award supports outstanding early career physician-scientists conducting patient-oriented cancer research with the potential to impact cancer diagnosis, prevention, and treatment. Dr. Robert Timmerman, Professor of Radiation Oncology and Neurological Surgery, and Dr. Yang-Xin Fu, Professor of Pathology, Immunology, and Radiation Oncology, are his study mentors.
"This project has been many years in the making, and I am humbled it has come together," said Dr. Aguilera, Assistant Professor of Radiation Oncology in the Harold C. Simmons Comprehensive Cancer Center. "To receive this recognition for the hard work thus far and to then have support to perform the work we propose before we obtain larger federal grants means the world to me and the team. It also shows that some of this country's greatest minds in cancer research and cancer medicine understand what we are trying to do with this project."
New therapeutic approaches are needed to treat advanced stage rectal cancer, which is on the rise in younger people and comes with a poor prognosis. There is emerging evidence that immunotherapy may have a greater impact if tried earlier or in conjunction with other first-line therapies, Dr. Aguilera said. He is leading a randomized clinical trial evaluating an emerging immunotherapy – an anti-CD40 agonist APX005M – when combined with a new standard therapy for locally advanced rectal cancer that consists of short course radiotherapy followed by chemotherapy prior to surgical resection.
"Because many gastrointestinal cancers, including colorectal cancer, have not had many successes with the currently approved immune checkpoint therapies, we aimed to evaluate an anti-CD40 agonist that can stimulate immune responses through multiple mechanisms," Dr. Aguilera said. "By having access to tissue and these funds, we can now explore mechanisms we understand from mouse models and identify key indicators of response in humans. This will help us understand the response or lack of response that we will observe on the trial. Thus, we will better determine how to design next-generation therapeutic approaches that incorporate immunotherapies, such as anti-CD40 or other additional promising targets."
If successful, the proposed treatment could become a new therapeutic standard that lowers the risk of metastasis, improves survival, shortens treatment, and potentially avoids the need for surgery.
Dr. Aguilera completed his M.D. and Ph.D. at the University of California, San Diego. He was recruited to UTSW in 2017 as a Cancer Prevention and Research Institute of Texas Scholar.
The Damon Runyon Clinical Investigator Award program was designed to help address the shortage of physicians capable of translating scientific discovery into new breakthroughs for cancer patients. Since 2000, the Damon Runyon Cancer Research Foundation has committed more than $72 million to support the careers of 108 physician-scientists across the United States.