Three new THR Clinical Scholars named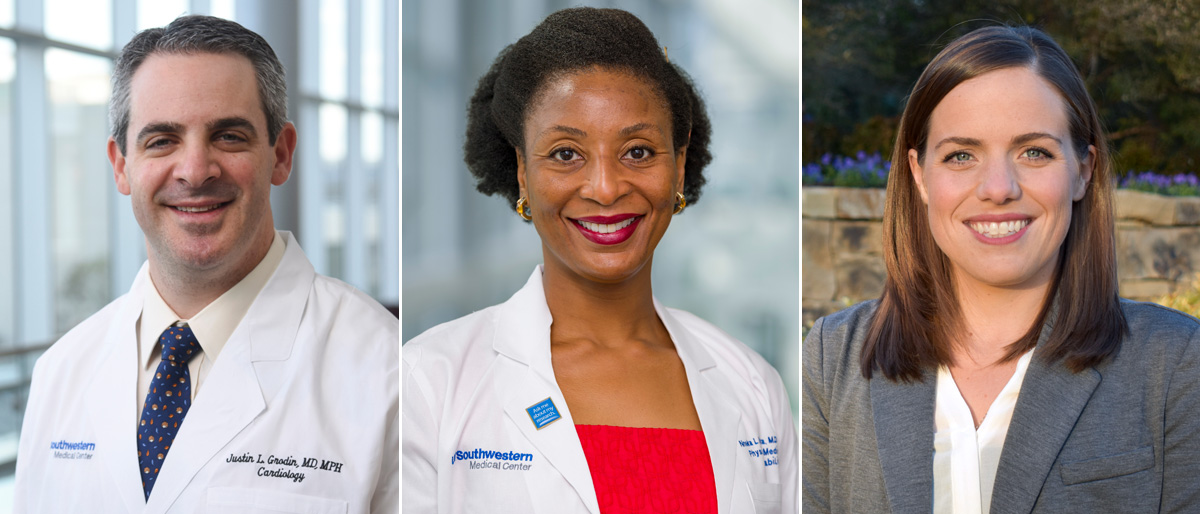 The number of Texas Health Resources Clinical Scholars at UT Southwestern doubled last year, as three new Scholars have been selected to receive development awards to examine the quality and efficiency of providing patient care.
Drs. Justin Grodin, Nneka Ifejika, and Amy Hughes will each receive $750,000 over the next three years to advance research investigations that align with the central mission of Southwestern Health Resources, an integrated health network established in 2015 by UTSW and Texas Health Resources that comprises 29 hospital locations and more than 650 outpatient facilities, clinics, and more, spanning a 16-county service area with over 7 million residents.
"The Clinical Scholars Program was created with the purpose of advancing care for diverse patient populations, by seeking unique, innovative, and research-based mechanisms for addressing complex health issues in efficient and patient-focused ways," said Dr. Elizabeth Ransom, FACS, Executive Vice President and North Zone Clinical Leader for Texas Health. "Each of these Clinical Scholars brings a unique set of talents and knowledge to help us achieve these lofty aims. We're honored to have them join us on this journey to providing quality care that's also efficient and affordable."
Dr. Justin Grodin
Assistant Professor of Internal Medicine
Dr. Grodin cares for patients with end-stage heart failure and restrictive, hereditary, or hypertrophic cardiomyopathies. With an extensive background in clinical epidemiology, analytics, and public health policy, he works to develop better techniques to identify determinants of heart failure treatment response and prognosis – all in order to improve patient care. His approach includes epidemiology, large database analysis, and bioinformatics.
"One of the most fulfilling and rewarding aspects of my early career has been leveraging my expertise in the clinical management of heart failure with clinical research," said Dr. Grodin, who earned his medical degree from UT Southwestern in 2009. "I became interested in a career in cardiovascular research through early experiences working with the Dallas Heart Study and the United Network for Organ Sharing databases as a UTSW resident."
Dr. Nneka Ifejika
Associate Professor of Physical Medicine and Rehabilitation, Neurology and Neurotherapeutics, and Population and Data Sciences
Dr. Ifejika's clinical practice bridges the worlds of acute stroke and post-acute rehabilitation. "I synthesize acute stroke measures and stroke rehabilitation metrics into one plan that is easy for patients and caregivers to understand," Dr. Ifejika said. Her research involves providing evidence-based rehabilitation paradigms across all levels of stroke care, with a focus on improving stroke outcomes and decreasing health disparities. At Southwestern Health Resources stroke centers, Dr. Ifejika is creating probability models that can predict care escalation within the first 24 hours of a stroke or of post-acute inpatient rehabilitation in the first three days after an acute stroke.
"It is important that we expand our knowledge of the processes of stroke care – particularly as the cost of care continues to increase, and 10,000 people enter the Medicare system daily in the United States," she noted.
Dr. Amy Hughes
Assistant Professor of Population and Data Sciences
On campus since 2012 while working on her doctorate from UT Dallas, Dr. Hughes previously was a student research assistant and a postdoctoral fellow in the Department of Clinical Sciences at UTSW. As a THR Scholar, Dr. Hughes is planning three research projects that will merge information routinely collected in the electronic health record with location-aware data to identify "risky places" in North Texas. By applying her specialty, Dr. Hughes hopes to identify environmental exposures that affect patients' likelihood of being diagnosed with adult-onset diabetes, admitted to the hospital or taken to the emergency department for asthma, or readmitted to the hospital while trying to manage multiple chronic diseases.
"As a health geographer, I am interested in how place and health are interrelated – how place affects health, and how health affects place," Dr. Hughes said. "I want to know how we can leverage that two-way association to enhance health care delivery and improve patient outcomes."