Ifejika receives Association of Academic Physiatrists honor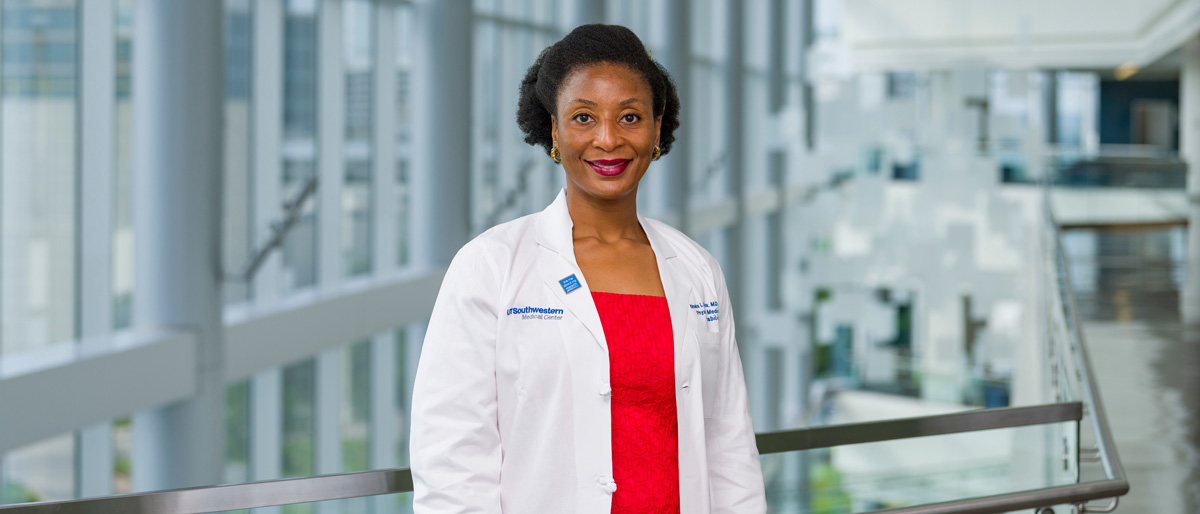 This story was originally posted on Center Times Plus on February 25.
---
Dr. Nneka Ifejika is one of those rare practitioners whose efforts go well beyond the medical, physical, vocational, and social workloads that accompany a job in physical medicine and rehabilitation.
"Most people have a friend, a family member, a colleague, who has been affected by stroke. It is usually unexpected, and most are unprepared," said Dr. Ifejika, an Associate Professor of Physical Medicine and Rehabilitation (PM&R) at UT Southwestern. "When choosing stroke rehabilitation as a career, it was important that I understood the full continuum of care."
Dr. Ifejika's work and dedication have led to the Early Career Academician Award from the Association of Academic Physiatrists, an honor that recognizes outstanding performance in teaching, research, and/or administration. Dr. Ifejika, with secondary appointments in Clinical Sciences and Neurology and Neurotherapeutics, is the first UTSW physician honored in the 23-year history of the award. She is the ninth female selected and the first African-American awardee.
A faculty member since 2018, Dr. Ifejika leads UT Southwestern's Stroke Rehabilitation Service Line, and she initiated Stroke Rehabilitation Neuro ICU rounds last September, incorporating input from Vascular Neurology, Neurocritical Care and PM&R with Nursing, Therapy and Case Management. Dr. Ifejika also Co-Chairs the Stroke Research Committee of the North Central Texas Trauma Regional Advisory Council and is a Texas Health Resources Clinical Scholar.
"Dr. Ifejika's defining characteristic is a fierce commitment to improving the lives of those with stroke through clinical care and better understanding of the factors that impact recovery and rehabilitation," said Dr. Kathleen Bell, Chair of Physical Medicine and Rehabilitation.
"My career path is unique and cross-disciplinary," said Dr. Ifejika, who completed the dual M.D./M.P.H. program at the University of North Carolina School of Medicine and a PM&R residency at Baylor College of Medicine before joining the McGovern Medical School at UTHealth's Stroke team in Houston.
Her research efforts include completion of a National Institutes of Health/National Institute of Neurological Disorders and Stroke supplement to promote diversity in health-related research. In 2014, she received a three-year NIH/NCATS Institutional Career Development Award to study the effects of health care reform on access to post-stroke rehabilitation care, the use of acute stroke clinical trial enrollments to screen caregivers for undiagnosed vascular risk factors, and the construct validity of a nursing-led patient assignment algorithm to improve equity of care.
Dr. Ifejika, the only female PM&R physician who is a Fellow of the American Heart Association's Stroke Council, also has been recognized by the NIH for teaching and mentorship of underrepresented medical students, residents, and fellows.