Campbell hired as Director of Simulation Center Operations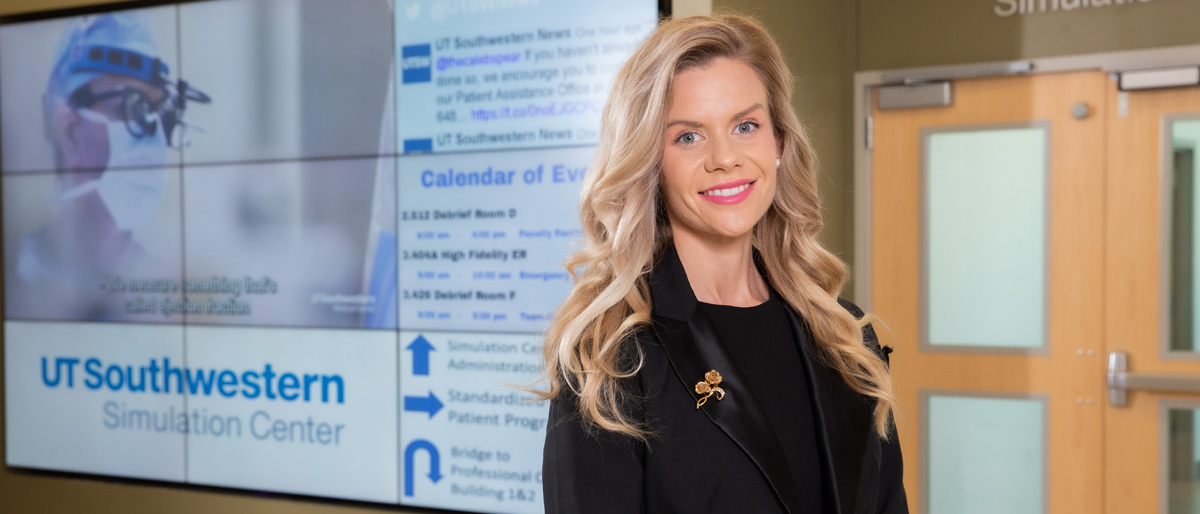 Krystle Campbell, the newly appointed Director of Simulation Center Operations at UT Southwestern, said the key to making the year-old Simulation Center grow will be focusing on innovation.
What I always think makes a center really tick is innovation – and making sure the team has the support for that. Especially in the growing field of simulation, innovation is key right now, Ms. Campbell said.
In September 2018, UT Southwestern opened its 49,000-square-foot Simulation Center on West Campus. The facility integrates training for students of UT Southwestern Medical School, UT Southwestern Graduate School of Biomedical Sciences, and the UT Southwestern School of Health Professions. It also provides substantial educational activities for residents, fellows, and faculty members.
Ms. Campbell, who joined UT Southwestern in August, came from the University of Wisconsin Health Simulation Center where she held various leadership positions, including Director of Operations. UT Southwestern leaders are confident Ms. Campbell's dedication to simulation at an executive level will be pivotal in growing the institution's Simulation Center.
She has a proven track record as a leader at a major simulation center and is an extremely capable individual who can elevate our center to the high level that we envision. We're learning that it takes not only extremely gifted faculty and leaders in simulation to teach, but also a dedicated team of educators and staff, said Dr. Daniel Scott, Assistant Dean of Simulation and Student Integration.
Simulation has modernized how competency is measured by using various technologies and metrics with learners immersed in realistic medical settings.
Students get to actually practice how they'll handle their clinical work in an authentic setting. Simulation provides an environment where they're not just sitting in a lecture, but doing the skill they're learning. From as early as pre-licensure education, they have an opportunity to build a solid foundation where they learn how to function as part of a team while practicing their clinical performance. This comprehensive training allows students to be more effective clinicians by the time they graduate, Ms. Campbell said.
Priorities for academic leaders include more effectively integrating simulation learning into the Medical School curriculum, focusing on advanced techniques, and connecting simulation training data to clinical outcomes. Additionally, Ms. Campbell said she's looking forward to the opportunity to help the Center grow into a nationally known hub for simulation and advocating for such training in the broader industry.
What I hope to achieve, both within and outside the program, is institutionalizing simulation throughout health care education, including residency, medical education, and interprofessional education, she said. I would love to see a lot more interprofessional education events happen, along with instilling competency-based testing using simulation for both pre- and post-licensure students.
Working with leadership, Ms. Campbell will manage strategy initiatives for the Center. She will also oversee all finance, administrative, operational data, and reporting functions. Another focus will be to develop relationships with key simulation experts in the Undergraduate Medical Education Program, Graduate Medical Education Program, School of Health Professions, and Health System to develop and deploy advanced simulation learning experiences for students and faculty.
Ms. Campbell is currently pursuing a Doctor of Health Administration at Medical University of South Carolina. She earned her Master of Science in medical and health care simulation from Drexel University College of Medicine and her Bachelor of Science in biology from the University of Wisconsin-Eau Claire. She has additional experience in the development and expansion of international simulation programs through her work in two simulation centers in Ethiopia.