Philipp Scherer wins 'Triple Crown' of diabetes research awards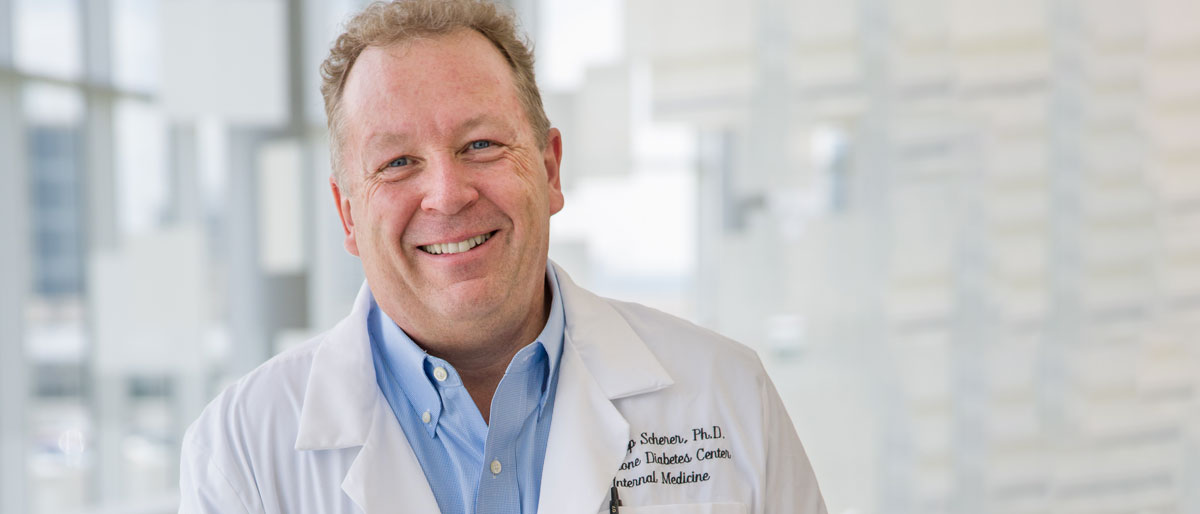 This story was originally posted on Center Times Plus on January 15, 2019.
---
UT Southwestern's Dr. Philipp Scherer has become the first scientist to win what could be called the "Triple Crown" of diabetes research recognition – adding the top Asian award to the American and European ones he claimed earlier.
Dr. Scherer, Director of the Touchstone Center for Diabetes Research, has been chosen to receive the 2018 Manpei Suzuki International Prize for Diabetes Research in recognition of his discovery of adiponectin, a hormone released by fat cells, and subsequent research into the hormone's role in fending off diabetes. His research has "deepened and widened our understanding of diabetes, obesity and energy homeostasis," according to the Manpei Suzuki Diabetes Foundation, which bestows the $150,000 prize.
Dr. Scherer will receive the award, established in honor of a Japanese pharmaceutical executive who had diabetes, at a March ceremony in Tokyo.
"It's obviously a great honor," Dr. Scherer said of his selection for the prize. "The list of people who have received this award is a collection of Who's Who in metabolism research. I'm in really good company."
Dr. Scherer was recognized in 2017 with what is considered the top European award in diabetes research, the EASD-Novo Nordisk Foundation Diabetes Prize for Excellence, given by the German-based European Association for the Study of Diabetes (EASD) and the Novo Nordisk Foundation of Denmark. In 2015, he received the prestigious Banting Medal for Scientific Achievement from the American Diabetes Association (ADA).
Diabetes affects more than 30 million Americans, according to the ADA, and is the seventh-leading cause of death. Worldwide, more than 400 million adults have diabetes, according to the World Health Organization. Diabetes can also lead to stroke, kidney failure, and foot problems that can result in amputation.
Dr. Scherer, also Professor of Internal Medicine and Cell Biology, is perhaps best known for his 1995 discovery of adiponectin, a hormone that circulates in the blood after being produced by fat cells. Previously, fat cells were thought to be little more than storage sites for excess fat droplets, or lipids.
Dr. Scherer's research helped lead to a better understanding of fat cells, which are now known to release hormones, to communicate with other tissues in the body including the brain, and when not working properly to cause symptoms such as inflammation.
His work also uncovered the beneficial side of fat cells: as repositories for storing surplus sugar and fat to protect the heart, liver, and other tissues from harmful fat accumulation.
"Dr. Scherer's research has led to a sea change in our understanding of the complexity of fat cells and their importance in maintaining whole body health," said UT Southwestern President Dr. Daniel K. Podolsky, who holds the Philip O'Bryan Montgomery, Jr., M.D. Distinguished Presidential Chair in Academic Administration, and the Doris and Bryan Wildenthal Distinguished Chair in Medical Science. "UT Southwestern is proud of his many accomplishments and the recognition he is receiving for his discoveries."
A native of Switzerland, Dr. Scherer received his doctorate from the University of Basel in 1992 and then came to the United States for postdoctoral training at the Whitehead Institute for Biomedical Research, affiliated with the Massachusetts Institute of Technology in Cambridge. There, in 1993, he came across DNA for the protein that would later be called adiponectin while doing a routine screening for gene sequences found in fat cells. His report was published in the Journal of Biological Chemistry in 1995.
About the same time, a New York researcher published his own discovery of another important fat cell hormone, leptin. Together, these findings changed the thinking on fat cells, said Dr. Scherer, who holds the Gifford O. Touchstone, Jr. and Randolph G. Touchstone Distinguished Chair in Diabetes Research. "1995 was the year when people began recognizing that fat cells are more than inert masses that store lipids; they can actually send a lot of signals to other parts of the body as well."
While Dr. Scherer continued his research into adiponectin, the importance of his 1995 study did not sink in until years later, he said. In 2001, in a paper published in Nature Medicine, Dr. Scherer reported that injecting obese, diabetic mice with adiponectin made them more sensitive to insulin and no longer diabetic.
In a 2012 study, he described how his lab generated "the world's fattest mice" – animals that weighed up to a whopping 130 grams, or about 4 ½ ounces instead of the typical weight of less than an ounce. This feat was possible, Dr. Scherer learned, because giving the mice adiponectin allowed them to be fat without many of the negative health effects typically associated with obesity. Instead, these mice led healthy lives. The study provided insight into the mystery of how some humans can be healthy despite being obese, he said.