President discusses future directions for UT Southwestern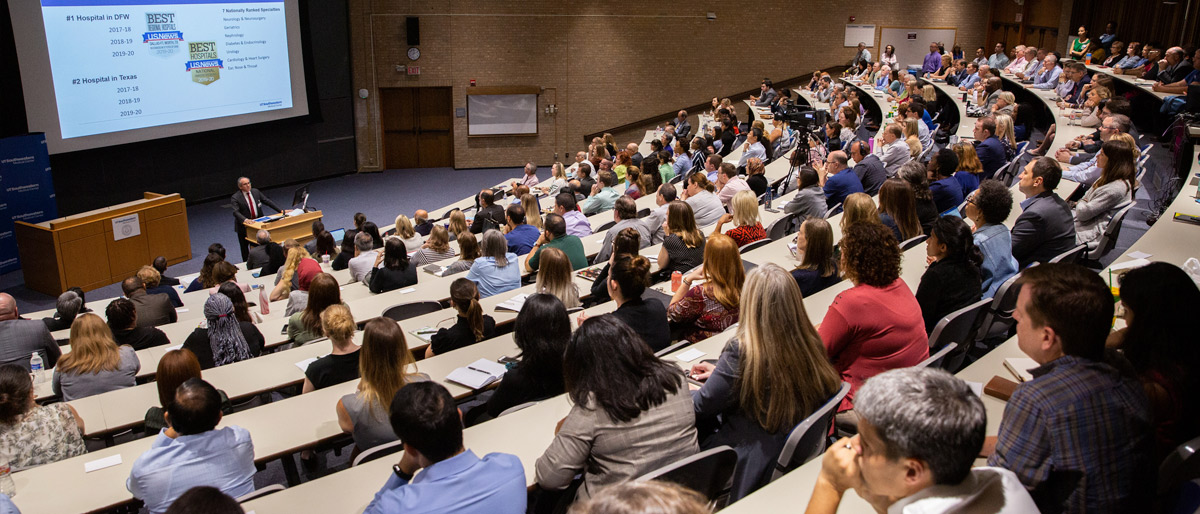 At three employee town halls held on campus earlier this fall, Dr. Daniel K. Podolsky, President of UT Southwestern, discussed growth plans and significant achievements of the past year – emphasizing that they all reflected the hard work and dedication of faculty, staff, and students to UT Southwestern's mission of promoting health and a healthy society.
The forum provided an opportunity for employees to ask questions, either in person or online. In addition to Dr. Podolsky, the institution's four Executive Vice Presidents – Arnim Dontes, EVP for Business Affairs; Dr. W. P. Andrew Lee, EVP for Academic Affairs; Dr. Marc Nivet, EVP for Institutional Advancement; and Dr. John Warner, EVP for Health System Affairs – were available to respond to queries on a variety of topics.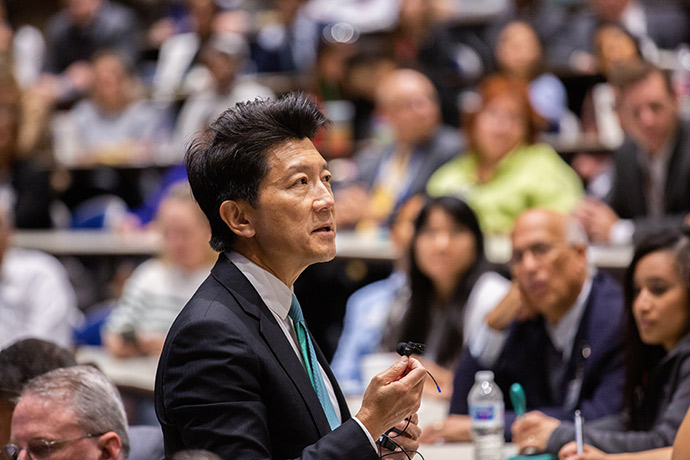 The overarching theme of Dr. Podolsky's "State of the Campus" address emphasized the great strides that the UTSW community is making in delivering on its mission in education, discovery, and healing.
"In any facet of UT Southwestern, the ultimate influencer is our people," Dr. Podolsky said. "Not the great new facilities we have – but the people who come to this campus and bring their talents and commitment to our mission."
One example of progress is graduation of the first class under a revised UT Southwestern Medical School curriculum, he said. The curriculum highlights not only the importance of science in medicine, but of team-based learning and leadership.
In clinical care, Dr. Podolsky spotlighted the significant increases in patient volume – noting that outpatient visits grew more than 20 percent in four years to over 3 million in fiscal year 2018 – and UT Southwestern's third consecutive year of being ranked by U.S. News and World Report as the No. 1 hospital in Dallas-Fort Worth and No. 2 in Texas.
The President also talked about new capital projects planned or underway – the third tower of William P. Clements Jr. University Hospital, the North Campus building that will have an Outpatient Cancer Care Tower of the Harold C. Simmons Comprehensive Cancer Center and a Research Tower of the Peter O'Donnell Jr. Brain Institute, a second Radiation Oncology building, and a vivarium. And beyond the main Dallas campus, the UT Southwestern Medical Center at Frisco is about to open adjacent to a new hospital being built in partnership with Texas Health Resources.
"I don't think you can be on this campus very long without having a sense of continued momentum, which is easy to see in a concrete way when you look at the buildings – but I want us to never lose sight that the buildings are a means to an end," Dr. Podolsky said. "We have hospitals so that we can take care of patients, we have laboratories so we can do research, and we have fantastic educational facilities so we can provide the best education for our students and residents."
Dr. Podolsky also shared demographics of the University's more than 18,000 faculty and staff members: 47 percent of management and leadership roles are held by people of color, 66 percent of management and leadership roles are filled by women, and more than 800 employees are veterans
"I'm delighted that our workforce reflects living proof of the values we place on inclusiveness and diversity," he said. "It's not only an ethical imperative but a business imperative, because we are bringing different perspectives to the problems that we're navigating our way through, providing the best solutions to our challenges."
Dr. Podolsky described several other initiatives that are priorities for the 2019-20 academic year:
Recruiting leadership and faculty for the newly created Department of Biomedical Engineering
An enhanced focus on artificial intelligence and bioinformatics in solving medical problems
The O'Donnell Brain Institute, which was established to focus on the brain, the last frontier in medicine, through basic discovery and the translation of discoveries into innovative approaches to the diagnosis, treatment, cure, and potential prevention of brain diseases
The Health System's Clinical Strategic Planning Initiative, which is being undertaken to set the direction of the UT Southwestern Health System in the years ahead by increasing the impact of UT Southwestern clinical programs improving their distribution and enhancing the provision of integrated, multidisciplinary care.
Questions from employees included many topics, but were primarily concerned with construction and expansion plans, action planning based on results of the employee engagement survey, and traffic and pedestrian safety.
Dr. Podolsky concluded by returning to UT Southwestern's values – excellence, innovation, teamwork, and compassion.
"This is not just something that is on a website or a poster – I really hope that this is a touchstone for everyone who works at UT Southwestern and is felt by everyone who visits UT Southwestern," he said. "We are committed to excellence in everything that we do; to innovate and not be satisfied with 'good enough'; to work together as a team; and to never lose sight of the compassion that is at the root of what it means to be an academic medical center dedicated to the health and well-being of individuals and society, so that everyone can achieve their full potential."
If you missed the town hall sessions, you can watch an archive of the full South Campus session.