Perot Foundation $25 million gift accelerates brain science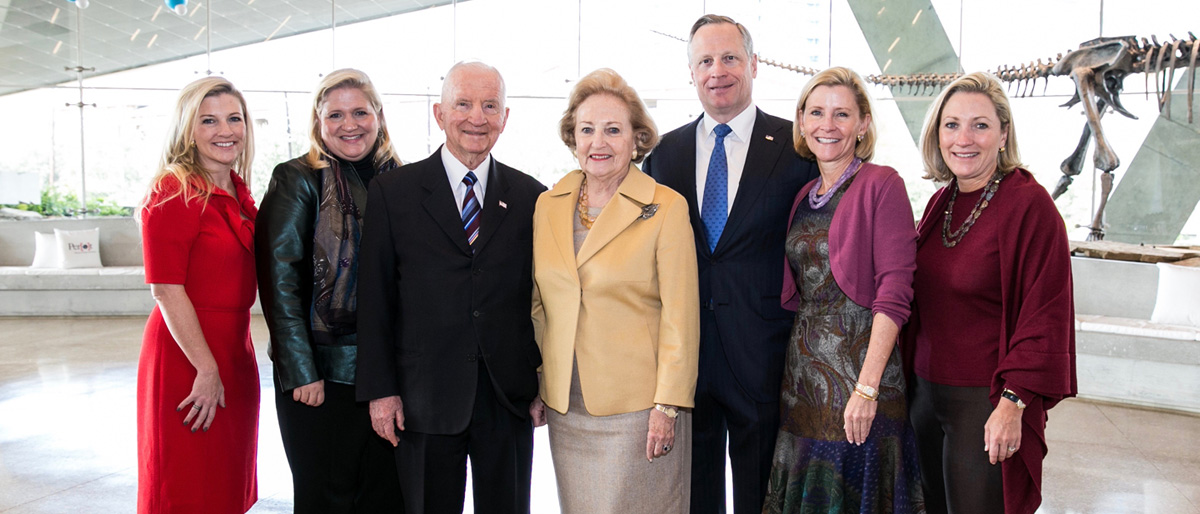 For more than six decades, Margot and Ross Perot have stood united in their efforts to help people around the world through their philanthropic endeavors.
Since the 1980s, the Perot Foundation has contributed more than $93 million to UT Southwestern, sparking innovation across campus. The Foundation's recent $25 million gift to support neuroscience translational research will help the Peter O'Donnell Jr. Brain Institute move science more quickly from the research bench to the patient's bedside and transform discoveries into improved and innovative drugs, devices, and treatments.
"Our family supports UT Southwestern because we strongly believe in its mission to give every person a chance to live a healthy, productive life," Mrs. Perot said. "Our investment in the people who expand and deliver knowledge to advance science, technology, and medicine has reaped tremendous dividends. We are hopeful that this gift will lead to new treatments for brain diseases and, ultimately, cures."
Transforming discovery into hope
The gift will expand activities in UT Southwestern's Neuroscience Translational Research Center (NTRC), which will now be named the Perot Foundation Neuroscience Translational Research Center. The goal of the Center is to facilitate and enhance quality clinical research within the O'Donnell Brain Institute by providing resources for scientists, clinicians, and patients in the facilitation of research protocols and clinical trials and help researchers obtain funding from the National Institutes of Health and other sources for these opportunities.
The gift also will help transform the Center's current biorepository into a state-of-the-art biobank, which will house large volumes of biological samples, neuroimaging, and electrophysiological data. The biobank will bring better understanding of how to maximize treatment outcomes through personalized medicine.
"This transformative gift will allow the Perot Foundation Neuroscience Translational Research Center to create and implement innovative approaches to accelerating discoveries in neurologic conditions," said Dr. Benjamin Greenberg, Associate Professor of Neurology and Neurotherapeutics and an internationally recognized expert in treating rare autoimmune disorders of the central nervous system. "In partnership with the Perot Foundation and Dr. Nancy Rollins, Associate Dean of Clinical Research at UT Southwestern, we look forward to enhancing neuroscience investigations at UT Southwestern."
Translational researchers work closely with basic scientists to identify promising new discoveries in the laboratory, then translate the knowledge to clinicians as they test the effectiveness of new treatments in humans. If successful, those therapies can be commercialized to benefit people around the world.
"Ross and Margot are true visionaries who are driven and inspired by the potential of what the world can become," said Dr. Daniel K. Podolsky, President of UT Southwestern. "They generate excitement around our institution's mission and vision through their collaborations and philanthropic gifts. This extraordinary gift will usher in new eras of innovation and development and accelerate the translation of discoveries into new treatments and cures for brain diseases and disorders."
Longtime friends of UT Southwestern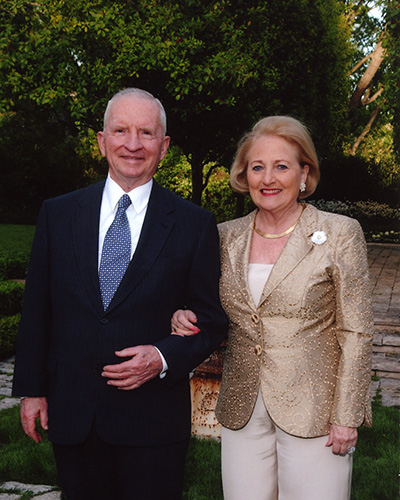 The Perots first connected to UT Southwestern in 1985, when Drs. Michael Brown and Joseph Goldstein won the Nobel Prize in Physiology or Medicine for their discoveries in the regulation of cholesterol metabolism. The Perots honored Drs. Brown and Goldstein with a dinner that drew 300 community leaders. The celebration marked the beginning of significant local support for UT Southwestern's biomedical education and research.
From 1987 to 2008, the Perots and their Foundation generously supported the Medical Scientist Training Program (MSTP) and the research of Nobel Laureates Dr. Brown and Dr. Goldstein and their protégés. Mr. Perot invested in the MSTP because he recognized the special niche that the M.D./Ph.D. scientist occupies. Mr. Perot personally attended MSTP functions and spoke to potential candidates. He once said, "This is an investment in people and intellect that will bring enormous rewards in the years to come. These funds will help train young scientists who might well make important medical breakthroughs in the future."
In addition, they supported the Innovations in Medicine campaign that funded research in the understanding and treatment of diseases on the brink of major breakthroughs. Mr. Perot also supported the Medical Center's Gulf War syndrome research efforts after hearing stories of soldiers who returned from the Gulf War becoming sick or disabled.
The Perot family legacy
Mr. Perot was born in Texarkana, Texas, in 1930. During his childhood, he learned business acumen from his father, Gabriel Ross Perot, who ran a cotton brokerage business and had other ventures. Mr. Perot enrolled in the U.S. Naval Academy and graduated in the Class of 1953. He and Margot Perot were married in 1956. He served in the U.S. Navy as a line officer on a destroyer and, later, on an aircraft carrier. He resigned his commission in 1957 and, shortly thereafter, the Perots moved to Dallas.
In 1962, he began his entrepreneurial journey by founding Electronic Data Systems (EDS) with a vision that essentially created the information technology (IT) services sector. He has a long career of starting and growing successful businesses and investing in companies founded by others. Mr. Perot ran for the U.S. presidency as an independent candidate twice, in 1992 and 1996, and is one of the most successful third-party presidential candidates in American history.
The Perot family continues to inspire others philanthropically in the greater community and around the world. The next generation – Ross Perot Jr., Nancy Perot, Suzanne McGee, Carolyn Rathjen, and Katherine Reeves – are carrying on their parents' vision. At UT Southwestern, Carolyn has served on the Southwestern Medical Foundation Board; Carolyn and Margot chaired the 2016 Women's Health Symposium; Margot chaired the 1993 Sweetheart Ball and Nancy, Suzanne, Carolyn, and Katherine served as Co-Chairs for the 2016 Sweetheart Ball to support cardiology research at UTSW; and Ross Jr. advocates in Austin and participates on the Campaign for the Brain Steering Committee.