Medical Student Research Forum: Poster winners
Hoping to spark students' interest in academic medicine as a career, UT Southwestern recently held its 57th annual Medical Student Research Forum to encourage future doctors to participate in the world of research.
Out of 103 applicants, 49 students were chosen to present posters on their research projects at the Jan. 22 forum. Topics included antibiotic activity in multidrug-resistant bacteria, spinal cord ischemia, cellular pathways in familial hypercholesterolemia, and imaging for neuroendocrine tumors.
Twenty-two faculty judges evaluated poster presentations, later naming six winners, who each were gifted $75. You can also view a virtual walk-through of some of the posters by viewing this photo gallery.
---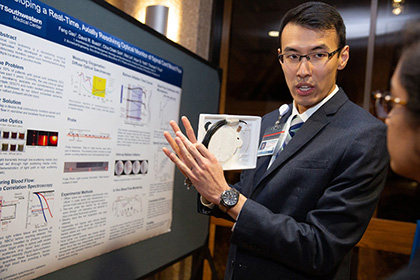 Winner: Feng Gao
Mentor: Thomas Floyd, M.D.
Research: Multi-level Optical Monitoring and Detection of Spinal Cord Ischemia
---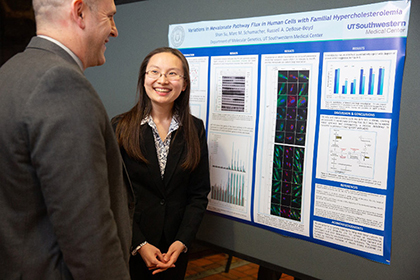 Winner: Shan Su
Mentor: Russell DeBose-Boyd, Ph.D.
Research: Variations in Mevalonate Pathway Flux in Human Cells
---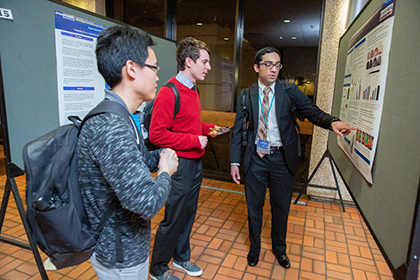 Winner: Vishal Gokani
Mentor: Harry Kim, M.D.
Research: Advancement of Intraosseous Saline Wash and MSC Injection Technique for Treatment of Humeral Head Osteonecrosis
---
Other Poster Presenter Winners:
Name: Xincheng (Michael) Ji
Mentor: David Greenberg, M.D.
Research: Rescue of Antibiotic Activity in Multidrug-Resistant Bacteria Through Antisense Mediated Efflux Pump Inhibition
Name: Esteban Garcia
Mentor: Rathan Subramaniam, M.D., Ph.D., M.P.H.
Research: Comparative Study of 68Ga-DOTATATE PET/CT Versus Conventional Imaging for Staging and Management of Neuroendocrine Tumors
Name: Anishka Kappalayil
Mentor: Pradeep Mammen, M.D.
Research: Altered Atrial Remodeling in the Muscular Dystrophies