Graduate School alumna's passion for neuroscience leads to Ida Green Award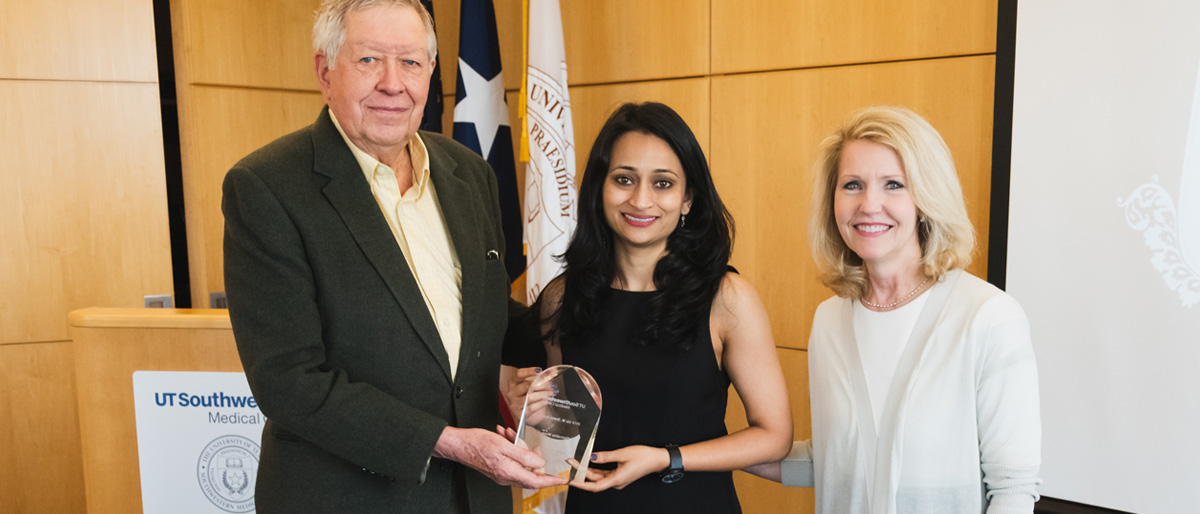 Neuroscientist Dr. Bishakha Mona wants to find out how sensations such as pain or itch are transmitted to the brain – an answer that resides in the neurons. In her enthusiasm for scientific discovery, she wants others to be just as curious about why those cells matter and care about the clinical potential of such findings.
What scientists are trying to do is help people and develop therapies by better understanding disease and their development. We are trying to increase awareness about the importance of scientific research, Dr. Mona said.
In April, Dr. Mona was awarded the Ida M. Green Award. The honor is given to a female student of the UT Southwestern Graduate School of Biomedical Sciences who has demonstrated scholastic excellence and outstanding citizenship in line with the values and mission of the Medical Center.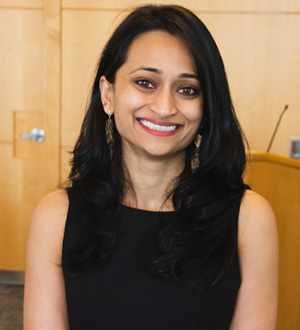 Dr. Mona, a native of Bihar, India, traveled to the United States to pursue her research career goals at UT Southwestern. She comes from a family of physicians – her mother is a gynecologist, her father an anesthesiologist, and her little sister a physician who has yet to choose a specialty. Dr. Mona's decision to become a research scientist was one her parents did not embrace at first.
They really wanted me to become a doctor and practice medicine, Dr. Mona said. Now they understand that I am not running away from saving lives, just taking a different approach.
While she had always been interested in neuroscience, Dr. Mona became particularly captivated by the function of the brain while attending college at Birla Institute of Technology and Science, Pilani.
In her dissertation research, she reported on developmental mechanisms of neuronal cell fate specification in spinal cord circuit formation. (This is the process by which neurons become what they are – for example, how a stem cell becomes a particular type of neuron that may provide inhibitory or excitatory information into a network.) These discoveries were published in a first-author study in Developmental Biology and a co-first author article in eLife. Future research discoveries in the field could potentially mean new therapies for patients with a wide range of conditions, from psoriasis to spinal cord injuries.
Besides her dedication to research, Dr. Mona is committed to supporting younger scientists. She started mentoring girls as a college student in India, and in Texas, she has worked with high school girls through MAGIC (More Active Girls in Computing), an organization that supports girls' interests in STEM fields.
When I was a young student, I didn't really have female role models like that. That is why I would like to encourage young minds and provide guidance wherever I can, she said.
Today, she is glad there are more women in science and academia to provide inspiration for girls to pursue careers in science. I believe in empowerment of women and I want to be a person driving that, she said.
At UT Southwestern, Dr. Mona has displayed leadership by organizing events to help trainees improve their science communication skills. She also was involved in the 2014 creation of the Science Policy, Education, and Communication Club and has served as President since 2016.
Dr. Mona is a role model for other graduate students as she generously shares her time and efforts with community service while maintaining robust research accomplishments, said Dr. Jane Johnson, Professor of Neuroscience and Pharmacology and Dr. Mona's dissertation adviser.
Dr. Mona graduated in May and has stayed on at UT Southwestern. In addition, she has taken a position with a nonprofit foundation that provides funding for research in cancer prevention. In the future, she wants to further educate the public on the role of research by managing a scientific nonprofit.
The Ida M. Green Award is presented by Southwestern Medical Foundation and includes a $2,000 prize.
Like Ida Green, Dr. Mona serves as a wonderful role model for women, said Kathleen M. Gibson, President and CEO of Southwestern Medical Foundation. Her perseverance and intellect, combined with her service in helping other young women in science, is to be celebrated. While Dr. Mona's accomplishments are remarkable on their own, they are even more powerful when leveraged by mentoring others in their scientific progress. We are very proud to have Dr. Mona as the winner of the 2019 Ida Green Award.