Graduate's effort on preserving donor hearts garners Green Award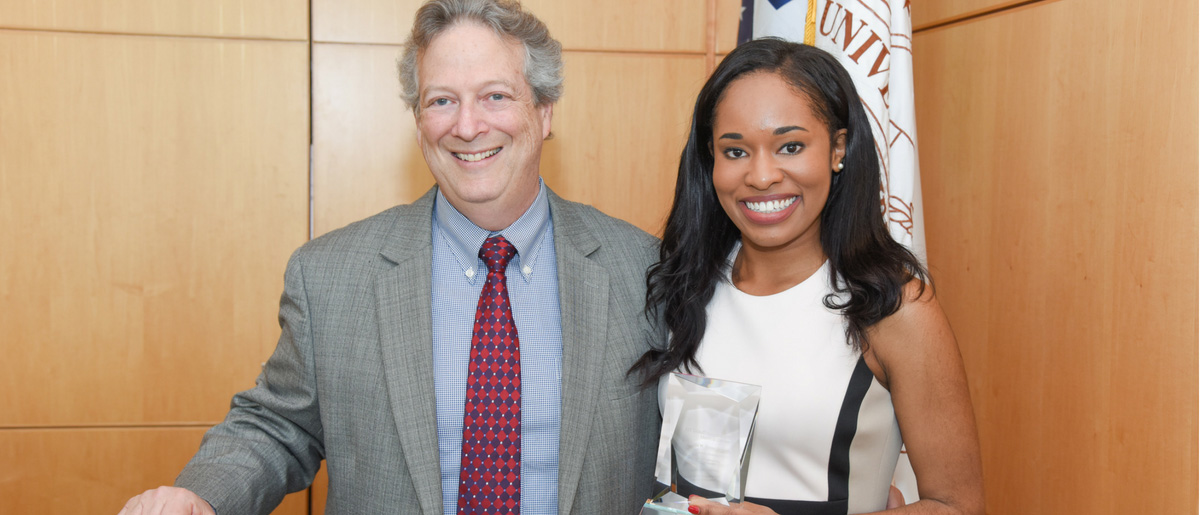 Dr. Cyonna Holmes, who earned her doctorate in biomedical engineering at UT Southwestern this spring, received the 2018 Ida M. Green Award for efforts to improve preservation of donated hearts.
The award from Southwestern Medical Foundation recognizes a top female student in the UT Southwestern Graduate School of Biomedical Sciences who demonstrates outstanding commitment to the well-being of other students, to research excellence, and to exceptional community service – principles that were held dear by Ida and Cecil Green.
"In our lab, we investigate strategies to extend the preservation interval of donor hearts and recover organs that are currently being discarded," said Dr. Matthias Peltz, Surgical Director of Cardiac Transplant. "She was a part of a number of these projects, and she truly excelled using her biomedical engineering background."
Her projects included nanoparticle delivery to the donor heart during preservation and determination of the optimal perfusion solution composition for transplantation procedures.
Dr. Holmes, who graduated in May, will join L.E.K. Consulting in California in October as a Life Sciences Specialist. L.E.K. Consulting is a global management consulting firm with a large presence in life sciences, among other fields.
The Ida M. Green Award was established by Southwestern Medical Foundation in honor of Mrs. Green, who died in 1986. Her husband, Cecil Green, who died in 2003, worked at General Electric and later co-founded Texas Instruments. Mrs. Green provided unrestricted gifts to many community organizations, including a major bequest to Southwestern Medical Foundation. The award includes a $2,000 prize.
"Dr. Holmes' research represents the creative and innovative work that Ida and Cecil Green inspired," said Kathleen M. Gibson, President and CEO of Southwestern Medical Foundation. "This award represents the promise of a rare mindset, one which so brilliantly recognizes the opportunity to improve the lives of others by pushing the boundaries of scientific discovery. Dr. Holmes' energies and dedication to her field are a deep inspiration to us."
Dr. Holmes' mentors included Dr. Peltz, Associate Professor of Cardiovascular and Thoracic Surgery; Dr. Michael Jessen, Chairman and Professor of Cardiovascular and Thoracic Surgery; and Dr. Nancy Street, Associate Dean of the Graduate School, among others.
"I wouldn't be here today without their support, as well as the mentorship of Dr. Matthew Petroll, Professor of Ophthalmology and Chair of the Biomedical Engineering Graduate Program, and the Peltz lab, especially Senior Research Associate LaShondra Powell," Dr. Holmes said. "I hope someday to positively affect a student as much as Dr. Street has affected me."