UT Southwestern event honors legacy of Dr. Martin Luther King Jr.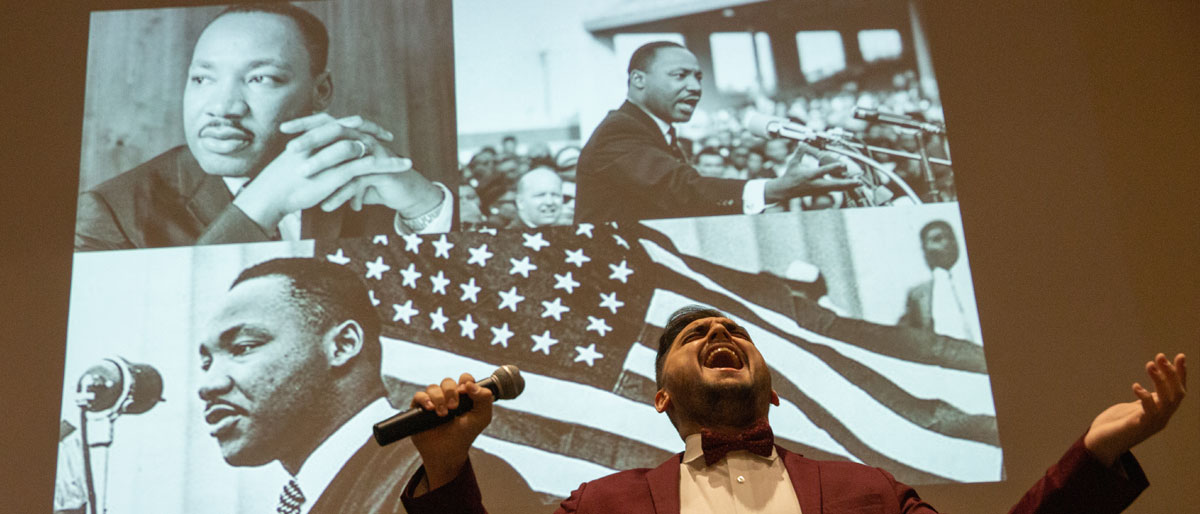 This story was originally posted on Center Times Plus on February 1, 2019.
---
When Dr. Hannah Valantine told a colleague about her desire to become a cardiologist in London in the 1980s, the response was shocking, but not entirely surprising: "You really think you're making the right decision – a woman and black in London? You must be crazy," the person said.
Undaunted, Dr. Valantine pressed on and did become a cardiologist – albeit working in the United States – as well as a heart transplant researcher and since 2014, the first Chief Officer for Scientific Workforce Diversity at the National Institutes of Health (NIH). She shared her inspiring story to a packed audience at UT Southwestern's annual Martin Luther King Jr. Commemorative Celebration.
The event, which took place Jan. 24 in a Eugene McDermott Plaza Lecture Hall on South Campus, also honored UT Southwestern students awarded the Martin Luther King Jr. Scholarship for Community Service.
"None of us in this room can be unaware that the work Dr. King was engaged in remains unfinished in very important ways," said UT Southwestern President Dr. Daniel K. Podolsky, introducing Dr. Valantine as the keynote speaker. "The inequalities and the injustices that he fought are still very much with us, and we should honor his legacy by working actively to achieve the racial and social justice in our society that he dedicated his life to promoting."
Dr. Valantine described the barriers many women and minorities still face in science – more than 50 years after Dr. King's death. "Even as early as age 6, young girls are less likely than boys to view their own gender as brilliant," she said.
Born in the African nation of Gambia, Dr. Valantine moved with her family to London at age 13. When she realized others thought less of her because of her skin color, she was stunned. In this environment, her schoolwork declined and she lost hope for attending college – that is, until a job as a lab technician kindled an interest in medicine.
Now, in her Workforce Diversity position at the NIH, she considers why job applicants are often judged less qualified and offered lower salaries if the resume has a presumed female name. And she worries over a study that shows the majority of schoolchildren – when asked to draw a picture of a scientist – envision that person as male.
Such stereotypes have consequences for patients, Dr. Valantine said, citing a University of Virginia study published in 2016 in Proceedings of the National Academy of Sciences based on responses of medical students at a large public university. The study showed that "approximately 50 percent of medical students believe that black patients feel less pain," Dr. Valantine said, which may lead them as doctors to suggest inappropriate treatment choices.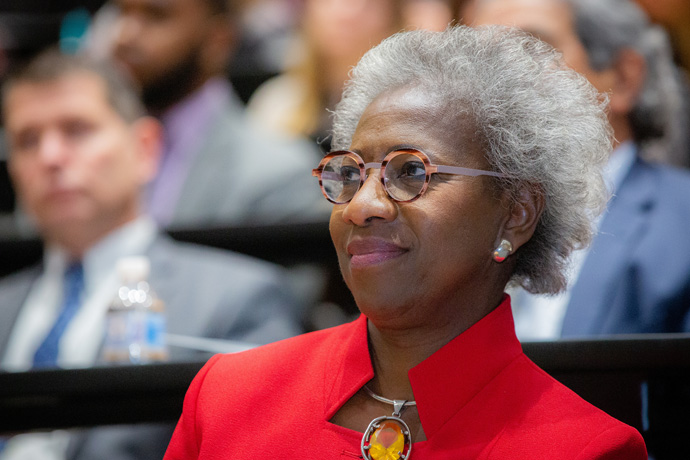 In hopes of reducing racial biases and tipping the scale, the NIH is working to increase grant funding for minority researchers, she said. From 2013 to 2017, the number of large research grants awarded to African-Americans increased 67 percent. For Hispanic researchers, that number grew by 56 percent.
Diversity in the talent pool is on the rise, she added, showing graphs depicting sharp increases in the number of female Ph.D. and minority Ph.D. graduates since 1981. However, those increases are not accompanied by comparable gains in the number of students hired as assistant professors in medical school basic science departments, the research she cited showed.
Dr. Podolsky noted in his remarks that 12 percent of the students at UT Southwestern Medical School are Hispanic, but only 6 percent are African-American. The campus is proud of its efforts to increase diversity, he said, but he also emphasized that more must be done.
One of the Medical School's first-year students, Rudy Fernandez-Criado, captured the mood as he sang the soulful Andra Day song "Rise Up" before a backdrop of Dr. King's photographs.
"Dr. King envisioned a beloved community – a society based on justice, equal opportunity, and love of one's fellow human beings," said Dr. Shawna Nesbitt, Associate Dean in the Office of Student Diversity and Inclusion, which sponsored the event. "It's been said that this is the prescription for a better society – the beloved community."