A match made in medicine: Match Day celebration marks turning point for UTSW medical students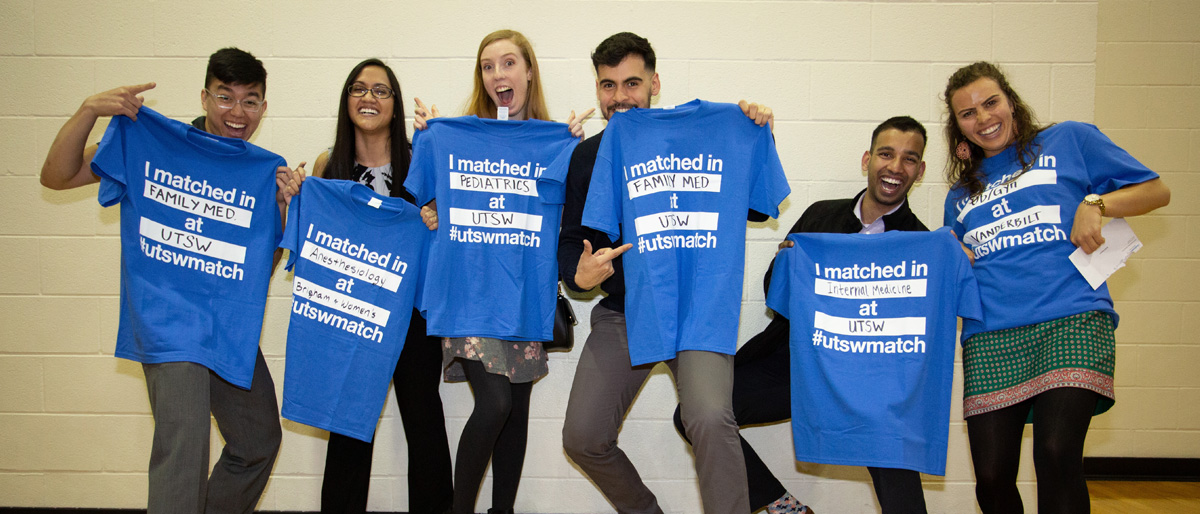 This story was originally posted on Center Times Plus on March 15.
---
Drumrolls and chatter permeated the air as hundreds of eager hands grasped envelopes in the Bryan Williams, M.D. Student Center in anticipation as the digital clock counted down to zero. Each envelope contained one sheet of paper – which identified the students' next steps toward their career goals – safely hidden until 11 a.m. DST, March 15. Match Day was underway.
Faculty, family, and friends gathered on the basketball court and watched as more than 200 graduating UT Southwestern medical students joined thousands more at medical schools across the country to reveal their futures. Drumrolls and chatter gave way to excited whoops and enthusiastic hugs as the students learned their futures.
During the fourth year of medical school, each student applies and interviews at a dozen or more residency programs in their desired specialty. The students and the programs rate each other, and the National Resident Matching Program runs an algorithm to determine the highest match. Married couples or committed partners can link their preference lists so that they can match in the same location. Of the 209 who matched, 59 will serve their residencies at UT Southwestern hospitals.
"Each Match Day is the most exciting and emotional day of the year, and this year is no different," said Dr. Angela Mihalic, Dean of Medical Students and Associate Dean for Student Affairs. "In particular, the Class of 2019 has an adventurous spirit and resilience that allowed them to take on a new curriculum that will help them continue to thrive no matter what challenges they face in their future endeavors. I look forward to celebrating the advancements they will one day make in science and medicine and the countless lives that they will touch throughout their careers."
For 2019, the top five residency specialties selected by our graduates were:
Internal Medicine
Family Medicine
Surgery
Pediatrics
Anesthesiology, Obstetrics and Gynecology (tie)
Every medical student has a compelling story. Several from the Class of 2019 shared thoughts about their future careers in medicine and their reactions upon learning where they matched.
For a full list of the students and their matches, see the full match list.
---
---
---
---